Californians want more funding for public higher education, survey shows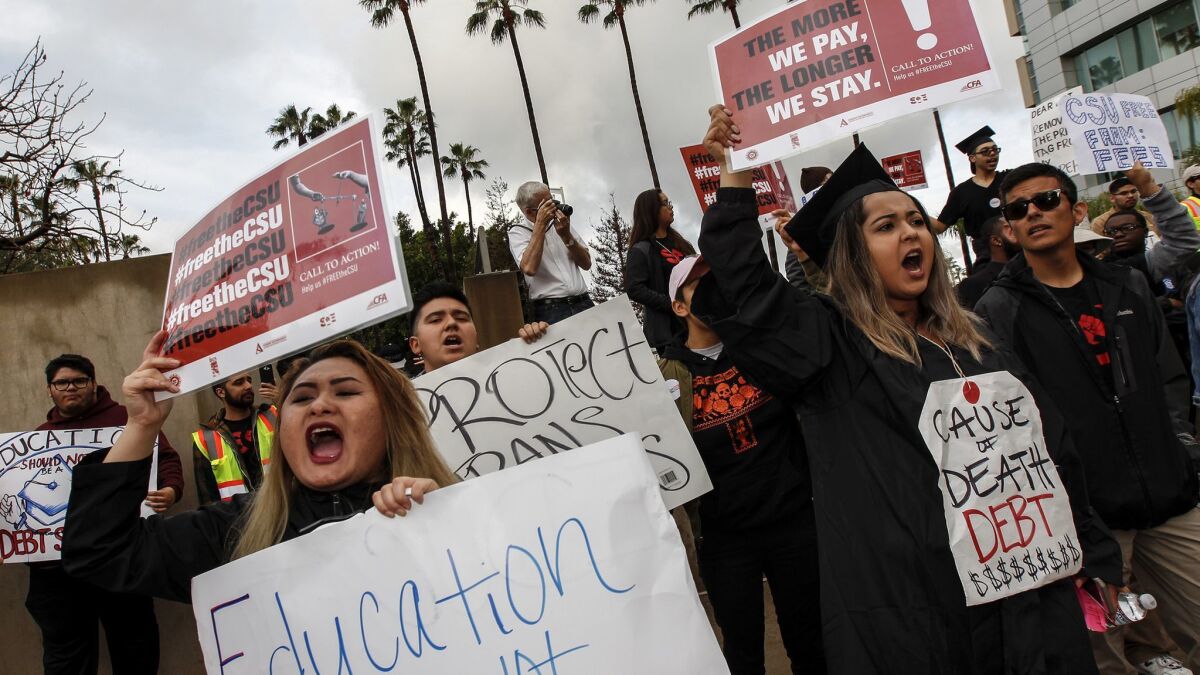 Reporting from San Francisco —
Most Californians believe higher education should be a top priority for the new governor and support increased funding for public colleges and universities, according to a new survey by the Public Policy Institute of California.
As the state's public higher education system struggles to recover from major funding cuts a decade ago, the majority of Californians surveyed by the institute supported giving the schools a wide range of help. Most backed free community college, a statewide bond for university construction projects, a minimum state funding guarantee and even reform of Proposition 13 to raise more money by loosening restrictions on taxing commercial properties.
A majority of those surveyed also said they wanted a new direction for higher education, with fewer than half approving of how Gov. Jerry Brown and the Legislature have handled it. Brown has championed online learning and slowly restored billions of dollars cut after the 2008 recession. But his successor, Gov.-elect Gavin Newsom, repeatedly has said much more investment is needed.
"The people are saying they want a new era and they want new energy," said PPIC President Mark Baldassare. "They want to see the higher education system perform to the level they think is needed, which is producing [more] college graduates to create financial success for people today and be an asset for California's future."
Democrats and independents were far more likely to favor more generous funding. More than three-fourths of Democrats surveyed said they would support a state bond and Proposition 13 reforms to raise more money for colleges and universities, compared with just over a quarter of Republicans.
While two-thirds of Democrats and independents want to tie increased funding to student outcomes, such as graduation rates, only 44% of Republicans were in favor. Republicans also were less likely to believe that college was necessary for career success.
The biggest problem facing college students today, most of those surveyed said — above educational quality and admissions access — is the cost. Most were concerned that students were taking on too much debt, and more than one-third of those surveyed said housing and living expenses were a greater financial burden than tuition. (Financial aid covers tuition for the majority of students at the University of California and California State University.)
The findings are based on a survey of 1,703 California adults, conducted in English and Spanish between Oct. 27 and Nov. 5. The margin of error is 3.5%.
The UC and Cal State systems both are requesting more state funding for 2019-20 to avoid tuition hikes and expand enrollment, provide more student support, pay for faculty and staff raises and repair aging buildings. Despite recent funding increases, the state's share of per-student support at UC has dropped from 78% in 1990 to 37% in 2017.
George Kieffer, chairman of the UC Board of Regents, said he was gratified by the public support and hoped it would help win Sacramento's backing for additional assistance.
The survey also found:
Solid majorities rated UC, Cal State and California Community Colleges as excellent or good and said they are vital to the state's future.
Californians are divided on whether educational opportunity is equally available to students who are low-income or racial or ethnic minorities.
Most say public colleges are providing adequate academic support to students to complete their degrees on time.
Twitter: @TeresaWatanabe
The stories shaping California
Get up to speed with our Essential California newsletter, sent six days a week.
You may occasionally receive promotional content from the Los Angeles Times.