In the L.A. teachers' strike, teaching families picket and pinch pennies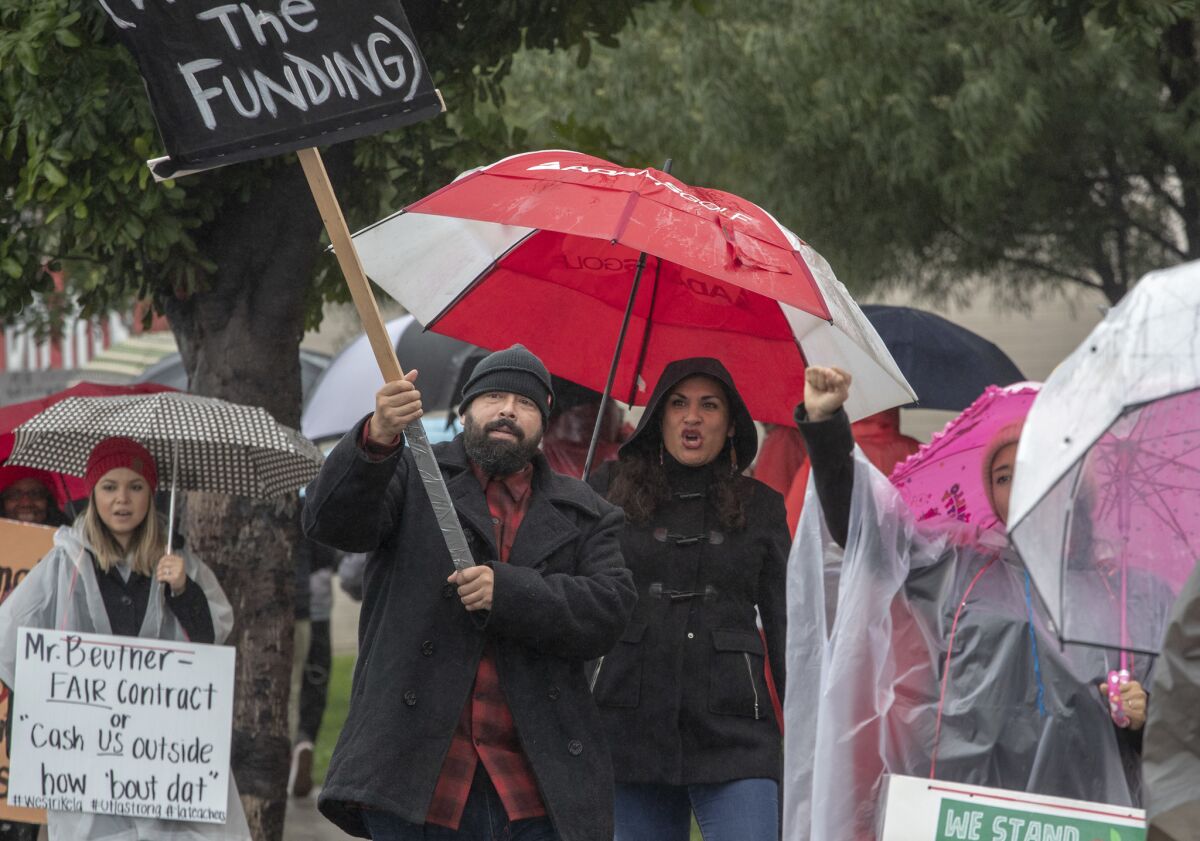 By Wednesday, the Vargas family had fine-tuned an intricate dance, choreographed so that both parents and all three kids could support the teachers' strike.
That morning, from about 6:30 to 9, parents Arnoldo and Maricela Vargas protested outside Banning High School, where Arnoldo is an art teacher and the picket captain, leading fellow strikers. Then they drove the five minutes home. By then, Ameyalli, their oldest daughter, had fed Maricela's diabetic parents, made sure they took the right medicine and dashed their attempts to sneak bacon.
Back home, Maricela, who used to teach at Banning too, took over as caretaker, watching 5-year-old Xareni beat her grandfather in a round of five-card draw at the kitchen table, after a game of "goldfish" (Go Fish) with Grandma.
Meanwhile, Ameyalli, 17, and Nelhuayotl, 12, hopped in the car for union's rally at one of L.A. Unified's regional headquarters in Gardena. Nelhuayotl brought out his tuba and joined students and teachers from around the district in an impromptu concert in the middle of the crowd, belting out "The Kids Are Alright" and dancing in the rain.
For the Vargas family, as for many others, the teachers' strike is a family affair.
The Vargas kids were raised in their parents' art, activism and belief in the importance of community. They had no doubt that they needed to be involved. All three attend L.A. Unified schools, and Ameyalli is a senior at Banning, which also was her dad's alma mater.
Even the 5-year-old showed up on the picket line the first day, rain falling on the small sign she had painted herself — just one word in black and white on a red rectangle, "strike" in Spanish: "Huelga."
But the strike also is a sacrifice. The family lives on Arnoldo's monthly check —about $5,700. After picketing, February's will be short.
"We might not pay a few bills," Maricela said.
The most important things will still be covered, but it's hard enough to pay the mortgage, feed three children and temporarily care for Maricela's parents on that budget. They're planning to cut off their cable TV service. They already rarely eat out.
It's not uncommon to see couples on the picket line, one or both members of United Teachers Los Angeles. In households that rely entirely on L.A. Unified checks, the uncertainty of how long a strike could continue has caused stress. Families are dipping into savings, and hoping for a quick settlement.
Before the strike, Arnoldo told his gardener not to come back for two months. He pays the gardener around $60 a month, "but that's a gas tank," Arnoldo said.
It's also hard to know exactly how much smaller checks will be than usual. Sarah Johnson, an eighth-grade English teacher at Hale Charter Academy of Woodland Hills, a school run by the district, has tried to do the math.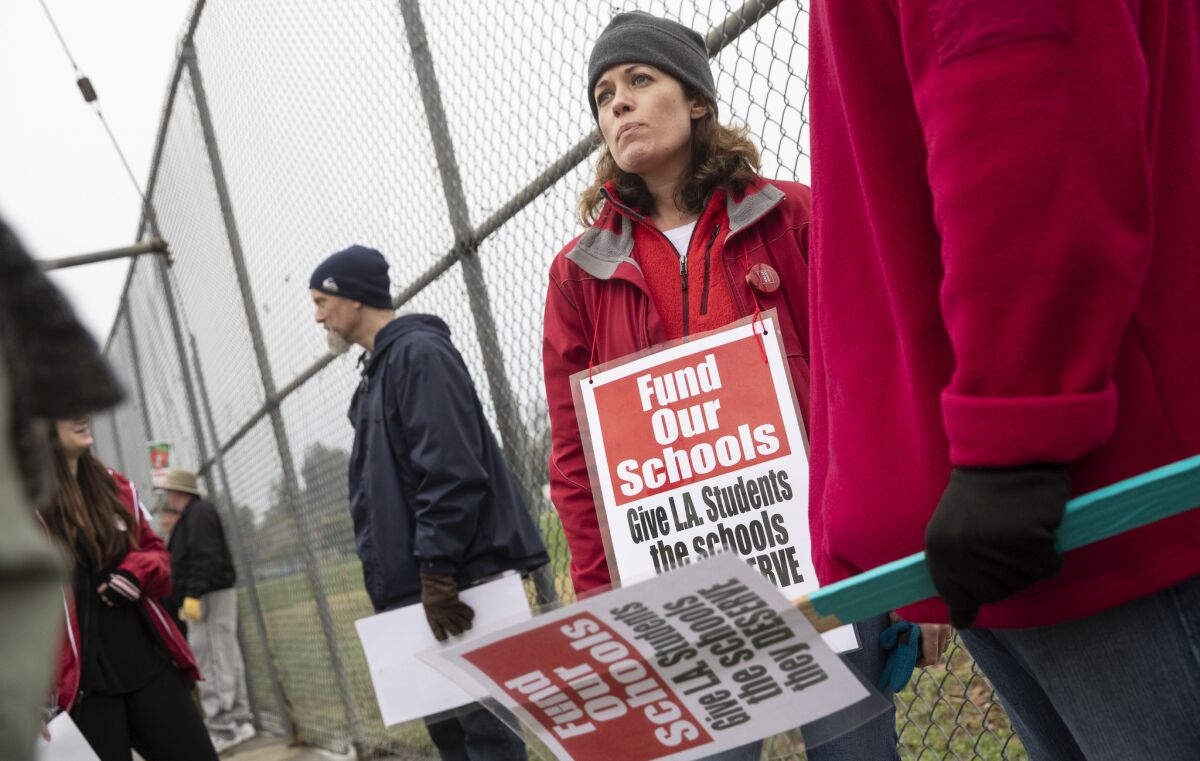 "Every time I try to figure out how much it is, it's impossible," she said, because of taxes and pension contributions and the uncertainty of the end date.
"I've been trying to figure it out so I can anticipate the pain," said the teacher of 20 years.
Sarah and her husband, Matt Johnson, met at UCLA and both teach at Hale.
She started putting extra money aside just after Thanksgiving, when a strike seemed imminent.
Food, gas, bills — those will be covered.
But "anything that falls into the 'want' category, it's not going to be happening," she said. The new sweatshirt her 13-year-old daughter wanted? Not this month.
They can handle two weeks without too much pain, she said. They haven't thought beyond that, but would likely have to reach deeper into savings.
Negotiators for the union and the school district met all weekend. The Johnsons said earlier in the week that they hope they'll find a way to come together.
"Nobody wants to pay money out of their savings because other people can't make an agreement about something," Sarah said.
Daksha and Chetan Singh are also a Hale Middle School teaching couple, and rely on what Chetan calls a "two-check lifestyle" from L.A. Unified. One check goes to bills, savings and the mortgage for their West Hills home. The other covers daily expenses like groceries and preschool for their 3-year-old daughter.
They also have a 7-year-old son, who attends school nearby in Las Virgenes, because Chetan's parents can watch him before and after school, a big cost-saver.
They just came off an expensive holiday season of gift-buying for their large families and may have to reach into savings if the strike continues.
Not knowing how big a financial hit they will take is hard, but there was never a question for them, or the Vargas family or the Johnsons, of whether to strike.
"No matter what people say … we're definitely not looking to cross any lines," said Chetan, who teaches math and science. For him and Daksha, who teaches English, class size is the most important issue.
If you are teaching a class of 40 students, it's hard to give each one attention — and there's so much work to grade that your hours can stretch well into the night, they say.
Though many teachers say wages are not their primary reason for striking, the pressures of the strike underscore their strains to make ends meet in Los Angeles.
Maricela taught at Banning for six years. She left the classroom a week into a job at a new school, when she found out she was pregnant. They did the math and decided that with three kids, it would be less expensive for one parent to stay home. Nelhuayotl was being bullied, and Maricela wanted to have the time to help him get through it and love school as much as she did.
Arnoldo is the yearbook advisor at Banning and works an extra period to bring in some more money. He's also the senior class advisor and spends hours each week helping the class organize prom and other events, for no extra pay.
"You do so many things out of love, and it's hard to say no to the kids," Arnoldo said.
Reach Sonali Kohli at Sonali.Kohli@latimes.com or on Twitter @Sonali_Kohli.
---
The stories shaping California
Get up to speed with our Essential California newsletter, sent six days a week.
You may occasionally receive promotional content from the Los Angeles Times.