LAUSD teachers' strike: Hours of negotiating behind closed doors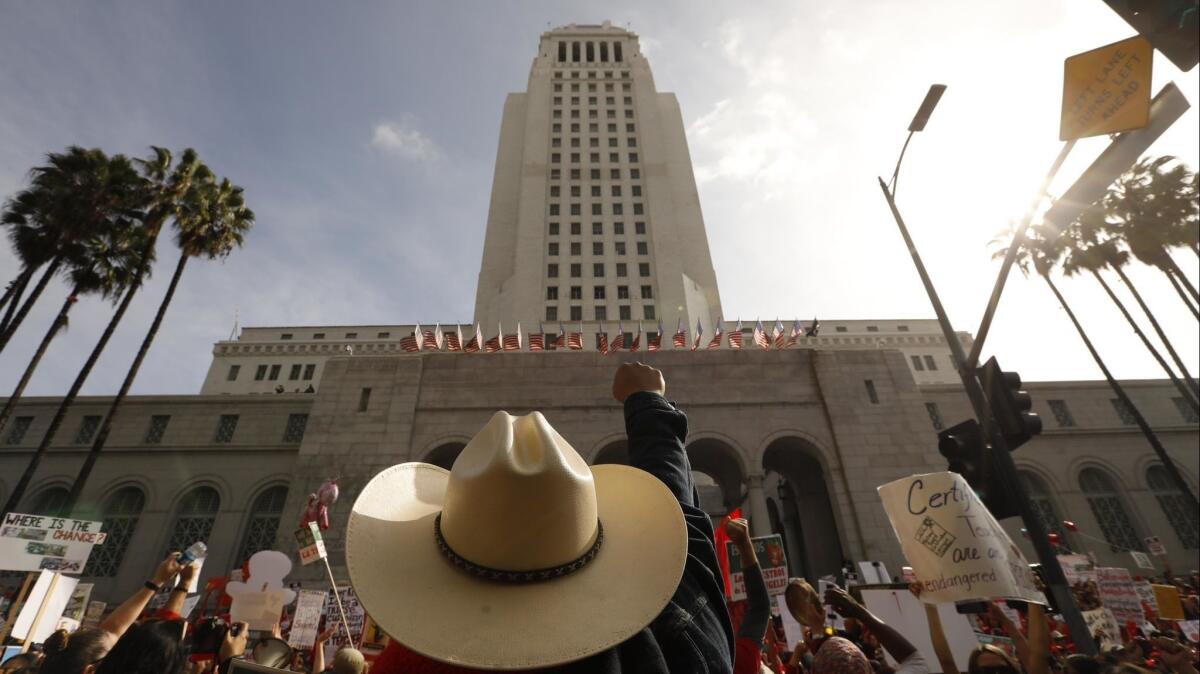 The lead-up to the Los Angeles teachers' strike was loud and acrimonious — as was the start of the walkout. Now the labor dispute has entered a quiet phase, but it's too early to tell if it is nearing an end.
Bargaining teams for striking teachers and the Los Angeles Unified School District were behind closed doors at City Hall for the third straight day on Saturday.
They were back at work just before 11 a.m. Saturday, after a more than 10-hour session Friday that the mayor's office said had been "productive."
Wrapping up an agreement over the weekend — and getting teachers back in classes after five missed days — would be difficult but is not entirely out of the question.
Student attendance on the fifth day of the strike remained low — and just about flat compared to the previous day. The district said 85,274 students attended Los Angeles Unified's 1,240 elementary, middle and high schools on Friday. The district serves nearly half a million students. Officials estimated its net losses for the day in terms of funding based on student attendance at $18.1 million.
L.A. schools Supt. Austin Beutner said in a Friday news conference that keeping schools open despite the low numbers was a "solemn duty."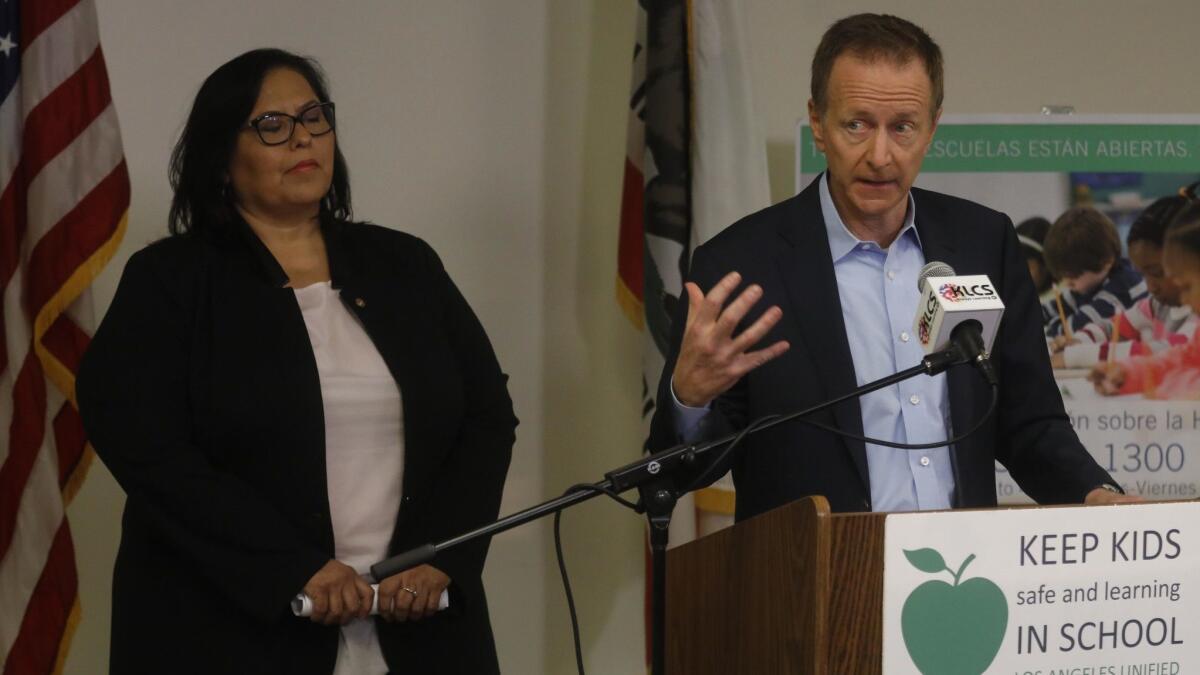 "We have to keep that child safe," Beutner said. "We have to give that child an opportunity to learn.… The parent needs to work."
Friday's negotiations at City Hall began just before 11 a.m., early enough for bargaining teams to see — and probably hear — thousands of union members and their supporters rally at Grand Park across from City Hall.
The last five days of striking have "stunned our naysayers," Alex Caputo-Pearl, president of United Teachers Los Angeles, told the crowd.
"If you are a boxer, do you know what you do" with a stunned opponent, he asked, before answering his own question: "You double down and keep on punching."
He told teachers that they need to be prepared if necessary to maintain strong picket lines throughout the coming week.
After the rally, he also pledged that union negotiators would work through the weekend to try to close a deal.
As things stand, there are three major parties working to broker this dispute: the union, the school district and the mayor's office, which is mediating.
From the union's perspective, the strike has been nearly an unqualified success — so far. Members of the public have identified strongly with teachers and their descriptions of overcrowded classrooms and schools without nurses and other support staff on hand every day.
Caputo-Pearl and his senior aides have to ponder whether an extended strike could yield more gains — in public perception, changes to state law and district concessions. There's a risk, however, that an extended strike would begin to erode the public standing of UTLA and decrease its leverage.
The union team also faces the difficult task of working through the genuine give-and-take of negotiations over a complex contract, detail by detail, some of which could have been accomplished weeks or months ago, some observers say. Now this painstaking task must be managed speedily.
The union's leadership bench is thinner than the district's. The people running the strike are the same people doing the negotiating, so the long holiday weekend could prove crucial.
The school district, meanwhile, has to consider what more it can offer, based on improved state revenues and what sweeteners it can add that would not cost money.
Those close to the process say Beutner needs to accept that the concerns of teachers and their union go beyond the contract. Union leaders frame the dispute as a fight over the future of public education.
Beutner has to consider what he can do to reassure the union that his long-term strategy is not to accelerate the growth of privately operated charter schools — assuming that is the case. He has been superintendent since May and led a task force examining the district for nearly a year before that, but has yet to put forward his strategic plan.
Union leaders and the rank and file have assumed the worst.
Charter schools now enroll about 1 in 5 district students and are popular with many families. They also have wealthy supporters, including some who strongly back Beutner, but would question his leadership if he gave away what they considered to be too much in negotiations.
L.A. Mayor Eric Garcetti may be in the strangest position of all. Unlike mayors in New York City and Chicago, he has no authority over the school system. But the strike is among the biggest crises he's faced, both in its sweeping effect on the city and the thorniness of its resolution.
His civic duties as well as his political future — if he wants to run for president — could depend on more than simply saying all the right things.
He appears to understand that, making resolution of the strike his primary job of the moment. And his role extends beyond mediation. To close a deal, his office needs to help pull in outside leaders and other government agencies that also are outside his direct control. Los Angeles County supervisors have agreed to find up to $10 million to expand district nursing services for next year. And Gov. Gavin Newsom has taken advantage of improved tax revenue to plug in new funding for education statewide.
Beutner's wealthy philanthropic allies and the powerful state teachers unions could lend helpful assistance from the outside. These forces, however, will probably land on opposing sides if state policymakers begin to discuss new rules to rein in charter schools. The union wants a moratorium on new charter schools. When district students enroll in charters, L.A. Unified loses the attendance-based funding that goes with them. Staff at charter schools also mostly are non-union.
In a promising sign, both the union and district have shifted their rhetoric. Caputo-Pearl has eased back from direct attacks on Beutner — even if many union members have not. Beutner has credited the union for putting the needs of public education front and center in the public consciousness.
If a settlement is reached, don't expect warm embraces. But a spirit of compromise could lead to a firm handshake.
Twitter: @howardblume
Sign up for Essential California for news, features and recommendations from the L.A. Times and beyond in your inbox six days a week.
You may occasionally receive promotional content from the Los Angeles Times.