L.A. Unified pauses plan to paint over the Ava Gardner mural targeted by Korean activists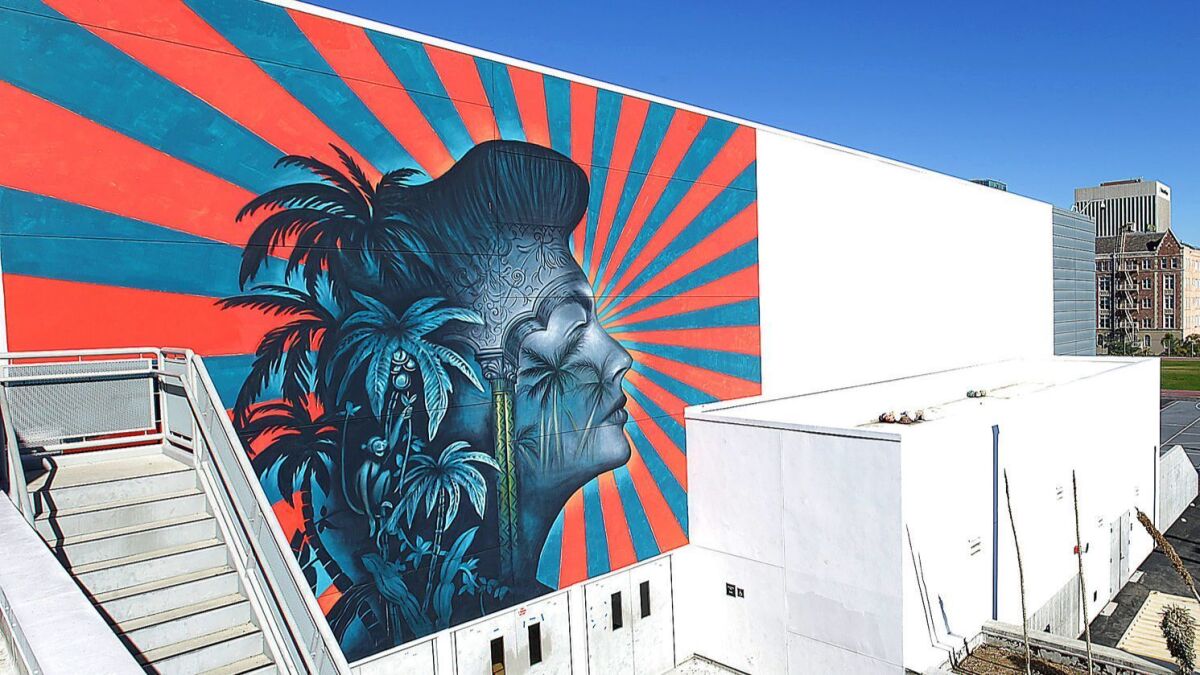 Los Angeles school district officials on Monday backed off immediate plans to paint over a mural at a campus in Koreatown as they faced a growing chorus of objections.
The mural at the Robert F. Kennedy Community Schools is dominated by an image of actress Ava Gardner. But it has run afoul of the Wilshire Community Coalition, a Korean-led group that objects to the sun rays in the background, which its members associate with the Japanese imperial battle flag.
Earlier this month, L.A. Unified announced its decision to paint over the mural after the Korean group pronounced the background as offensive as a swastika and threatened legal action.
The mural's artist, Beau Stanton, has denied any connection between his artwork and the battle flag. The rays on the flag differ in number, thickness and color.
The leader of the Korean group, Chan Yong "Jake" Jeong, said he does not challenge Stanton's good intentions, but his group still wants the mural gone.
The school complex is on the site of the Ambassador Hotel, where Kennedy was fatally shot in 1968. Stanton's mural pays homage to the hotel's famed Cocoanut Grove nightclub.
Over the weekend, artist Shepard Fairey said he would seek removal of his own mural at the school — of Kennedy — if Stanton's work were removed. Both artists also have received statements of support from two of Kennedy's sons.
"As a result of the extensive input, there is a need to have additional conversation," Eugene Hernandez, administrator of operations for that part of the school system, said Monday. "Therefore, we will not be taking immediate action on the mural at this time."
Last week, Hernandez defended painting over the mural, saying that schools belong to the community, which should be able to determine whether such works are appropriate.
But since then district officials have heard from a wider swath of community. Some teachers at RFK have stepped forward to say that the views of faculty and students were never considered.
On Sunday night, Robert F. Kennedy Jr. added his voice to an earlier statement sent by his brother Max in a letter to school board President Monica Garcia, who represents Koreatown, and senior regional administrator Roberto Martinez, in which he alluded not just to his father but also to President Kennedy, his uncle.
"My father was sympathetic to cultural sensitivities," Kennedy said. "But he understood that the central bedrock tenets of American democracy are freedom of speech and expression. As fiercely as they supported tolerance, and diversity, my father and my uncle loathed censorship."
Kennedy did not mince words.
"My father and uncles considered people who destroyed art in the service of political agendas as the worst sort of scoundrels," he wrote. "There is so much reprehensible and irrational about this scheme that one could write a thesis enumerating the idiotic flaws that catacomb the shallow arguments in its favor."
Martinez authorized painting over the mural. In an interview last week, he said Garcia and Supt. Austin Beutner were in the loop all along and endorsed his decision.
Garcia and Beutner declined to comment Monday. Both may have been preoccupied with other matters. They were heading into a closed-door session to discuss the confidential draft report of a fact-finding panel brought in after the district and teachers union failed to reach a contract agreement. A January teachers strike seems likely.
The district possibly has another problem related to the mural. As of midday, officials had been unable to locate releases from the artists.
It is district policy to obtain such releases, which give L.A. Unified full control over the artwork, General Counsel David Holmquist said. If the district cannot find such paperwork, its options may be more limited.
Even if releases are located, he said, the district will want to give serious consideration to the wishes of the artists.
Stanton said Monday that his attorney has contacted the district, threatening legal action if it proceeded with the plan to paint over the mural.
"We wanted to stay the decision until the other stakeholders had a chance to speak their minds," he said.
Fairey has been busy seeking the support of Korean community members who disagree with the position of the Wilshire Community Coalition. His effort elicited a response from chef and restaurateur Roy Choi, famous for his Korean taco trucks.
"Shepard called me asking in true humility if I saw the concerns brought up around this mural so he can understand it if it did cross a line," Choi wrote in an email. "But to be honest, I don't see the issue. I went deep into the well of subconscious and still didn't see it. The rays felt more like radio signals to me than the rising sun flag and while the visual trigger may create the illusion of similarity, the piece does not represent that war-torn era of atrocities to me at all."
Twitter: @howardblume
The stories shaping California
Get up to speed with our Essential California newsletter, sent six days a week.
You may occasionally receive promotional content from the Los Angeles Times.