L.A. teachers authorize strike as tensions rise
Members of the Los Angeles teachers union have voted overwhelmingly to authorize a strike, the union announced Friday.
Tensions continue to build over contract negotiations, with the union and school district lately accusing each other of acting illegally.
A strike authorization does not mean that a strike will occur, but it gives the union's board of directors the power to call a walkout without returning to the membership for approval. The authorization was expected; the main unknown was the size of the mandate — and it was considerable, which was widely expected.
About 81% of teachers cast ballots. Of those, 98% voted for the authorization, according to preliminary totals.
"This is a historic number," said union secretary Arlene Inouye, who chairs the bargaining team. "Our members are pretty upset with Supt. Austin Beutner's disrespect for educators."
Patara Yontrarak, a veteran math teacher at King Middle School, voted to authorize a strike.
"I felt sad and disappointed that we have to go this far," Yontrarak said. He said it's difficult to take seriously the district's claims of financial hardship because officials have squandered money through such mistakes as mismanaging construction projects and a billion-dollar effort to give every student an iPad.
In a statement, Los Angeles Unified School District officials noted that unions representing most other employees have reached contract settlements.
"Students and families will bear the brunt of a strike," the statement says. "We hope our shared responsibility to put students first will prevent a strike and lead to a common sense resolution that recognizes the hard work of our employees while addressing the safety and instructional needs of students and the financial solvency of L.A. Unified."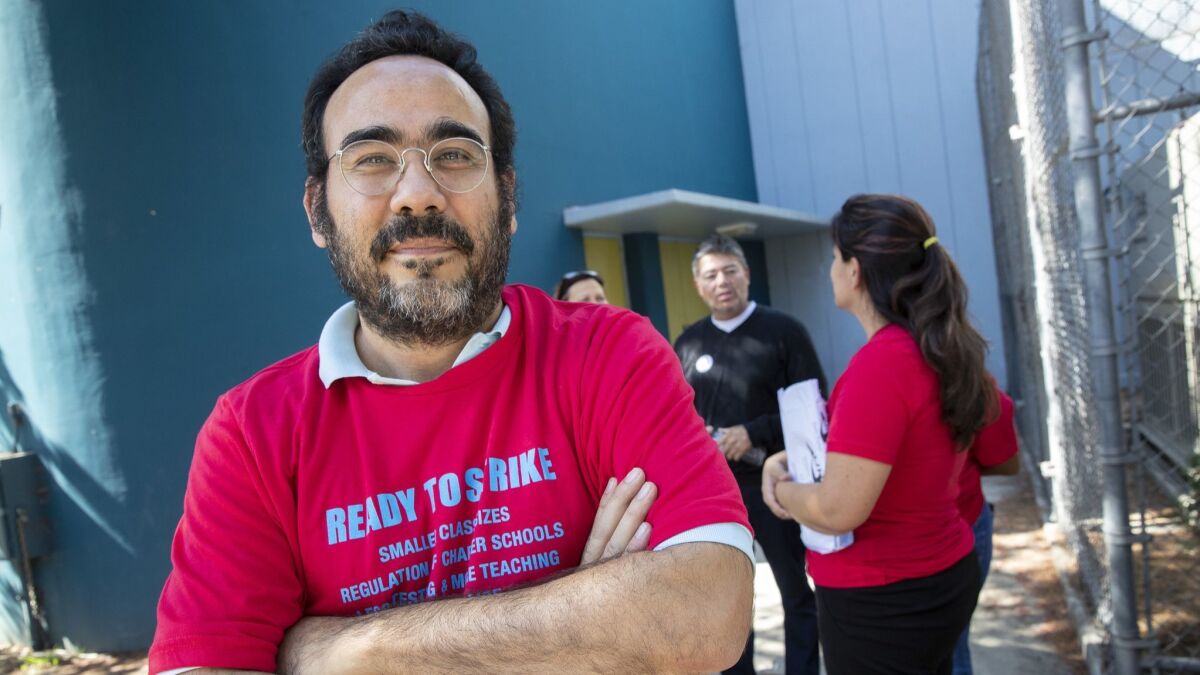 United Teachers Los Angeles represents about 31,000 teachers, nurses, librarians, counselors, social workers and psychologists in L.A. Unified.
In talks over more than a year, salary has been a sticking point, but far from the only one.
Beutner has suggested that teachers could emerge with a deal similar to that of other unions that have settled with the district — about 6% over three years.
The union wants a 6.5% raise that would include retroactive pay and not phase in gradually, and wants to keep the door open for later raises over the expected three-year term. The union also wants to reduce class sizes by hiring more teachers and add many more nurses, librarians and counselors.
The district says these proposals — while desirable — would push the nation's second-largest school system into immediate insolvency.
The union's 69-page proposal covers a broad range of district operations. It includes a demand that teachers be given more control over how many and which standardized tests their students take, with the goal of limiting the number of these exams.
The district considers such decisions to be the province of management. On its side, the district wants a teacher-evaluation metric that has four levels instead of three — including a new category of "highly effective." In the past, union leaders have expressed concern that expanding the rating system could lead to selective raises based on subjective judgments rather than seniority and qualifications.
The interaction between the two sides has gotten more heated in recent days. UTLA accused the school district of trying to smear its president, Alex Caputo-Pearl, by improperly releasing his disciplinary records in response to a public-records request by radio station KPCC. It concerned a 2014 dispute over whether Caputo-Pearl, then a teacher, had improperly left his campus to campaign for the union presidency. The Times wrote about the issue when it first arose.
The new information that the district released was that, in March 2014, it had reprimanded Caputo-Pearl and decided to suspend him for three days, beginning at a time "TBD," or "to be determined." In 2014, the district had declined to release the disciplinary decision, asserting that any discipline would be confidential and could not be released. Officials took a different position last week, citing case law related to public records.
Caputo-Pearl filed a grievance over the district discipline, which is still pending, according to the district. The union says the district essentially dropped its pursuit of the case after Supt. John Deasy resigned in October 2014.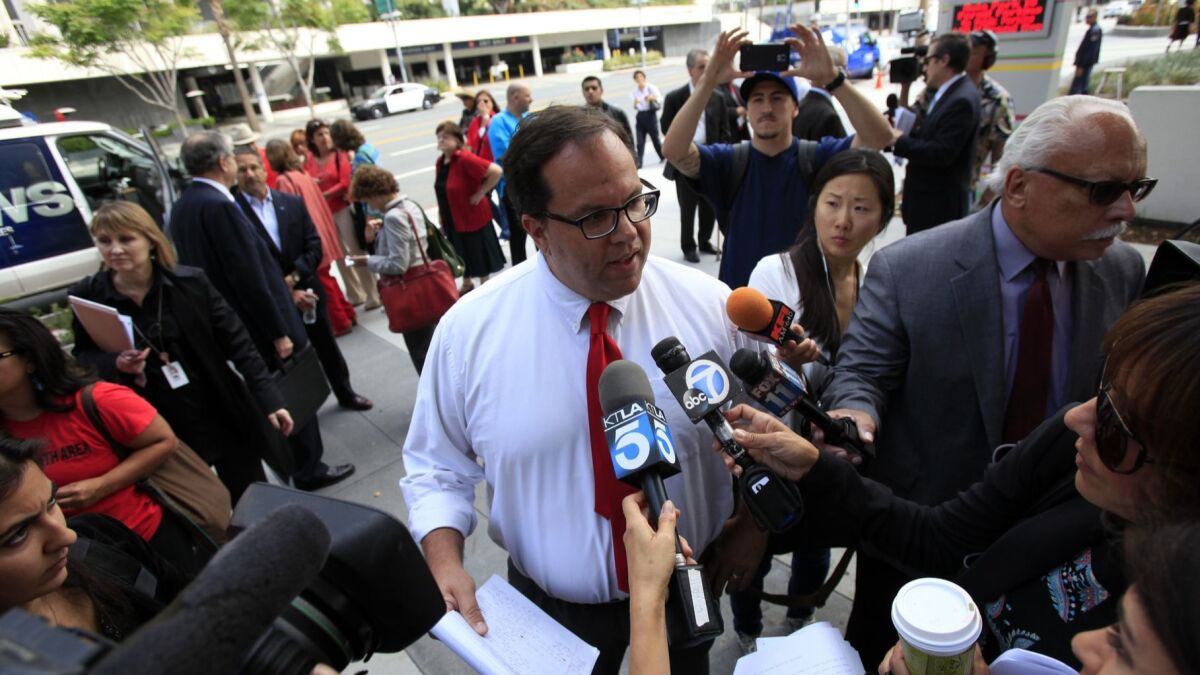 On Monday, the union filed an unfair-labor-practice charge over the disclosures, accusing the district of unlawfully interfering with the union's strike authorization vote and failing to provide key public information and financial documents that the union has requested.
The next day, the district responded with its own unfair-labor-practice charge, saying that the union has not negotiated in good faith. District officials say the union has failed to compromise or limit its demands in any meaningful way and seems determined to head toward a strike as quickly as possible.
In violation of labor rules, the district wrote in its complaint, "UTLA has engaged in [a] course of conduct calculated to time a strike for a period where it can inflict maximum punishment on children and parents so that UTLA may extract financial concessions from the district."
The state's Public Employment Relations Board moderates such disputes and has the power to impose fines and other penalties.
Twitter: @howardblume
---
UPDATES:
7:25 p.m.: This article was updated with comments about the vote from the union and the school district as well as additional background.
This article was originally published at 6 p.m.
---
The stories shaping California
Get up to speed with our Essential California newsletter, sent six days a week.
You may occasionally receive promotional content from the Los Angeles Times.