Three UC campuses did not consistently discipline faculty accused of sexual misconduct, state auditor finds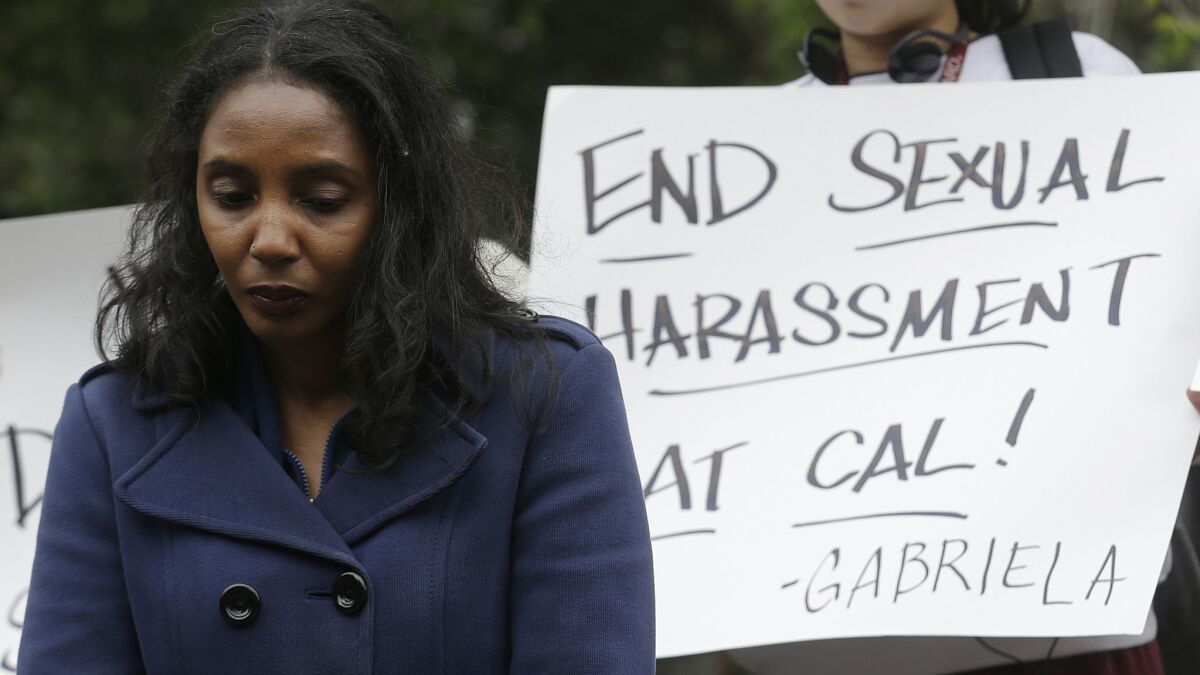 University of California campuses at Berkeley, Los Angeles and Davis did not consistently discipline faculty who were subject to multiple sexual harassment complaints, according to a state audit released Thursday.
Those campuses also took much longer to discipline members of the Academic Senate, who include tenured faculty, than staff.
Overall, UC paid out nearly $4.5 million in 20 settlements related to sexual harassment complaints between January 2008 and December 2017. The auditor found the settlements were reasonable and did not unduly limit victims' educational and employment opportunities.
The audit reviewed UC's handling of all sexual misconduct cases in the last decade involving faculty and staff. Complaints increased during that time, particularly between 2014 and 2016 when they doubled from 100 to 205 — a growth UC staff say is a positive, spurred by better outreach, education and training.
Auditors looked at how quickly UC officials resolved cases, how well they communicated with those involved and whether they adhered to university sexual misconduct policies and practices. They also assessed whether discipline measures, if imposed, were proportional to the offense and whether settlements shortchanged the victim.
State Auditor Elaine M. Howle said that UC could improve its response to sexual harassment complaints with clearer direction on time frames and more communication. She also recommended that UC make discipline more consistent and effective by requiring university officials to consult with campus Title IX coordinators about appropriate measures.
In a letter to Howle, UC President Janet Napolitano accepted all recommendations. She also pointed out that the university overhauled its harassment policies for students in 2016, expanding training, education and support services after a sweeping review by a systemwide task force she launched in 2014.
During the last school year, UC adopted reforms for cases involving faculty and staff. They sped up the timeline to complete investigations and decide on disciplinary measures and increased transparency in sharing the results with complainants and respondents. In the last two school years, UC officials say, peer review committees have formed on campuses and systemwide — and over time, they should help make sanctions across the system more consistent.
Before those reforms were in place, the audit found, similar cases of nonsexual physical contact had different outcomes, with a Berkeley professor allowed to stay on and a UCLA lecturer agreeing to leave as part of a settlement.
"UC understands the need for a strong stance against sexual violence and sexual harassment, meaningful efforts at prevention, and fair and timely processes for addressing complaints," Napolitano wrote to Howle. "To that end, the university has made great, proactive strides in improving its response to [sexual misconduct] issues."
Jerry Kang, UCLA vice chancellor for equity, diversity and inclusion, said the data set used by auditors did not capture the widespread changes at his campus over the last three years. He has expanded the number of Title IX office staff members, including investigators, from two before 2015 to nine today, speeding up case resolutions. He said that cases involving Academic Senate members take longer because they require hearings.
His office also now posts annual accountability reports — the latest showing that, of the 601 Title IX complaints filed between July 2016 and June 2017, mostly against students and staff, 80% have been resolved.
"The way we do business at the University of California writ large and certainly at UCLA has changed radically," he said.
The UC Student-Workers Union, however, is negotiating for a quicker timeline to resolve cases, peer-to-peer training and greater input from victims into decisions administrators make about remedies. "The university's policies and procedures are continuing to fail survivors," said Garrett Strain, a union leader and UC Berkeley graduate student.
Assemblyman Adrin Nazarian (D-North Hollywood) requested the audit last August after a constituent contacted him about her daughter's case. The daughter, who asked to be identified only by her first name Sarah, was a 24-year-old UCLA doctoral student in French and francophone studies who alleged that her faculty advisor, 69-year-old Eric Gans, sent her unwanted emails for two years beginning in 2010 and then repeatedly professed his love even when she told him to stop. She filed a Title IX complaint in 2012.
In 2013, UCLA found that Gans had violated university policies by creating a sexually hostile workplace and attempting to establish a romantic relationship with a student he supervised. In a settlement with UC, he agreed to resign from his position and was barred from future employment at the university.
In Sarah's settlement, UC agreed to an undisclosed payment — but also barred her from studying or working at any university campus or affiliate. That provision outraged Nazarian, leading to his audit request.
UC did not include such a ban in the other settlements reviewed, auditors said, and did so in Sarah's case to put an end to the dispute and minimize the risk of further legal action.
"While I am saddened to be singled out by the UC for speaking out against sexual harassment, I feel empowered that this audit will push the UC system to revise their response to complaints of sexual harassment and sexual violence," Sarah said in a statement to The Times.
teresa.watanabe@latimes.com
Twitter: @teresawatanabe
---
UPDATES:
4:55 p.m.: This article was updated with additional details of, and comments about, the audit.
11:00 a.m.: This article was updated with additional details of the audit, the UC president's response and background on why the audit was requested.
This article was originally published at 9:35 a.m.
The stories shaping California
Get up to speed with our Essential California newsletter, sent six days a week.
You may occasionally receive promotional content from the Los Angeles Times.