Former UC Irvine vice chancellor committed sex discrimination by paying women less than men, review finds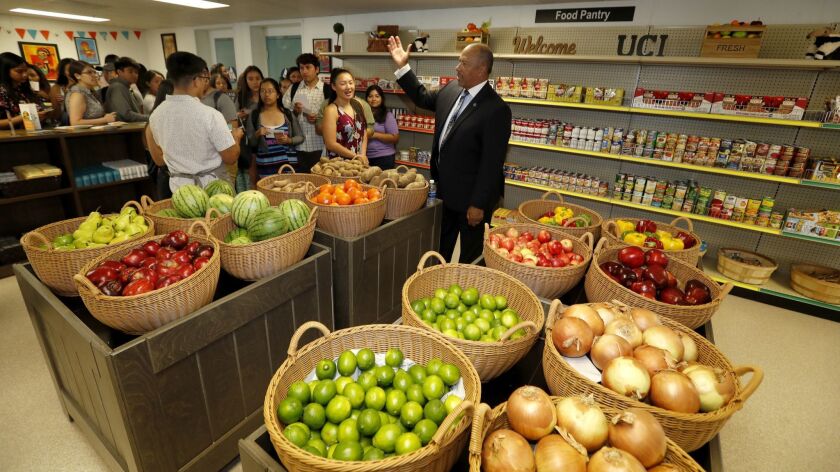 A former UC Irvine vice chancellor touted for promoting equity and diversity committed sex discrimination by paying three women less than men who did the same or similar work, a campus review has found.
Thomas A. Parham left his post as vice chancellor of student affairs in June to become president of Cal State Dominguez Hills. The review, which was obtained by The Times, found that Parham violated university nondiscrimination policies by refusing to pay an assistant vice chancellor and the directors of two campus centers as much as male counterparts.
Parham denied wrongdoing. In a statement, he said he was a lifelong activist for equal rights and justice with a "long track record of supporting women."
"I am disappointed by the claims in this report and I am confident that I did not act in a discriminatory manner," Parham said.
Parham said he has supported victims of sexual harassment and assault, backed the creation of the campus women's center, developed programs to empower women and hired and promoted women "at the highest levels of pay equity." A licensed psychologist who helped launch an Orange County leadership group for black men, Parham has overseen counseling and health services, along with career, life planning and student services during three decades at UC Irvine.
Women who filed the gender discrimination complaints, however, painted a different picture. Tamara Austin, director of the Women's Hub, which provides programming and supplies for women, said Parham abruptly removed her as chairwoman of an annual black leadership gala this year and replaced her with a man, paying him for the work she had done for free for the previous 2 ½ years.
The review by the campus Office of Equal Opportunity and Diversity, which was dated June 21, confirmed the unequal treatment and said Parham paid the man $15,000 for three months of work this year. The investigator rejected Parham's justification that he paid the man because he had funding left on a contract from another university job.
"The end result of [Parham's] actions was a discrepancy in pay between male and female employees who did the same work for planning the Gala," the review said.
The report also recommended a "thorough equity review" to address Austin's claim that she is paid less than other male directors who manage offices of similar size doing similar work in the student affairs division. Her $73,000 annual salary is less than at least one male director who is paid $80,000.
"I don't believe women are being paid fairly on campus," Austin said in an interview. "I want to put them on notice that this just won't go."
Austin said she and the other women who filed complaints this year believe the problem of unequal pay is a campuswide problem. They are asking for back pay owed and a full pay equity review for all UC Irvine staff members. The university annually conducts such reviews for faculty.
A university spokeswoman said campus policies bar gender bias for both faculty and staff. She declined to comment further because, she said, the review is ongoing.
The review also found that Parham violated university nondiscrimination policies in two other cases:
Jade Agua, former director of the Cross-Cultural Center, was not paid equally for additional work assigned to her leading a program known as New Narratives to promote intergroup communication and collaboration through films, speakers, panels and training. A male staff member who did the work before her as a large part of his regular job was paid a salary of $82,000 to $90,000. Agua, however, received no stipend for the extra work performed from December 2016 until June 2017, the review found.Later, at the urging of the female associate dean of students, Parham approved a $2,500 service award for Agua. He told the investigator he did not support a stipend because none had ever been paid to a New Narratives committee chair and the work was similar to Agua's regular job. The review concluded, however, that Parham discriminated against Agua by giving her less money than what the male staff member received.Agua, who left Irvine in May for USC, declined to comment.
The female assistant vice chancellor for educational partnerships took on extra work in enrollment services from August through October last year but was paid less than a man who later stepped in. The woman, who declined to comment and asked that her name not be published, was asked to fill in temporarily for the associate director of enrollment services but was not given an interim title or stipend.She ultimately received a $1,500 service award for her work. Parham, however, approved the interim title and a $6,000 stipend over three months for a male administrator who filled in after her. The investigator rejected Parham's reason for the unequal treatment — that the woman had recently been promoted with a salary increase and the man earned less than she did. The review said both staff members had recently been promoted, were at the same level when asked to take on the extra work and should have received the same title and pay.
In a fourth case, the university registrar alleged that Parham discriminated against her by delaying a pay equity review and paying her less than her male counterpart at another campus. The investigator found insufficient evidence of gender bias as the reason for the delayed pay review but recommended an analysis to see why men in similar jobs at other UC campuses earn more.
"Based on the information gathered during the investigation, there is significant concern from [the equal opportunity office] that there may be a disparate impact on female employees' pay in Student Affairs," the review said.
teresa.watanabe@latimes.com
Twitter: @teresawatanabe
---
The stories shaping California
Get up to speed with our Essential California newsletter, sent six days a week.
You may occasionally receive promotional content from the Los Angeles Times.