Superintendent candidates emerge as L.A. Unified seeks to keep job hunt a secret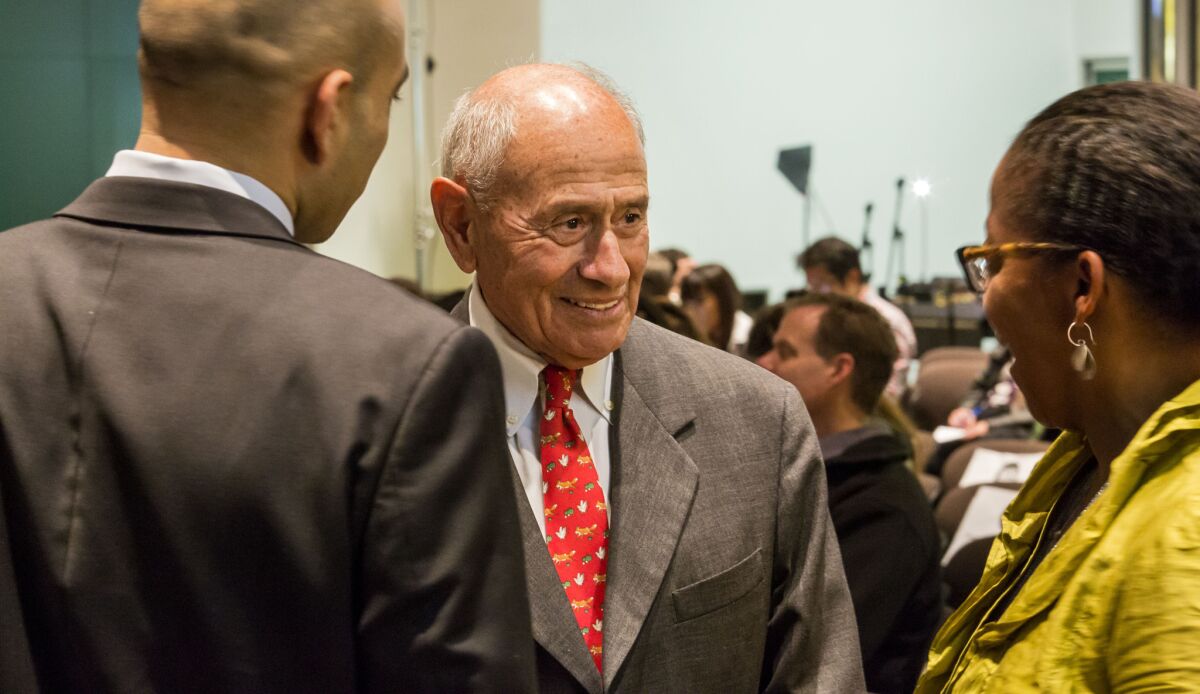 The Los Angeles Board of Education is immersed in the biggest job it has: choosing the next leader of the nation's second-largest school system.
Starting on Sunday, the seven-member board began interviewing candidates and weighing options. Insider or outsider? Former insider? Business executive? Educator from a much smaller city?
Although top district officials have gone to great lengths to keep the process confidential, the names of top contenders are emerging through sources close to the Los Angeles Unified School District, people who know some of those under consideration and individuals in other cities.
The Times' new education initiative to inform parents, educators and students across California >>
Among those who are considered to be in the running and who have been or are expected to be interviewed: San Francisco Supt. Richard Carranza, L.A. Unified Deputy Supt. Michelle King and Fremont Unified Supt. Jim Morris, who formerly worked for L.A. Unified.
Others who have been part of the board's discussions and may be interviewed include: Miami schools Supt. Alberto Carvalho, St. Louis Supt. Kelvin Adams, Atlanta Supt. Meria Carstarphen, business executive Jim Berk, nonprofit director Dixon Slingerland and former senior L.A. Unified administrator Robert Collins.
This list is not complete, some insiders said, and L.A. Unified's interest is not necessarily reciprocated.
Efforts by The Times to speak with each of these individuals have been unsuccessful over the last two weeks. Carranza has not responded to interview requests. King and Morris declined.
The board hopes to make a selection by the end of the month. Current Supt. Ramon C. Cortines, 83, is retiring. The veteran educator has led L.A. Unified on three separate occasions, most recently after Supt. John Deasy resigned under pressure last year.
The next leader faces daunting challenges: a looming budget shortfall, declining enrollment and lagging student achievement. There's also the challenge of an outside plan to rapidly expand the number of independently operated charter schools, which could threaten the solvency of L.A. Unified if enough students enroll in them. The schools chief also must bring together a Board of Education with different beliefs and conflicting political backers.
Altogether, the situation is enough to persuade one well-regarded former superintendent to steer clear.
"There is no way I would go to Los Angeles. It's a total mess," said Joshua Starr, who recently headed the district in Montgomery County, Md., with 156,000 students, for nearly four years and who attracted some attention for the job in Los Angeles. "I would want to be in a job that you had a chance to be successful."
Nonetheless, a large field has emerged, compiled by an executive search firm hired by the board. And although a dark horse may surface, the front-runners appear to be Carranza and King, with Morris close behind.
Carranza, 49, has led San Francisco Unified since 2012, where his focus has included expanding technology and reducing suspensions, two issues of importance in Los Angeles. He previously worked as that district's deputy superintendent for instruction, innovation and social justice. He also served as a senior administrator in Las Vegas' schools.
San Francisco is less than one-tenth the size of L.A. Unified; about 60% of students are from low-income families — a substantial percentage, but lower than in Los Angeles. Carranza recently signed a three-year extension, starting at $315,000 a year.
The leading inside candidate, and probably the only one, is King, 54, the top deputy to Cortines. She also served in that capacity under Deasy. King has built a positive reputation, distinguishing herself as a loyal figure who mostly stayed in the background.
One exception was in April 2014, after a fiery bus crash in which 19 district students and others were en route to visit Humboldt State. Ten died, including one L.A. Unified student. Because Deasy was out of town, King went to the scene, 500 miles away in Orland, with counselors. She displayed a calm demeanor as the district helped families establish contact and arrange travel home.
But the former Hamilton High principal hasn't played a central role in handling political pressure or in guiding district instruction.
Morris, 56, worked his way up through L.A. Unified for nearly 30 years, holding the posts of senior regional administrator, chief operating officer and chief of staff to three superintendents. He was generally well-liked by principals.
In 2010, Morris became superintendent in Fremont, a rapidly growing Bay Area district with 34,000 students, an enrollment that is diverse but more prosperous than that of L.A. Unified.
Another group of individuals have, according to sources, been part of the discussion, but The Times has not been able to verify with certainty that they have been interviewed or agreed to apply.
Leading that group is Carvalho, 51, from Miami-Dade County Public Schools, whom board members clearly wanted on the short list, according to sources who could not be identified because they are not authorized to speak about the matter.
But he has said he's not interested in leaving south Florida. Still, his strong personality and a portfolio of aggressive school improvement efforts would make him a top contender.
"There is no amount of money that L.A. could pay to take me to California," Carvalho said to his school board, according to a Dec. 2 article in the Miami Herald.
He might interview in Los Angeles, but for now, he's expected by some district watchers to accept a pay raise to stay where he is.
A former district insider, Collins, 69, heads the board of the National Dropout Prevention Center/Network at Clemson University in South Carolina. Collins' biography also lists him as the founder of a company that consults with districts about career and technical education. He held senior posts in Los Angeles before leaving to become schools chief for Grossmont Union High School District in San Diego County for about three years, ending in 2010.
Another educator of interest is Adams in St. Louis. The 59-year-old administrator has received praise for making progress over seven years in a school system with challenges similar to those in Los Angeles. Atlanta's Carstarphen, 45, also has attracted attention — she is African American and speaks fluent Spanish. But she has only been in Atlanta since July 2014. She previously headed school systems in St. Paul, Minn. and Austin, Texas.
A less traditional prospect is Berk, 54, head of the executive board for UCLA's School of Theater, Film and Television, which is an unpaid position. According to his biography, he is the former CEO of Participant Media, which released 55 films during his tenure, including "Waiting for Superman," which portrays charters, including those in Los Angeles, as being preferable to traditional public schools. He has also pursued other business ventures. And early in his career, he taught music and helped start the arts magnet at Hamilton High, later becoming a principal.
Another out-of-the-box possibility is Slingerland, 46, executive director of Youth Policy Institute, a nonprofit group with an annual budget of $57 million, according to the organization. The institute operates one middle school in L.A. Unified as well as two local charter schools. In all, the group says it serves more than 100,000 students and adults at a total of 125 program sites. Slingerland is well connected politically, both with Mayor Eric Garcetti and the Obama administration, which awarded the institute a $30-million federal Promise Neighborhood grant to oversee a range of services to promote education and combat poverty.
Attempts to reach Carvalho, Collins, Adams and Carstarphen were not successful. Through UCLA, Berk said he was currently unavailable and Slingerland declined to be interviewed.
The board has set aside more time for interviews Sunday.
Twitter: @howardblume
ALSO
With the stroke of a pen, Obama marks end of an era for No Child Left Behind Act
Parents, worried about winter learning loss? This is for you
Outside law firm will investigate L.A. County official accused of an inappropriate romantic relationship
The stories shaping California
Get up to speed with our Essential California newsletter, sent six days a week.
You may occasionally receive promotional content from the Los Angeles Times.