Magnet schools: How to navigate one of L.A.'s most complex mazes
The stakes are high for families across Los Angeles later this fall. Applications are being accepted for a spot in one of 210 magnet programs in L.A. public schools; the deadline is Nov. 13.
For some parents, getting in is the difference between staying in public schools and choosing a private or charter option.
"I just really want to know ... the whole process, step by step," said mother Latisha Lewis. She attended a recent magnet school fair at Baldwin Hills Elementary School with her 10-year-old daughter, Kyera Parker, who currently attends a charter.
Choosing and applying to magnet schools can be confusing. We spoke to experts and parents to find out about L.A. Unified's magnet schools. They are listed at the bottom of this post.
The Times' new education initiative to inform parents, educators and students across California >>
What is a magnet school?
A magnet school is a themed school within LAUSD that is open to all students, regardless of neighborhood. Some are located within a larger campus, and some are free-standing campuses. Schools have different themes, including performing arts, science and math, and those aimed at gifted students.
L.A.'s magnet program was created in the 1970s as part of a court-ordered desegregation plan intended to increase racial equality in schools.
How do I apply?
Fill out the magnet schools application by Nov. 13 at 5 p.m. The application brochure is available online at the district's website, as well as in schools and public libraries. That link also includes descriptions of the magnet schools and their themes. Parents can select up to three schools.
Some magnet coordinators will offer parents help at the schools, providing access to computers, the Internet and volunteers to help with the process.
Should I fill out a second and third choice?
It depends. If you really want one program, it might be best to leave the other two blank. You'll first be entered into the lottery for your top choice. If you're not picked, you'll be entered for your second, and then third, choice. If you are accepted into any of them, you will not be on the wait list for your first choice.
Is the lottery random?
No. Students are chosen through a lottery system, but the students with the most points get picked first.
How do I get points?
If your child is not in a magnet school already, students can earn four points for every year that they apply to a magnet school and remain on the wait list, up to three years. That equals 12 matriculation points. There are parents who have made a game of this, applying every year to the most popular magnets to reduce their chances of being picked, so that they can collect a high number of points in time for middle school or high school. This is a dicey game to play—if you get into a magnet and decline to attend, all those points disappear.
Whether you apply to the same school repeatedly or try for different ones does not affect your points or odds, because lotteries happen at the district level.
Students also receive four points for living in the neighborhood boundaries of an overcrowded school, and another four points for living in the neighborhood boundaries of a "predominantly Hispanic, black, Asian and other non-Anglo" (PHBAO) school. The latter designation applies to most schools in the district.
Tack on another three points if a sibling already attends the magnet school to which the student is applying.
Students already in a magnet school receive an automatic 12 points when they matriculate to the next campus. Students who complete 5th grade, for example, in a magnet elementary school have an automatic 12 points for their middle school magnet application.
See the most-read stories this hour >>
How do I choose a magnet to apply to?
Parents can apply to any magnet in the district. The best way to choose a magnet is to see if the school's theme aligns with the student's interests and to visit the campus. Know that themed magnets can also be strong in other areas — for example, a student interested in STEM could attend a humanities magnet that also offers high-level math and science courses.
There are magnet fairs throughout the district, and parents can call magnet schools to set up tours.
What are gifted and talented programs?
Gifted and talented programs are intended for students who excel or show promise academically or in the arts. Close to 50 of the district's magnets are gifted and highly gifted programs. Admission to these programs requires further tests or auditions.
Students can be classified as academically gifted or high ability through a confirmation from the principal, an LAUSD psychologist, or a score in the 85th percentile or higher on standardized tests that the district approves. Students can be classified as highly gifted if they score 99.5% to 99.9% on the district's intellectual assessment. Students who score 99.9% are given priority.
Why is race required on the application?
A primary goal of magnet schools is to achieve balance between white students and students of color. About a fourth of the schools are required to give either 30% or 40% of spots to white students, and 70% or 60% to students of all other races. This system is a remnant of the program's founding, during which the goal was to draw white students into minority schools, and vice versa. Multiracial students must choose only one race for the purposes of magnets.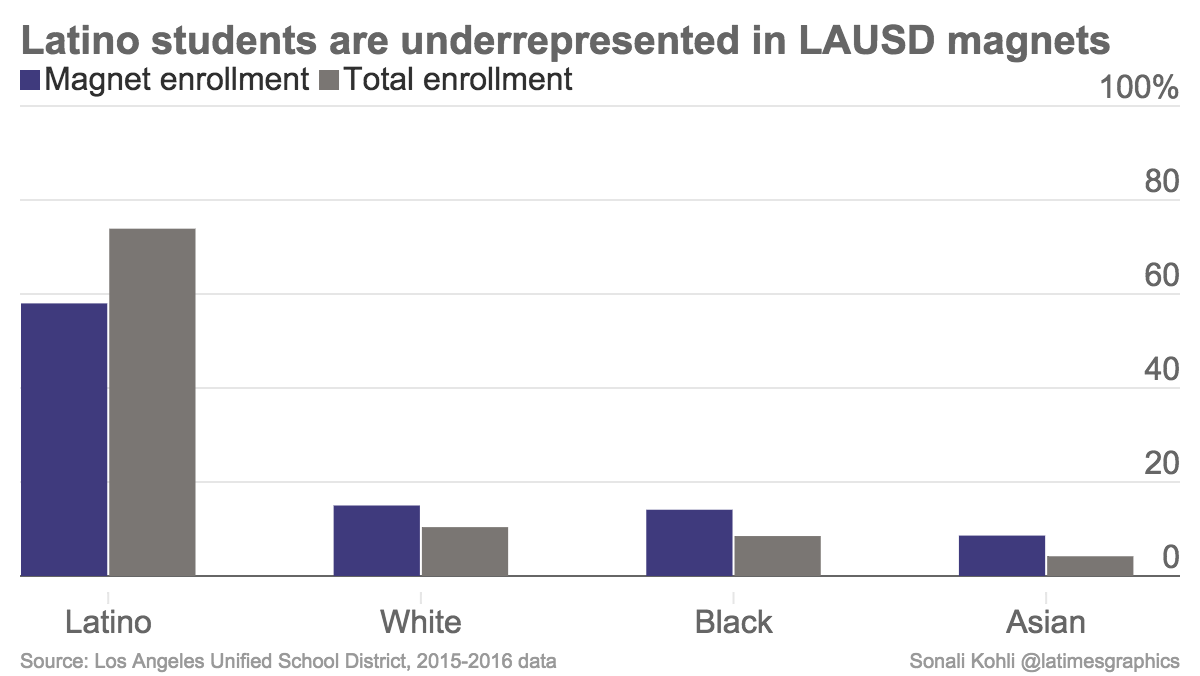 White students have always been overrepresented in Los Angeles magnets, though to a lesser degree than they are now.
What if I miss the deadline?
Parents can submit a Space Available application from Dec. 1 onward. Parents can list only one school on those, and these students will be placed behind everyone else on the wait list.
Do magnets help kids get into college?
It depends on the school. Some are known for their rigor, for their AP class offerings or for focusing on college-level coursework. All of these will help students enter college. Similarly, a school focused on performing arts could help students hone their abilities before college.
But a school is not automatically better than other schools because it is a magnet. There are magnets that are under-enrolled and those that don't have the level of rigor as their local neighborhood or charter schools.
Is there transportation to magnet schools?
Yes. If a student lives outside a two-mile radius for elementary school and outside a five-mile radius for secondary school, the district provides busing to those schools.
If my child doesn't get in, will he/she get in next year?
There's no guarantee, but the points from the previous year will help.
Should I apply even if it appears there aren't that many spaces?
Yes, always apply if you want to go to the school. In at least one of the most in-demand schools, students come in with an average of 16 points. But many schools dip deep into their waiting lists, as there are many reasons that parents would drop off the list. Some schools get to the end of their waiting lists.
What is different about a magnet versus a charter or regular LAUSD school?
The main differences are the racial quotas, the themes and the enrollment process. Neighborhood schools fill up by first offering priority to residents, and then opening the waiting list to other students on a first come, first served basis.
Charter schools also use lotteries for admissions, but each charter school has its own application process and waiting list. Lotteries for magnet schools, meanwhile, are conducted centrally through the district.
The differences in quality vary from school to school. Parents can compare test scores on the L.A. Times website. The best way to know which is a good fit for your child is to visit the schools and talk to parents and students about their experiences.
Sources for this story:
-Keith Abrahams, LAUSD executive director of Student Integration Services
-Tanya Anton, founder/creator of Go Mama Guide
-Ellana Selig, magnet coordinator at Los Angeles Center For Enriched Studies
-Susan Yoon, Cleveland Humanities Magnet Parents Association president
Do you have more questions about magnets? Ask Sonali Kohli on Twitter @Sonali_Kohli or by email at Sonali.Kohli@latimes.com.
The stories shaping California
Get up to speed with our Essential California newsletter, sent six days a week.
You may occasionally receive promotional content from the Los Angeles Times.