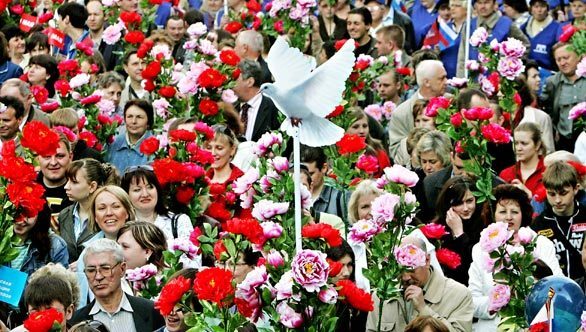 14 Images
May Day around the world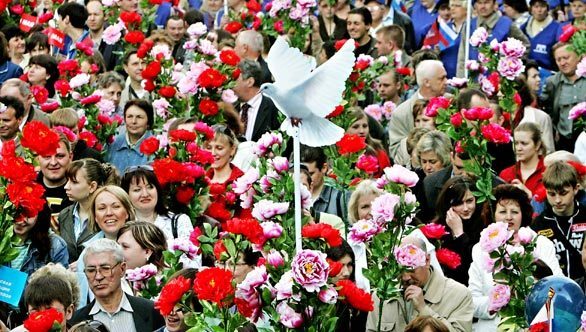 Members of the United Russia party march in Moscow.
(Maxim Shipenkov / EPA)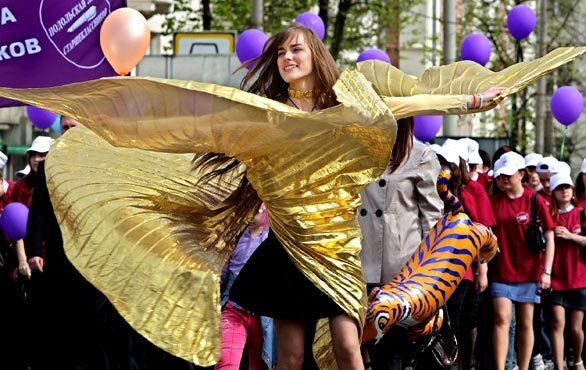 A woman dances during a rally in Podolsk, outside of Moscow.
(Yuir Kochetkov / EPA)
Young demonstrators march in Moscow. Thousands of Communists, members of Russia's main political parties and opposition activists staged competing marches..
(Associated Press)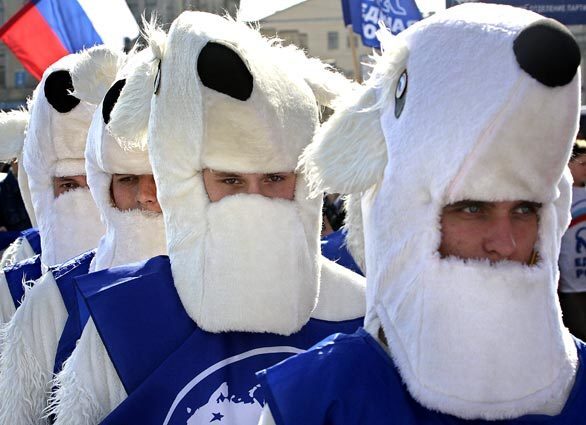 Supporters of Russia's dominant party, United Russia, dress as polar bears for a march in St. Petersburg, Russia.
(Kirill Kudrjavtsev / AFP/Getty Images)
A member of the Russian ultranationalist organization called The Movement Against Illegal Imigration attends a rally in Moscow.
(Andrey Smirnov / AFP/Getty Images)
Protesters dressed as clowns walk past a line of riot police blocking the route of a right-wing demonstration in the northern German city of Hamburg.
(Roland Magunia / AFP/Getty Images)
Turkish riot police officers peer out through their shields as they clash with protesters in Istanbul. Turkish police officers used water cannons and tear gas to disperse crowds gathering for an outlawed May Day rally in central Istanbul.
(Burak Kara / Getty Images)
Protesters throw stones at riot police through tear gas during banned May Day demonstrations in Istanbul, Turkey.
(Tolga Bozoglu / EPA)
A protester blows soap bubbles towards Swiss policemen during a peaceful demonstration in Zurich, Switzerland.
(Steffen Schmidt / Associated Press)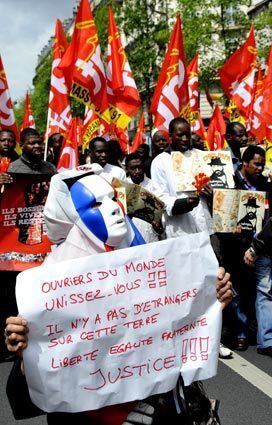 A masked demonstrator parades with a sign that says "Workers of the World Unite!! There are no foreigners in this land. Liberty, equality, fraternity. Justice!!!" in front of undocumented immigrants at the May Day demonstration in Paris. Thousands of workers, among them many undocumented immigrants, took to the streets to commemorate May Day and to demand changes in French law to permit the legalization of undocumented workers.
(Horacio Villalobos / EPA)
An old woman leads a march called by trade unions in the province of Andalucia, southern Spain.
(Juan Ferreras / EPA)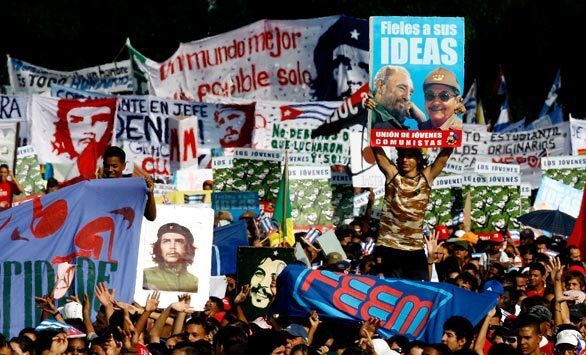 A man, right, holds up a picture portraying Cuba's leader
Fidel Castro
and Cuba's President Raul Castro during a May Day parade at the Revolution square in Havana, Cuba.
(Javier Galeano / Associated Press)
Paraguayan workers, some members of "Corriente Clasista y Combativa," a workers union, shout slogans during May Day celebrations in Asuncion.
(Jorge Saenz / Associated Press)
Domestic workers from Indonesia take part in a march through the streets of Hong Kong to mark May Day across the southern Chinese territory. Thousands of workers from the territory, including many overseas workers from South and Southeast Asia, joined to call for higher wages as the city battles against a weak currency and high inflation.
(Richard A. Brooks / AFP/Getty Images)