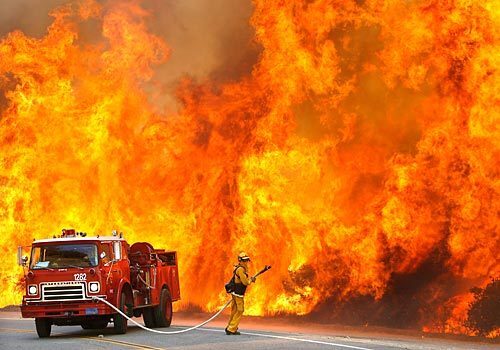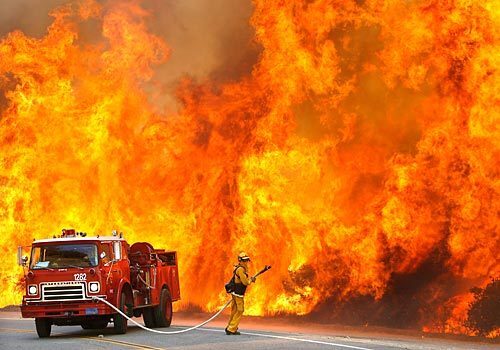 A firefighter from the California Department of Forestry and Fire Protection is dwarfed by flames along East Grade Road on Palomar Mountain. Authorities estimate that about 525,000 were ordered or urged to leave their San Diego County homes as the fires raged in October.
(Wally Skalij / Los Angeles Times)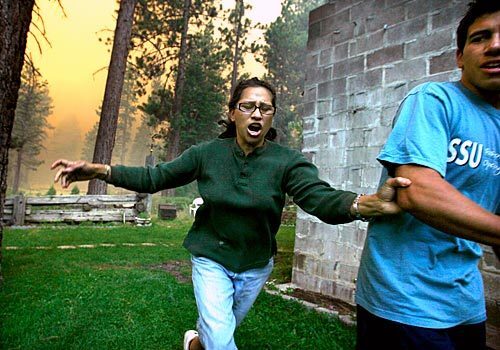 Panicked residents of a home near South Lake Tahoe flee as a wall of fire advances in June. Many people had returned home after evacuating earlier in the week, only to be driven out again by a renewed assault on their neighborhoods.
(Wally Skalij / Los Angeles Times)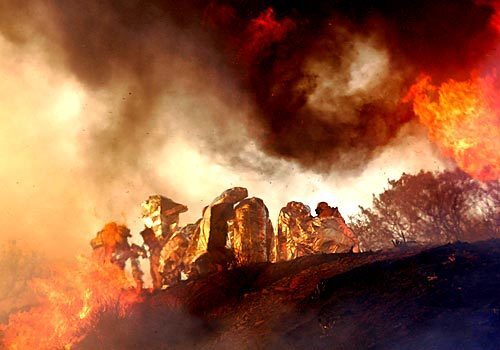 In a last-resort effort to save their lives, 12 firefighters trapped by flames atop a ridge off Santiago Canyon Road in Orange County scramble into aluminum fire shelters. The men were on a slope extinguishing hot spots in swirling wind when flames exploded up the hillside in October, surrounding them with burning brush that left no escape. All survived, and after being examined at the scene by paramedics refused to go to the hospital.
(Karen Tapia-Andersen / Los Angeles Times)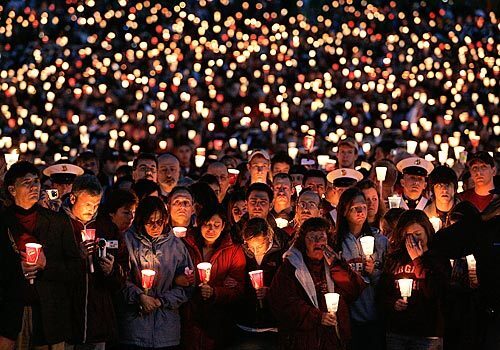 Thousands of points of candlelight pierce the April night as Virginia Tech students, staff and family hold a vigil at the university's parade grounds a day after a gunman killed 32 and himself and injured more than two dozen people. Authorities were piecing together the killer's life, but his motivation remained as unclear as the grief was profound.
(Robert Gauthier / Los Angeles Times)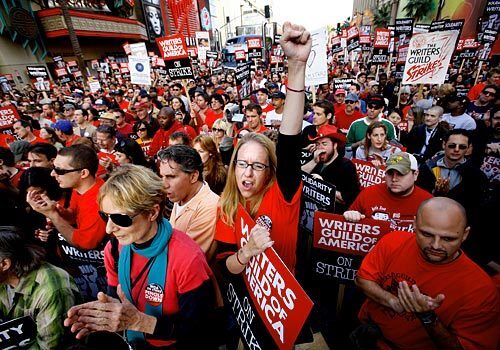 Television writer Mere Smith articulates support for her fellow Writers Guild of America strikers among thousands of like-minded marchers on Hollywood Boulevard in November.
(Barbara Davidson / Los Angeles Times)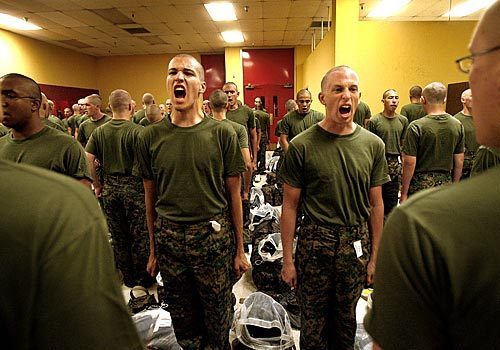 Longtime friends Daryl Crookston and Steven Dellinger, both 18, respond to drill instructors during the first night of boot camp in September. Recruits undergo 13 weeks of rigorous training in San Diego before becoming Marines.
(Rick Loomis / Los Angeles Times)
Shonta Bolden, 14, left, and Kimberly Bolden, 25, weep at the casket of their brother, Donta, 15, who was shot at the Nickerson Gardens housing project in Los Angeles in November. His death is a chance for "us to wake up and do something for our lives," Kimberly Bolden said. Donta was killed a week earlier in an apparent gang-related shooting. Family members said Donta was not in a gang, but Ryant Alexander, 36, who was shot and injured during the same incident, was an admitted member of the Bounty Hunters.
(Rick Loomis / Los Angeles Times)
The photograph of Marine Lance Cpl. Blake Miller taken by Luis Sinco after a 2004 battle with insurgents in Iraq was a global sensation, catapulting the young soldier into status as a war icon. But upon his return to the U.S., Miller's life spiraled out of control. Some of his troubles were captured by Sinco, who had become unusually attached to his subject. Here, in Washington, D.C., where Miller was to be honored in June, he stayed out until 3 a.m. and was hung over when he met later with members of Congress.
(Luis Sinco / Los Angeles Times)
In September, about 40,000 of New Orleans' 85,000 elderly had returned since the city flooded as a result of Hurricane Katrina. Space was available at nursing homes but more limited at the assisted-living centers that cater to the moderately infirm. As is true anywhere, though, seniors are loath to give up their independence, even if the alternative is squalor. Charles Taylor, 81, takes a breather from rebuilding his home in the Lower Ninth Ward. "I'm going to go till I drop," he said. "I'll be feeling bad; that ain't going to stop. I don't have no choice.... When you're dead, you're done."
(Genaro Molina / Los Angeles Times)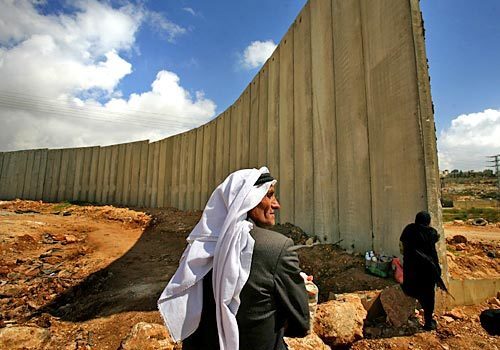 At a break in the Israeli-built concrete barrier in the West Bank town of Bir Nabala, a Palestinian man waits for Israeli border police to leave the area so he can enter Beit Hanina, inside the municipality of Jerusalem. For many Palestinians, moving back into the city is an act of nationalism.
(Brian Vander Brug / Los Angeles Times)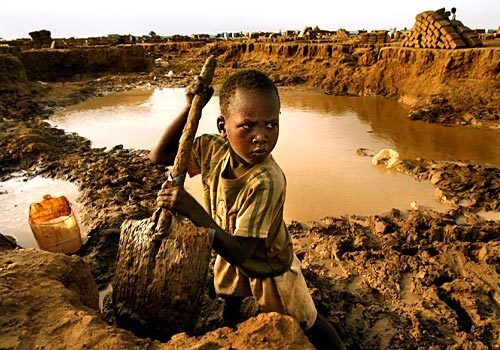 Six-year-old Buhari Ibrahim, whose father was killed by pro-government militiamen known as janjaweed, tries to help in a brick-making operation at Abu Shouk camp in the Darfur region of Sudan, but lifting the mud-filled shovel is a struggle.
(Carolyn Cole / Los Angeles Times)
Nurse-midwife Lillo Kuape rushes barely breathing newborn Mankuebe Nyoba to the intensive-care nursery at Queen Elizabeth II Hospital in Maseru, Lesotho. Equipment is desperately lacking at the hospital, where six babies simultaneously share oxygen from a single valve. Lack of a second $35 valve meant there was no oxygen for Mankuebe, and she died, although Kuape worked for two hours unsuccessfully to revive the newborn.
(Francine Orr / Los Angeles Times)
Women who live at Abu Shouk camp in the Darfur region of Sudan must travel for miles to gather wood for cooking. Deforestation and drought have left the land barren in a region where the population has grown fivefold over the last 50 years.
(Carolyn Cole / Los Angeles Times)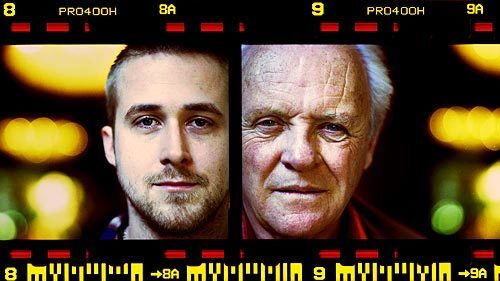 Question: Apart from Academy Award attention, what do Oscar nominee Ryan Gosling, left, and Oscar winner Anthony Hopkins, right, have in common? Answer: Troubled boyhoods (in Canada for Gosling, Wales for Hopkins), and co-starring roles in the film "Fractured," for which they were photographed at the Four Seasons Hotel in Beverly Hills in April.
(Genaro Molina / Los Angeles Times)
We'll always have Paris. And the indelible image of her gleeful June release from the L.A. County Jail in Lynwood.
(Ricardo DeAratanha / Los Angeles Times)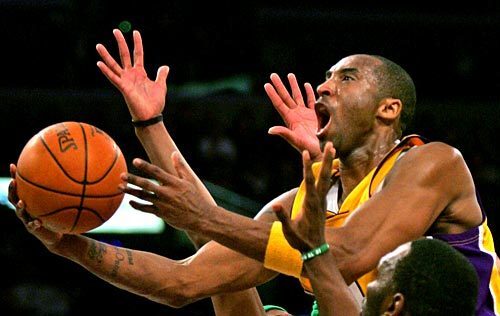 Sometimes a result of what he says, sometimes because of what he does, Kobe Bryant has been finding himself in a tight squeeze all year long. In February, it was on the court, where, hands down, the Lakers' star guard performed brilliantly, squeezing between two Boston Celtics en route to scoring 38 points in 31 minutes at the Staples Center in Los Angeles.
(Richard Hartog / Los Angeles Times)
Anaheim Ducks center Samuel Pahlsson, left, and Stanley Cup keeper Phil Pritchard sneak the featured attraction into a back window of Pahlsson's house in Ornskoldsvik, Sweden, in August, as friends and family gather for a party in the front yard to celebrate the Ducks' championship season. By tradition, each member of the Stanley Cup-winning team is allowed 24 hours with the cup, which has logged more frequent-flier miles than a space shuttle astronaut.
(Robert Gauthier / Los Angeles Times)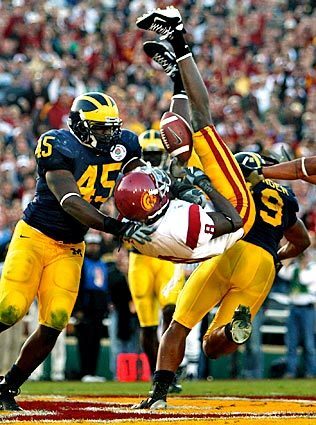 Although upended on this play during the 93rd annual Rose Bowl game, with 11 catches for 205 yards and two touchdowns, USC receiver Dwayne Jarrett stole the show in January, when the Trojans beat the University of Michigan Wolverines, 32-18.
(Wally Skalij / Los Angeles Times)
The BMW 335i is part a new crop of convertibles with retractable hardtops. As Times automotive critic Dan Neil put it: "It's two, two cars in one. It doesn't turn into a death-dealing robot, save the world or liberate millions in box-office receipts, but BMW's little transformer is certainly boffo."
(Stephen Osman / Los Angeles Times)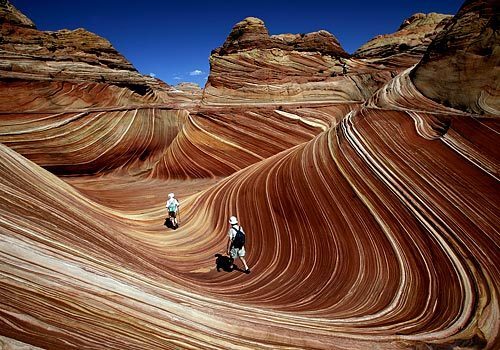 There's a spot near the Utah-Arizona border where lots of people would like to do the wave. The sandstone formation forged in the Jurassic period is an unusual undulation of 190-million-year-old sand dunes within the Paria Canyon-Vermilion Cliffs Wilderness. The dunes calcified in otherworldly vertical and horizontal layers that only a carefully monitored number of humans are allowed to traverse. These folks got lucky in September.
(Spencer Weiner / Los Angeles Times)