10 Images
Best of 2007: Nation
The Davis brothers -- from left, Tyrique, 8; Treyton, 14; and Theodore, 13 -- dance together in their living room. Their mother, Staff Sgt. Carletta Davis, 34, was killed in Iraq in early November. They live in Oswego, N.Y., with their father, Thomas, a physician's assistant.
(Carolyn Cole / Los Angeles Times)
Mark Tripp rides through downtrodden Wendover, Utah, where his son is former police chief. Across the state line in booming West Wendover, Nev., the ex-chief's wife, an exotic dancer, ran into trouble that led to his ouster.
(Michael Robinson Chavez / Los Angeles Times)
Finishing off a day of canceled events because of a storm in Iowa, Republican presidential candidate Mike Huckabee relaxes for a haircut and shave at Executive Forum Barber Shop in Des Moines. Owner Scott Sales charged $18.
(Jay L. Clendenin / Los Angeles Times)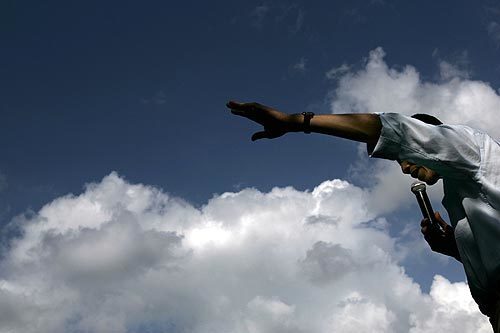 Democratic presidential hopeful Sen. Barack Obama of Illinois addresses the crowd on a campaign stop at an Iowa farm.
(Francine Orr / Los Angeles Times)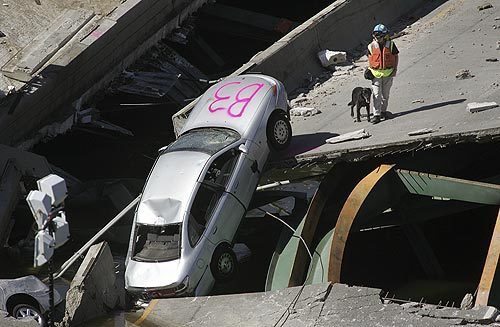 A dog trained to locate victims accompanies a search-and-recovery worker on a collapsed section of Interstate 35W in downtown Minneapolis. Thirteen people died and more than 100 were injured when the commuter-packed bridge over the Mississippi River gave way.
(Spencer Weiner / Los Angeles Times)
Marissa Sternberg receives water therapy to increase her range of motion from therapist Shelley Regan in Tucson. Sternberg was left paralyzed and brain-damaged after the U-Haul trailer she was towing began to sway violently, sending her vehicle careening out of control.
(Al Seib / Los Angeles Times)
Joyce Simms Wood, 77, rests in her New Orleans trailer as nurse's aide Donyell Smith mops the floor. Many elderly survivors of Hurricane Katrina have found themselves reduced to a life of squalor.
(Genaro Molina / Los Angeles Times)
Iraq veteran James Blake Miller and wife Jessica drifted apart after his return from the war. Amid much soul-searching, Times photographer Luis Sinco, whose photo of the 2004 battle in Fallouja made the Marine famous, drove across country to try to help the troubled young man.
(Luis Sinco / Los Angeles Times)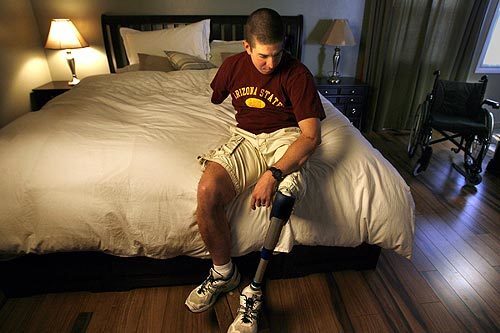 Ryan Kules lost an arm and a leg to a roadside bomb in Iraq. He and his wife, Nancy, recently bought a house in Bowie, Md., while Ryan continues to learn how to walk on his prosthetic leg and learns to function with one arm. Nancy's journal opened a window on the searing experiences of the spouses of military personnel injured in war.
(Carolyn Cole / Los Angeles Times)
Thousands of Virginia Tech students, staff and family hold a vigil at the university's parade grounds in April after a gunman killed 32 people and himself.
(Robert Gauthier / Los Angeles Times)