10 Images
Best of 2007: Travel
The Travel staff spent the year scouring the globe for provocative and interesting places to visit. Here are some pictures of the places we went in 2007.
Bora Bora
Bora-Bora is a stunning slice of French Polynesia once treasured nearly as much for its slow pace as for its scenery. But life here has begun to speed up. In the last year, two ultra-luxurious hotels have sprouted, with another on the way, all designed to lure the world's most affluent travelers to this fabled South Pacific island.
--Rosemary McClure, Los Angeles Times Staff Writer
Brightly colored butterflyfish scavenge for food in the coral reef below the over-water bungalows at the Bora Bora Hotel, one of the first exclusive hotels on the island. Expensive hotels now dot the landscape, most with posh over-water rooms designed to look like Polynesian homes on stilts -- but with air conditioning, Jacuzzis and pools on the decks.
(Bob Chamberlin / Los Angeles Times)
Ireland
I was on the seventh day of a marathon eight-day journey exploring the Irish Whiskey Trail, tasting my way across the island, learning how to sip and savor one of its most intriguing exports -- its ultra-smooth whiskeys. . . . We continued our long drive south, exploring the narrow, winding streets of Galway; detouring for a look at the rugged Burren and sheer rock faces of the Cliffs of Moher (pictured); then heading south again to Cork, where we made an obligatory stop at Blarney Castle.
--Rosemary McClure, Los Angeles Times Staff Writer
(Anne Cusack / Los Angeles Times)
Utah/Arizona
Close your eyes and imagine yourself walking into a humongous vat of cinnamon taffy. That's what went through my mind as we entered this weird, dreamlike world of swirling colors and psychedelic patterns. Maybe it was the desert heat, but it all looked like gooey taffy, stretched over huge mounds and 50-foot canyon walls. The surrounding buttes were heaps of melting rocky road ice cream. The Wave is like an enormous Olympic-size swimming pool, with swooning, undulating walls lined with burnt sienna, pink, gray, turquoise and pale green. The bands mostly run horizontally, but at spots they zigzag and shimmy before falling back into their previous pattern.
--Hugo Martin, Los Angeles Times Staff Writer
Daniel Gradiska of New Zealand and Susie Shults of St. George, Utah, enjoy a rest among the rock formations at the Wave.
(Spencer Weiner / Los Angeles Times)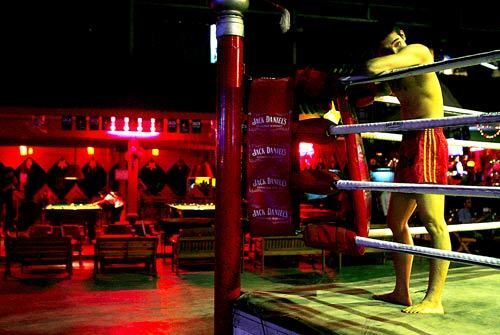 Thailand
About 30 years ago, the gods of style looked down from design heaven on a town in central New Mexico. It was dusty and small, but they thought it had potential, so they nodded and turned it into Santa Fe.... They're at it again in Chiang Mai, the old northern capital of Thailand, founded at 4 a.m. on the eighth day of the waxing moon in the month of Visakha and the Year of the Monkey, or 1296, a date dictated by Indian cosmology. More than 700 years later, a construction boom has given Chiang Mai some of the most stylish hotels and restaurants in Southeast Asia. Galleries and design stores have opened, showcasing a trove of textiles, ceramics, furniture, antiques and architectural salvage.
-- Susan Spano, Los Angeles Times Staff Writer
A boxer takes a break between rounds during a Muay Thai boxing match in Chiang Mai, Thailand.
(Wally Skalij / Los Angeles Times)
Louisiana
The moon sets at dawn in the backwater swamp of the Venice Marina in Southern Louisiana, where trashed fishing boats and debris still litter the waterways 18 months after Hurricane Katrina.The sport-fishing industry is coming back with a vengeance after Katrina devastated most of the area. Although smashed fishing boats and houseboats still litter the shoreline, the fish and wildlife are back, and recreational boaters are mooring their boats in the harbor again.
--Hugo Martin, Los Angeles Times Staff Writer
(Mark Boster / Los Angeles Times)
California
Arriving in Truckee, I step inside the lodge and then make my way to the mountaintop. From the 7,781-foot summit of Signal Hill, I look down on the icy, cobalt-blue waters of Donner Lake, where the Donner party suffered through the winter of 1846-47 on the pine-covered shore. To the south are the snow-covered mountains that border Lake Tahoe.
--Hugo Martin, Los Angeles Times Staff Writer
Lake-front homes are shrouded by the snow-covered pine trees after a fresh snowfall at Donner Lake
.
(Gina Ferazzi / Los Angeles Times)
Japan
In Tokyo, addresses aren't in numerical order, so you need to know precisely where a restaurant is. Ask the hotel for a map of where the place is, give it to the cab driver and grab the card of the hotel to give to a cab driver for the return trip. When the driver drops you off, it'll be somewhere in the vicinity, and you probably won't be able to spot the restaurant. Expect to wander and ask people to help you find it; they are generally very helpful.
--Leslie Brenner and Michalene Busico, Los Angeles Times Staff Writers
Businessmen rest during lunch time next to the Tokyo Metropolitan Museum of Photography at the Yebisu Garden Place, Meguro-ku in the southeast part of Tokyo.
(Los Angeles Times)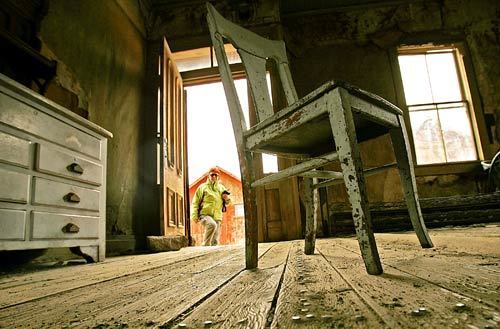 California
Bodie is a cursed ghost town. Pilfer anything from one of the old sun-bleached buildings north of Mono Lake -- a nail, part of a clock or even an old bottle -- and bad luck latches onto you forever. Don't believe it? Then tell it to the visitors of this ghost town who have been returning stolen stuff with tales of heartbreak, death and serious injury that beset them once they left this Eastern Sierra settlement. One fearful visitor even returned the nail that pierced her tire as she drove through town.
--Hugo Martin, Los Angeles Times Staff Writer
A visitor wanders around the ruins of Bodie State Historic Park, site of a once-thriving gold mining community in the Eastern Sierra Nevada.
(Luis Sinco / Los Angeles Times)
New York
This is a West Side story, a chance for a 24-hour romance with Manhattan. Yes, I have been here many times -- and the Port of New York's cruise terminal at 55th Street and the Hudson River isn't in the most scenic part of town. But there's always a bit of romance in the air with cruise ships in the neighborhood.
--Beverly Beyette, Los Angeles Times Staff Writer
The Noordam, Holland America Line leaves New York on Jan. 17, 2007.
(Carolyn Cole / Los Angeles Times)
France
Coffee makes the world go round. Drinking java is as Parisian as baguettes and berets, though tourists quickly learn that ordering coffee with milk, or cafe creme, after breakfast-time is something of a faux pas. At all other times, Parisians tend to drink high-proof espresso in a demitasse, known as a petit cafe. For people like me who drink their coffee with milk, it's useful to know that you can order it any time in Paris if you ask for a noisette, which is a petit cafe with steamed milk.
--Susan Spano, Los Angeles Times Staff Writer
(Richard Derk / Los Angeles Times)