Chopan Kebab House: seductive flavors, lavishly woven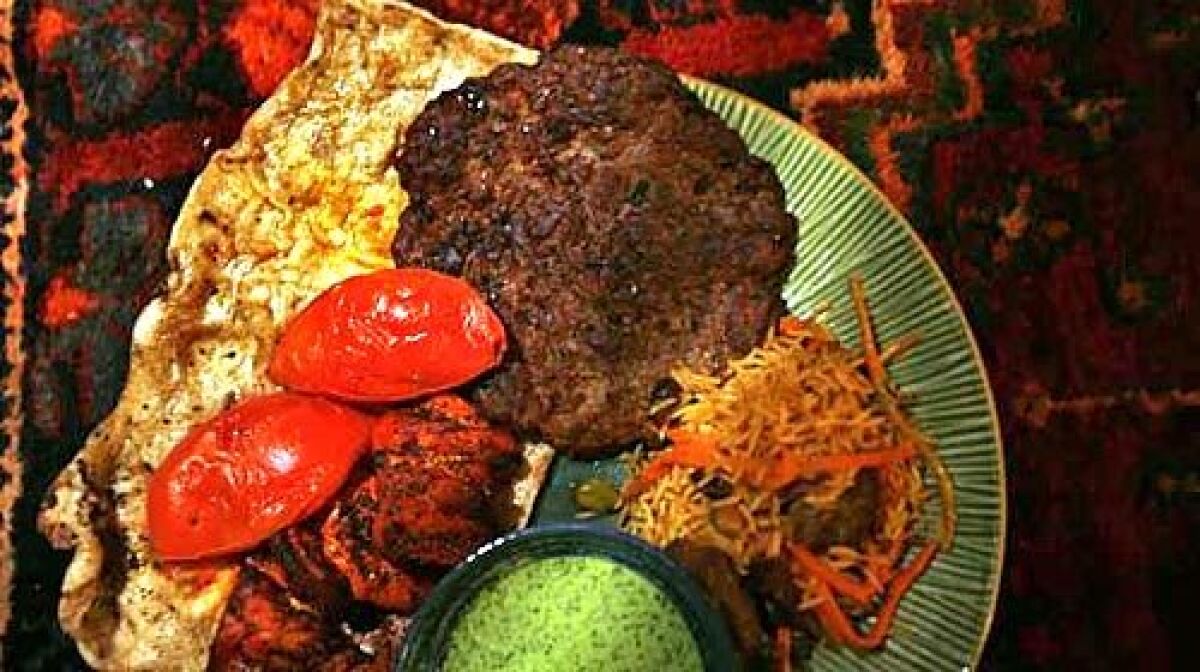 Special to The Times
"SO what's Afghan food like, exactly?" someone at our table wants to know. The answer is drowned out by the laughter from a birthday celebration across the room, but it's soon evident from the extravagant spread of dumplings, breads, pilafs and kebabs covering our table at Chopan Kebab House in Northridge.
The aromas and ingredients seem familiar: Indian curry-like scents waft from the bulani, a potato-leek turnover the size of a yoga mat with a nan-bread crust as thin as a tortilla. It's cut into large triangles for sharing and served with a bowl of spicy chutney thick with minced cilantro.
The beef and chicken kebabs could be cousins of the Persian variety, but the unique item on the table is ashak, Afghanistan's signature dish. These silky-skinned chive dumplings that arrive veiled in yogurt sauce and topped with a sprinkling of ground meat and thin swirls of saffron-scented oil elicit exclamations of pleasure. The tart-sweet-salty and slightly herbal flavors meld into a single taste.
Manti, with a shape similar to Chinese soup dumplings and a ground beef-onion filling, also have that irresistible yogurt sauce-saffron combination. But a scattering of yellow toor dal (pigeon peas) and dried mint replace the meat topping.
The seductive flavors of this budget feast clearly have everything to do with Afghanistan's location along the Silk Route at the juncture where Iran, the Indian subcontinent and Asia meet. Influences borrowed from these neighbors have been fashioned into a flavor motif as identifiable as one of Afghanistan's fabled hand-woven rugs.
Starting new lives
AT family-run Chopan Kebab House, everyone pitches in (including some friends helping out with the birthday party) under the direction of proprietor Jawed Qayeum, whose wife, Naseema, does most of the cooking (one Saturday night our accomplished server is their high school-age daughter, Seena).
Many patrons know one another. And since the closing of Afghan House a few miles away, the restaurant has turned into a gathering spot for Afghans who, like the Qayeums, have had to start their lives anew.
The hard-working family remodeled the boxy dining room of the former Morigi's Pizza but hasn't removed a sign outside that reads "Morigi's Pizza." That's because the Qayeums have retained one of the longtime cooks from the erstwhile Italian restaurant run for more than 30 years by "Papa" Joe Morigi, now retired. The restaurant still has a loyal following for Morigi's Italian dishes and pizza (which a couple at a nearby table one night assured us is "as good as before").
But assuming you have your own favorite neighborhood pizza place, the best way to eat at Chopan/Morigi's is to get a group together for a family-style Afghan meal.
Fragrant pilaf
REQUEST the Afghan menu. You'll want both kinds of dumplings plus the bulani and an order of qabeli pallo. This Afghan-style pilaf, a mound of fragrant, mysteriously seasoned basmati rice heaped over braised beef shank is generously strewn with slivered almonds, raisins and sweetened carrot shreds. It has the same satisfying sweet-savory richness of its distant Persian predecessors.
Some might prefer the chaplee kebab combo: two pie-sized ground beef disks into which Naseema mixes her special blend of herbs and fresh green onions. The sizzling meat comes to the table with the same aromatic pilaf, minus the braised beef. This and any other kebab may also be ordered with nan, salad and the cilantro chutney.
The kebabs reflect Afghan preferences. Taste the bone-in chopan kebab and there's no mistaking that it is lamb, probably cut from the breast area. Tekka kebab of beef tenderloin is well cooked, as is customary in Central Asia. The tart-herbaceous kebab seasoning on all the meats comes out wonderfully on the chicken kebab. And as Afghan custom dictates, the meats and other food are halal, the Islamic equivalent of kosher.
Afghanistan may be a country in turmoil with an uncertain future. But the comings and goings of its past invaders and immigrants have left behind a rich, multifaceted cuisine, one Southern Californians rarely have the opportunity to sample. Which is why a growing band of food lovers is so pleased to find Chopan Kebab House comfortably settling in.
Chopan Kebab House
Location: 8910 Reseda Blvd., Northridge, (818) 885-1616.
Price:Bulani, $7; entrees and pilaf dinners, $11 to $12; kebabs, $10 to $14; combos, $11 to $15.
Best dishes:Bulani, ashak, manti, chaplee kebab combo (with pilaf).
Details: Open for lunch and dinner from 11:30 a.m. to 9:30 p.m. Tuesday through Thursday, until 10 p.m Friday and Saturday, and 11 a.m. to 9:30 p.m. Sunday. Rear lot and street parking. No alcohol. Visa, MasterCard.
The stories shaping California
Get up to speed with our Essential California newsletter, sent six days a week.
You may occasionally receive promotional content from the Los Angeles Times.