Yuta: Escape to a Japanese small-plates island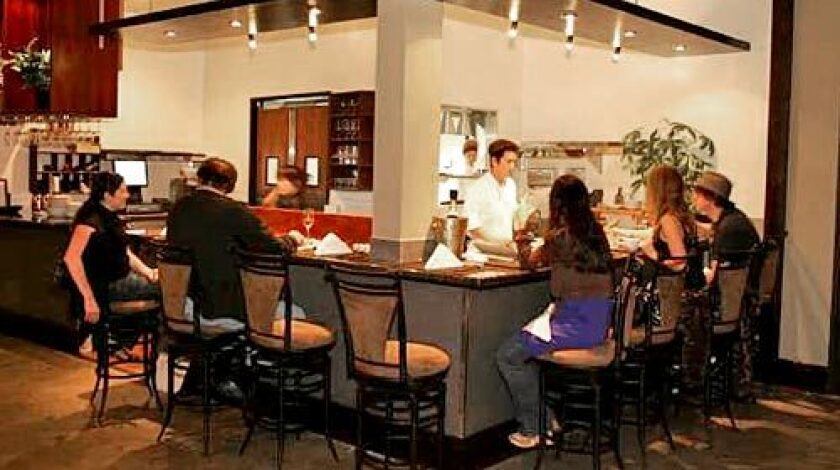 Los Angeles Times Staff Writer
In contrast to the boisterous spots where sake drinkers gather around a communal table, there's a quiet, elegant new izakaya, or Japanese pub-style cafe, in Studio City. Yuta is a delightful oasis, a great place to bring people together -- you can really talk, and the food's adventurous, a welcome alternative to the offerings of Ventura Boulevard's sushi row.
In a space east of Tujunga Avenue that's seen a few restaurants come and go, chef-owner Kazutoyo "Yuta" Moribe has created a handsome, cozy cafe. The floor is polished cement; the wainscoting is rustic flagstone; the tables, chairs and open-beam ceiling are wood. Colors are in the gray-taupe-brown spectrum, and the lighting is low. Stepping inside from the parking challenges of the boulevard is like taking a deep breath.
Recent evenings spent here with friends have had a similar arc -- a hesitant beginning (Shall we first order a few starters? Drink wine or sake? What could the ricotta salad possibly be like?) that gives way to an almost-immediate sense of gratification (This house-made tofu is the real thing -- so fresh and tender!) and then a relaxed, easy awareness that as the evening unwinds and we try a plate of this or that, we're in good, confident hands.
In good hands
Call it small-plates ceremony. Whether you order in waves, a few dishes at a time, or in a flurry all at once, the staff seems to effortlessly and gracefully organize your selections and present your meal in a logical, pleasurable sequence. And you can linger for hours, spinning out the most involved of tales, sipping your drink and nibbling on wonderful things -- and yet not leave with that stunned, leaden feeling of having eaten too much.
One time, two of us order starters, a little sushi and a bottle of wine. We don't know where we're going with the meal, but the kitchen seems to, and we later add a salad and a hot dish to the list. The first dish presented is the tofu, a rounded white dome like a panna cotta in a bowl, amazingly light, cool and silky with a dressing of savory soy jelly that has a great tiny-bubbles texture.
Sushi is made with brown rice polished in-house, a practice that connects with the chef's stated emphasis on healthful ingredients. (He uses organic ingredients whenever possible, no preservatives.) It's thoughtfully prepared, each piece individually seasoned (so soy sauce isn't offered with it) and of the contemporary-fusion school. Spanish mackerel with green onions and grated ginger is excellent, as is halibut with chile sauce, ponzu, chives, black pepper and a drop of olive oil. Though we don't ask, each piece is cut in half (a common courtesy for women diners in Tokyo, I'm told), which is not only handy for sharing, but also a solution for the age-old two-bite awkwardness.
House-made ricotta salad is delicious, but ricotta turns out to be more an accent than a main ingredient. Squeaky-fresh spinach is layered with small bits, little grains, really, of the cheese, and then topped with warm, sautéed mixed mushrooms in a yuzu-soy dressing and paper-thin slices of myoga, a fragrant Japanese bud. The effect is to give a light cheesiness to the citrus dressing. Yuzu shows up here in a number of dishes -- with olive oil to dress a carpaccio, in two gelées -- and I don't think I've ever appreciated its distinctive flavor as much as in this chef's preparations.
Mixed seaweed salad is a terrific, informal East-West creation: four kinds of chilled raw seaweed (some crunchy, some chewy) mixed with salad greens (some bitter, some sweet) and a few pungent drops of white miso-sesame dressing. A salmon-skin salad is the only disappointment, bland and uninteresting. But Yuta crab cake, a firm, molded mound of crab and fish and roasted nuts with a spicy cream sauce and a few morsels of blue cheese, is harmonious and pleasing, the confident spicing cutting the richness.
A bounty of choices
Carpaccio of the day is translucent slices of marbled fatty tuna, fragrant with citrus and dotted with pink peppercorns that are a punchy counterpoint to the smooth, tender raw fish. Broiled beef rolls are a witty reference to sushi rolls: sliced filet mignon rolled around crisp, deep-green asparagus and leeks, cut into 2-inch pieces, garnished with arugula and arranged around a mound of mashed potatoes (unfortunately glutinous) and served with a good demi-glace. Sauces -- including spinach sauce served with grilled red snapper, shiso-daikon sauce on a seafood roll and soy milk-clam sauce served with homemade spinach pasta -- are creative and light, never excessive. Favorites such as sautéed mixed mushrooms, broiled yellowtail collar or grilled black cod are deftly handled -- and priced lower than at many Japanese restaurants around town.
The best dessert is a beautiful, sculptural creation that alternates red and white slices of crisp-tender poached Fuji apple, the former poached in Port, the latter in white wine. It's called apple compote, but is a much more sophisticated, careful arrangement than the usual cooked fruit with that name.
As we finished that dessert, we were reluctant to leave. Said one of my friends contentedly, "I could start all over."
Yuta
Location: 11266 Ventura Blvd., Studio City; (818) 985-9882.
Price: Starters and salads, $3 to $12; cold dishes, $12 to $15; hot dishes $13 to $16.
Best dishes: House-made tofu, mixed seaweed salad, ricotta salad with tuna or salmon, carpaccio of the day, broiled beef roll, grilled black cod, apple compote.
Details: Open 5:30 to 10:30 p.m. Monday through Saturday. All major credit cards. Full bar, parking adjacent and on the street.
---
For reporting and exclusive analysis from bureau chief John Myers, get our California Politics newsletter.
You may occasionally receive promotional content from the Los Angeles Times.