Review: Blue Star turns out contemporary fare in an L.A. industrial setting.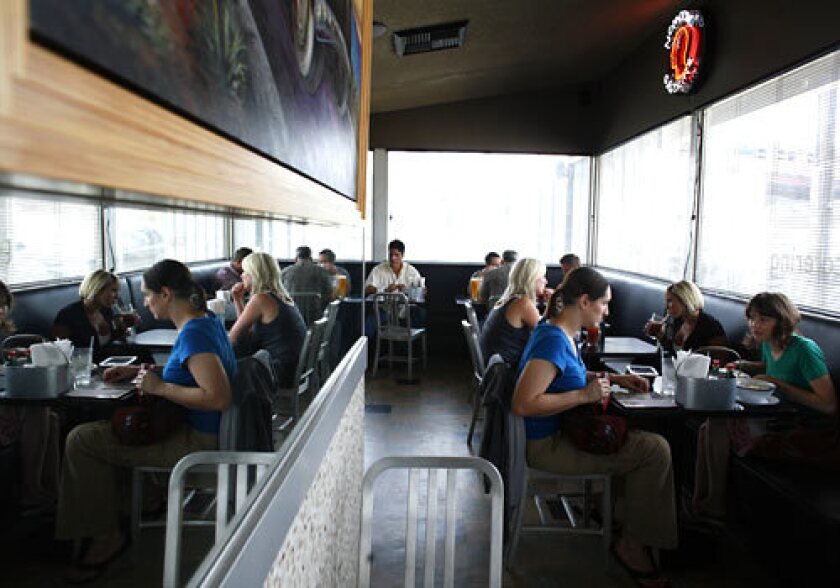 Los Angeles Times Staff Writer
TAKING summer visitors on a tour of downtown Los Angeles? Before or after Disney Hall, Olvera Street, Santee Alley and whatever other landmarks are on your itinerary, stop in for breakfast or lunch at Blue Star restaurant, a terrific little cafe located in one of the most visually arresting spots in the state.
Rising around Blue Star is Mid City Iron & Metal, where enormous Caterpillars shovel mountains of scrap metal -- iron fencing, steel file cabinets, all kinds of stoves, bicycles, chairs and dozens upon dozens of unrecognizable bits and pieces of buildings, vehicles, appliances and machines.
The sleek, comfortable cafe, a vine- and graffiti-covered building with a motorcycle parked out front, is in fact in the middle of the scrap-metal district, though hungry workers from nearby garment and textile companies are its main customers.
Chef's finesse
CHEF-OWNER Kash Brouillet, a downtown resident for about 14 years and formerly chef at 410 Boyd, opened Blue Star four years ago in September. His updated American diner menu lists contemporary versions of unpretentious favorites, made with top-quality ingredients, personal touches and plenty of finesse.
Brouillet uses Michel Blanchet fresh smoked salmon for his smoked salmon and scrambled eggs dish, makes his own fruit preserves, has a generous hand with fresh herbs and has created a terrific mushroom-nut vegetarian burger.
Specials rotate daily -- meat loaf on Monday, chicken mole on Thursday, fish and chips on busy Fridays, when the friendly all-pro waitresses run between kitchen and patio all the sunny afternoon with pints of draft beer and orders of golden crisp cod and excellent fries.
On my first visit, I drive on 15th Street from Alameda -- semis to the right of me, semis to the left of me -- and end up in a long line of trucks piled high with scrap metal, my Mustang accidentally funneled into the lane where drivers wait to turn into a yard and drop off their loads.
Gestured away by the yard's gate guard, intimidated and way out-machoed, I am happy to finally park and step into the cool, simple dining room with its black, gray and tan linoleum floor.
Windows look out to a patio enclosed by a corrugated metal fence; there are buckets of silverware and hot sauce on each of the black tables. The walls are trimmed with hubcaps. A flat screen sits over a small counter that seems to double as a bar; there are half a dozen beer taps.
A foursome of cops exits as my friend and I settle in and accept an offer of excellent coffee. We marvel at the contrast between the gritty industrial area outside and this oasis of what turns out to be deftly made, albeit substantial fare.
A morning garden omelet is delightfully kicky, with peppery daikon sprouts enlivening squeaky-fresh steamed spinach folded into flavorful eggs. Simple, beautifully seasoned fried potatoes accompany egg dishes such as the scrambled eggs flecked with smoked salmon, herbs, capers and onions -- a luxurious breakfast.
On a weekday afternoon, the place is jumping with boisterous parties of lunching workers, maybe from nearby Guess, Lucky Brand Jeans or Seven Jeans. Pint glasses are filled and refilled with house-made lemonade, ice tea and cold beer.
A chicken and pesto sandwich may not be the most exciting thing on the menu, but the chicken is moist, the pesto fresh and the tomato slice flavorful.
Then there's the band
THE BEEF burger is more satisfying, a firm, well-seasoned patty with a side of really good, spicy coleslaw that's crisp with herbs. And the house-made veggie burger is a good alternative.
Seafood dishes feature well-selected fresh fish: A niçoise salad is made with a nice piece of seared, rare ahi. And in addition to daily specials, there are hot entrees including grilled fish or New York steak.
Breakfast is served all day Saturday, and every other Saturday night there's a patio-based "rock and roll barbecue," with up to seven bands on the roster and special beer prices.
The food at Blue Star is not fancy, but it's modern and fun and the cafe's a real neighborhood resource. It's a wonderful stop for visitors too, a comfortable destination in an interesting locale.
There are all kinds of patios in Southern California, and sipping an Anchor Steam on this one can be a particular kind of heaven.
Blue StarLocation: 2200 E. 15th St., downtown Los Angeles, (213) 627-2022; www.bluestarrocks.comPrice: Breakfast dishes, $4.50 to $10.50; burger and sandwiches, $7.50 to $11.50; daily specials, $11.50; entree plates, $9.50 to $16.50.Best dishes: Omelets, burgers, coleslaw, fish and chips.Details: Open 8 a.m. to 3 p.m. Monday through Saturday. Beer and wine. Major credit cards. Alley spaces and street parking.
---
For reporting and exclusive analysis from bureau chief John Myers, get our California Politics newsletter.
You may occasionally receive promotional content from the Los Angeles Times.