Review: Kiwami in Studio City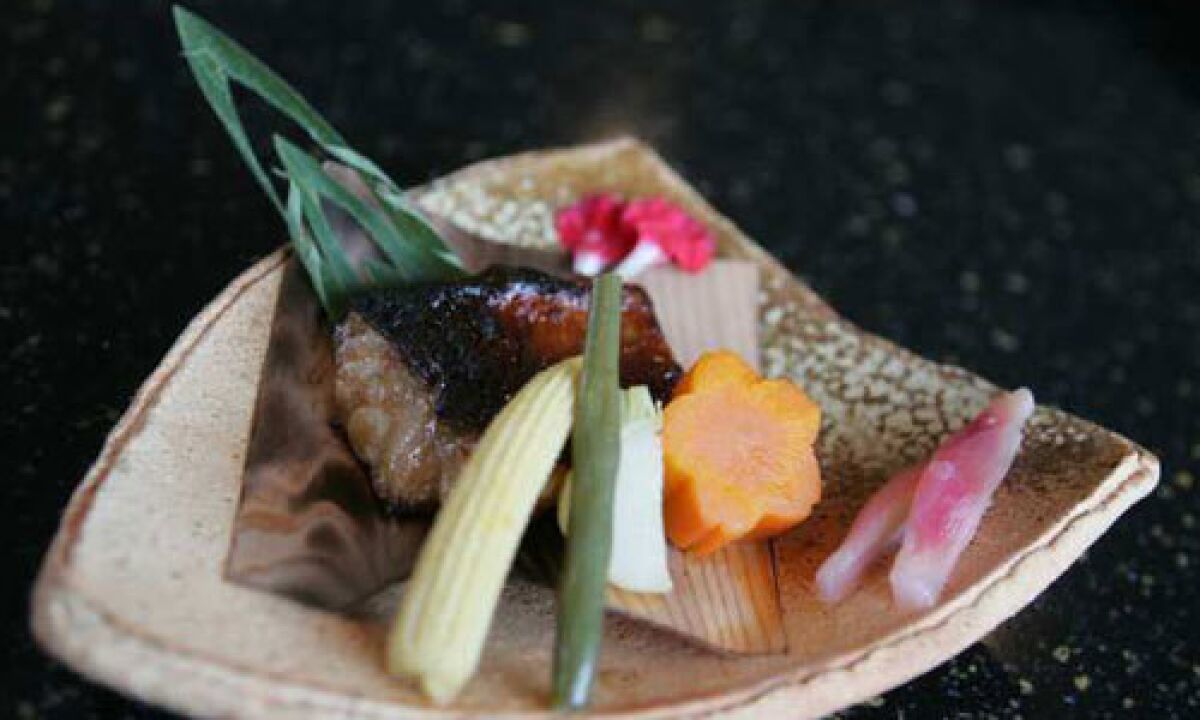 Restaurant Critic
I hear a shush, shush, shush sound and look up to see sushi chef Katsuya Uechi grating a piece of fresh wasabi root, bearing down with all his might. I catch my Japanese friend's eye. Any sushi chef who grates his own wasabi is serious about his ingredients. It's a small touch, but one that's telling.
The 50-year-old chef is well-known for the trio of Katsuya by Starck restaurants that serve pretty but standard-issue sushi almost as an afterthought to the scene. But before he hooked up with Sam Nazarian and the SBE group or the prolific French designer Philippe Starck, he was sushi royalty in L.A., right along with Nobu Matsuhisa, Masa Takayama and Mr. Nozawa. Sushi lovers flocked to Uechi's Studio City restaurant Sushi Katsu-ya (note the hyphen, which is what distinguishes it from the trendy Katsuyas) for his fusion-influenced sushi dishes.
Then why open another sushi restaurant practically steps away from his first?
One reason could be that before the economic free fall, it was virtually impossible to get into Sushi Katsu-ya without reserving days ahead, and he probably wanted to take advantage of the overflow. He might also be interested in burnishing his reputation. The trendy Katsuya restaurants aren't presenting Uechi at his best. The quality of the fish is often mediocre, the execution poor. I'm sure it must bother this proud chef.
And so we have Kiwami, which means "the ultimate." Eat in the main dining room or the regular sushi bar and you'll get very good sushi, but to get that "ultimate," you'll have to reserve a seat in the separate sushi bar, a room at the back, where Uechi himself presides and offers omakase (chef's selections) only.
A different menu
Although Uechi gained a big following for his fusion-tilted sushi, he's veering toward the more traditional at Kiwami, though you can, of course, get some of his best-known dishes, such as the crispy rice cake with spicy tuna, here as well. To hedge his bets (not a bad thing in these times), he's also offering some more substantial meat and seafood dishes.
The décor is similarly traditional, going for a serene, minimalist look. The design is very plain, with opaque patterned glass panels in place of shoji screens, touches of stone and wood and other natural materials. The sole splashes of color come from potted orchids and an ornate brocade obi splayed across the back wall. Note that in a departure from most sushi restaurants he has furnished the place with comfortable chairs, so you might be inclined to stay awhile.
Curiously, table dining seems to be more in favor than sitting at the sushi bar in the main room; maybe it's because so many of the groups are foursomes and it's awkward to sit at the sushi bar together. Service is earnest and attentive. Women with purses will be offered baskets lined with towels in which to place their trophy or other bags. Water is poured diligently. And if a course is delayed, the waiter will be sure to tell you when it's on its way.
You might want to start with a ruffly seaweed salad made with several types and textures of the sea vegetable scented with sesame oil. Or the Katsuya famous trio, a bite of king crab with black caviar, snow crab with sesame and toro with a dab of miso. Crunchy rice cakes topped with spicy tuna tataki are terrific when the rice cake is warm and the tuna cold. Cucumber sunomono is crunchy and good too. Slices of pristine raw yellowtail rolled up and topped with rings of brilliant green jalapeño are classic. Mixed seafood ceviche is tasty too. Stay away from the tempura, though; it's a bit greasy.
If you order omakase in the dining room, you'll get a parade of Uechi's favorite dishes, along with some excellent sashimi and nigiri sushi. The quality of the fish is outstanding, but when I came back a few weeks later for omakase, I was served pretty much the same selection. Surely, he's got more tricks up his sleeve?
Omakase sushi
Judging just from those meals, Kiwami is certainly nice, but nowhere near the ultimate. But then a couple of weeks ago, I heard that Uechi had opened the omakase sushi room. I called to reserve, but he was in Japan -- buying ceramics for the restaurant, as it turned out.
Once he was back, I made a date with my Japanese friend and finally had the experience I'd been hoping for at Kiwami.
The omakase room is small, basically your standard sushi counter with a handful of seats in front of the chef. Behind him is a long sheathed knife locked in a glass case mounted on the wall: The knife is used to filet tuna, Uechi's young assistant explains. A recent graduate of the sushi school in downtown Los Angeles where Uechi teaches, he mostly just watches and garnishes the dishes, in one case with something clipped from the flower arrangement.
We start with a luscious oyster on the half shell so big that Uechi had cut it in half lengthwise. It is served with a splash of ponzu -- wonderful with a flowery chilled sake. Then comes a trio of sashimi -- chu-toro (medium fatty tuna) from Spain, tai snapper from Japan and kanburi (winter yellowtail) from the Sea of Japan -- with that freshly grated wasabi and Katusya-san's own blend of sashimi soy sauce.
The latter is older yellowtail. As with many other fish in Japan, yellowtail's name changes as it grows up. Half-grown (medium-size) yellowtail is called hamachi, and the most grown-up yellowtail, kanburi. As the season for kanburi is winter and it comes only from very cold waters, the fish has very high fat content and is considered the most delicious stage of the yellowtail. Because of its limited season, kanburi tends to be very expensive. And it's rare to find kanburi in L.A. sushi restaurants. It's rich but delicate, very much something to be savored.
Next up: nigiri
Next comes grilled kanburi with a melt-in-the-mouth texture, and then a lovely clear soup with tender shrimp balls and julienned vegetables served in a lidded, lacquered bowl. That is followed by a selection of nigiri sushi. "No soy sauce please," the chef admonishes as he hands each selection across the counter. The best is the heavily marbled o-toro.
At the very end, we ask if he has any natto, the slimy, strong-tasting fermented soybeans that my friend and I love. Now, that's traditional and scarce enough at restaurants in L.A. that I've come across it only a few times since I've lived here. He's got it, Uechi says, and he goes back into the other kitchen to mince the beans, so as not to smell up the sushi kitchen. To make us a hand roll, he toasts some high-quality nori at the last minute, rolls it into a cone and fills it with the strangely delicious stuff.
Not surprisingly, this -- authentic, impeccably prepared sushi and sashimi -- is much more kiwami than Katsuya by Starck with all its designer-ly trappings. A bite of o-toro or kanburi atop pearly grains of rice: Nothing could be so simple. Or so hard to do right.
KiwamiRATING: ** LOCATION 11920 Ventura Blvd., Studio City; (818) 763-3910; www.katsu-yagroup.com.AMBIENCE Sushi restaurant with spare, contemporary decor -- and comfortable chairs. Most seating is at tables, but there are a few seats at the sushi bar, plus a separate omakase room where master sushi chef Katsuya Uechi presides.SERVICE Gracious and attentive.PRICE Dinner starters, $2 to $14; cold seafood dishes, $12 to $16; hot seafood dishes, $14 to $23; meat dishes, $14 to $28; tempura items, $3 to $8; nigiri sushi, $5 to market price. Omakase, $70 per person. Less expensive items at lunch.BEST DISHES Katsu-ya famous trio, seaweed salad, halibut carpaccio, crispy rice cake with spicy tuna, seared kanpachi salad, mixed sashimi, nigiri sushi, steamed shabu shabu Kurosawa beef in bamboo leaf. And sushi omakase from Uechi himself.WINE LIST Some excellent sake from small producers; minimal wine list. Corkage fee, $10.BEST TABLE A seat at the sushi bar in the omakase room.DETAILS Open for dinner from 5:30 to 10 p.m. Monday to Thursday, to 10:30 p.m. Friday and Saturday, and to 9:30 p.m. Sunday; for lunch from 11:30 a.m. to 2 p.m. Monday to Friday. Full bar. Valet parking, $4.50 at dinner, $3 at lunch.Rating is based on food, service and ambience, with price taken into account in relation to quality. ****: Outstanding on every level. ***: Excellent. **: Very good. *: Good. No star: Poor to satisfactory.
---
Life is stressful. Our weekly mental wellness newsletter can help.
You may occasionally receive promotional content from the Los Angeles Times.