Movie 'Bottle Shock' recounts the historic 1976 Paris wine-tasting contest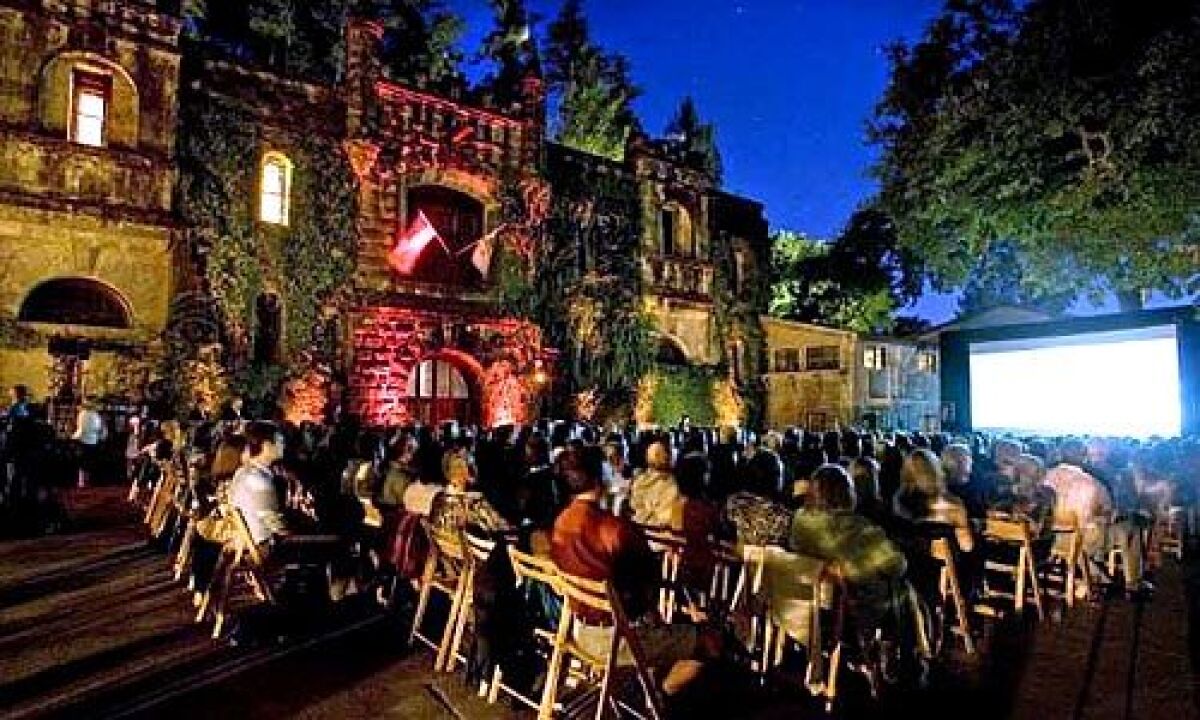 Times Restaurant Critic
"Bottle Shock," a new independent film based, very loosely, on the famous 1976 blind tasting in Paris in which two California wines came out on top, much to the chagrin of the expert -- and very French -- wine tasters, opens today at theaters across the Southland.
From the husband-wife filmmaking team of Randall Miller and Jody Savin (he's directing; they're co-writers and producers), the film stars Alan Rickman (Professor Severus Snape in the "Harry Potter" films) as British-born, Paris-based wine merchant Steven Spurrier, who organized the tasting; Bill Pullman ("Independence Day," "Sleepless in Seattle") as Jim Barrett, the beleaguered owner of Chateau Montelena (which won for its 1973 Alexander Valley Chardonnay); and Chris Pine ("Carriers," "Just My Luck") as Jim's long-haired son Bo Barrett.
Filmed in the Napa and Sonoma valleys, "Bottle Shock" takes a romantic view of winemaking and the significance of that long-ago tasting, embellishing and heightening the drama for the screen.
Four writers took a stab at the screenplay, which in places reads like Wine 101 with the Spurrier character pompously opining that "great wine is great art. I am a shepherd . . . ." Hokey violin music playing in the background doesn't help.
I foresee giggles from the audience when Spurrier's fictional Paris neighbor Maurice, played by Dennis Farina, says he'll return to America when the country starts making wine as good as France's and Rickman lets loose the line, "No offense, but I don't see the imminent cultivation of the Chicago vine."
Still, the filmmakers manage to inject some suspense in the plot (which we all know ends with Chateau Montelena's Chardonnay winning over Burgundies of impeccable pedigree) by having Barrett refuse to submit his wines and his son Bo save the day by making an end run around his father.
Rickman is a hoot as Spurrier, though nothing like the actual man -- who is not at all a snob, though indeed guilty of having a tony British accent. Making the wine merchant a pompous ass obviously works better for the plot.
The sight of Rickman in a three-piece bespoke suit languidly dipping his hand into a bucket of KFC that sits beside him in the crummy car he rents to explore Napa Valley may just be worth the price of admission. He's equally hilarious tasting his first guacamole, or sipping Sauvignon Blanc out of a jelly glass.
Oddly, the film leaves out the fact that it was winemaker Miljenko "Mike" Grgich who made Chateau Montelena's winning wine, focusing instead on Grgich's assistant Gustavo Brambila, the son of a field hand who later opened his own winery. He's played by Freddy Rodriguez ("Ugly Betty").
It also omits (until the closing credits) any mention of the wine that triumphed over the French in the red wine category. That would be Warren Winiarski's 1973 Stag's Leap Wine Cellars Cabernet Sauvignon.
To inject some sexiness into the Napa winemaking scene of those early days, Sam, the fetching female intern played by Rachael Taylor ("Transformers"), who shows up that summer to work at Montelena is given to wearing fringed denim hot pants like a '70s Daisy Mae. And as Jim Barrett, the former L.A. lawyer who bought the property in 1969, Bill Pullman pontificates on viticulture and cellar techniques.
In one scene on his first reluctant day back at his law firm, he gets a call telling him his wine isn't ruined after all (you'll have to see the film), grabs a decorative sword off a wall, beheads a bottle of his Chardonnay and pours wine for everyone before high-tailing it back to his life at Chateau Montelena. The winery is going to make it after all.
In the film, everything gets wrapped up in a beautiful bow. In real life, Bo Barrett went on to earn a degree in viticulture and in 1982 became the winemaker for Chateau Montelena.
Winery just sold
AND ALSO in real life, the Chateau was just sold -- in late July, in fact -- for an undisclosed sum to Frenchman Michel Reybier, owner of the Bordeaux estate Château Cos d'Estournel. And so one of the wineries that first alerted France to the quality of wines coming from California has now been bought up by the French on the strength of the euro against the dollar.
The film was shot at several Napa locations -- including Chateau Montelena, Buena Vista Winery and Kunde -- and the premiere was held at Chateau Montelena on July 26. It also was shown at Sundance Film Festival in January.
In Southern California, Red Carpet Wine in Glendale recently held a tasting that replicated the one in 1976, and Duke of Bourbon, a wine shop in Canoga Park, is organizing an excursion to the ArcLight in Sherman Oaks this evening to see the film.
Hold on: There's yet another film based on the historic tasting in the works. It's titled "Judgment of Paris" from Clear Pictures Entertainment, and is based on Time journalist George M. Taber's 2005 book of the same name, with a screenplay by veteran screenwriter Robert Mark Kamen, who owns Kamen Estate Wines in Sonoma. Reached by phone, Elizabeth Fowler, who is producing the film with Clark Peterson, said the film has not been cast.
To see the brief article about the tasting that Taber wrote for Time magazine in 1976, go to www.montelena.com and click on "Paris tasting."
"Last week in Paris, at a formal wine tasting organized by Spurrier," he wrote, "the unthinkable happened: California defeated all Gaul." Get this, though: "The U.S. winners are little known to wine lovers, since they are in short supply even in California and rather expensive ($6 plus)."
Those were the days.
The stories shaping California
Get up to speed with our Essential California newsletter, sent six days a week.
You may occasionally receive promotional content from the Los Angeles Times.