Malibu's backyard vintners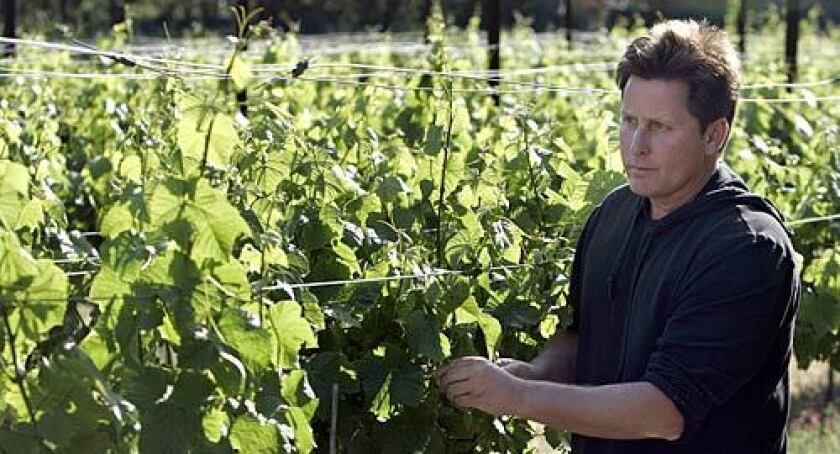 Los Angeles Times Staff Writer
CALLUSED palms and bandaged fingers; broken fingernails stained black with dirt -- Hollywood actor and director Emilio Estevez proudly shows off his vineyard worker hands as he walks the vine rows.
Four years ago, Estevez planted this half-acre Pinot Noir vineyard around his Malibu home. Today, wine labels featuring a pen-and-ink drawing of his front-lawn vineyard -- a wink to the ego satisfaction of bottling his own wine -- are ready to be slapped on his first serious vintage, the 2007 Pinot Noir aging in a single half-sized oak barrel in his wine cellar. Estevez, along with dozens of his Malibu neighbors, has added vintner to his list of credits.
---
FOR THE RECORD:
Malibu vineyards: An article in Tuesday's Food section about Malibu vineyards said Jim Palmer's vineyard is in Trancas Canyon. It is in Decker Canyon. —

---
Drive along the Pacific Coast Highway, up Kanan Dume Road, along the twisting canyon side roads and even down the more urban ocean-view streets like the one where Estevez lives on Point Dume, and you'll see vineyards beside tennis courts, along hillsides and around security fences. Though no one spends millions on exclusive Malibu real estate to make a living as a vintner, planting wine grapes where the side lawn used to be is the new must-have home improvement. Total vineyard acreage in the Malibu region -- an area that reaches beyond the city limits to the crest of the Santa Monica Mountains and, by some definitions, into the top reaches of Agoura Hills in the San Fernando Valley -- is still small, with perhaps 150 acres planted to vines. In the last five years, the number of vineyards in the region has more than quadrupled.
Hundreds of years ago, Catholic priests planted grapes here, just as they did everywhere they settled. Michael McCarty, owner of Michael's restaurant in Santa Monica, was the first to revive that culture when he planted a 2-acre vineyard above Carbon Beach in 1985.
Now a dozen local wines -- with "Malibu" in nearly every brand name -- are for sale at ultra-premium prices at Malibu Village Wines in the Malibu Country Mart. Republic of Malibu wines are offered by the glass at Barrel Malibu, a wine bar in Malibu Colony owned by the vintner, Los Angeles attorney Michael Barnes. Barnes' Syrah vineyard acted as a fire break for his canyon home during last fall's wildfires.
Most Malibu growers, however, do not make wine commercially. They make it at Camarillo Custom Crush Winery to share with family and friends.
The recent enthusiasm here for growing grapes has gone beyond landscaping fad to avocation for some. Malibu's vineyards, primarily planted on steep hillsides, require a huge financial commitment.
At the crest of the Santa Monica Mountains near the intersection of Kanan Dume Road and Mulholland Drive, Los Angeles clothier Richard Hirsch has spared no expense on a 5-acre vineyard that clings to the slopes leading up to his Tuscan-style estate.
One hilltop away, another even larger, more elaborate vineyard estate is under construction. Down the road is the largest wine estate in the Malibu region, Ron Semler's Saddlerock Ranch, with 65 acres of steep hillside vineyards.
Managing the climate
AVINEYARD originally conceived as mere landscaping, Cielo Malibu Estate has been outfitted with a high-tech irrigation system supplied by water from a well dug through the core of the mountain. Whatever it costs, he's ready to spend it. "I'm committed," Hirsch says. "I'm too excited about the wine to question the cost."
Malibu is roughly defined by three temperature zones. Along the coast, temperatures rarely rise above 90 degrees, cool enough for Pinot Noir and Chardonnay vineyards. Less than 10 miles inland along the crest where Mulholland Drive winds, 105-degree days and sparse rainfall have persuaded vintners to plant Syrah. Halfway between is a temperate region where morning fog burns off for bright, sunny days 10 to 15 degrees cooler than the crest and where Bordeaux grape varieties typically are planted.
None is grape-growing paradise. Winters are too warm everywhere, says Corky Roche, a Salinas-based vineyard consultant who works with several Malibu growers. A few warm days in January can interrupt plant dormancy. The result: staggered bud break that can doom a vintage. "One plant can have 10 inches of growth and another will still be dormant at the end of April," he says.
In the spring, heavy fog can destroy vine flowers, wiping out an entire vineyard's crop. Mold and mildew can be devastating. Skunks, raccoons and gophers are rampant. Herds of deer can strip a vineyard clean of fruit in no time. Bees and wasps have been known to swarm a cluster of grapes and suck it dry. The birds descend in Hitchcock flocks. And the dreaded glassy-winged sharpshooter, carrier of a fatal vine affliction called Pierce's Disease, has moved into the neighborhood.
If nature doesn't get you, the politicians will. Though some homeowners say the Malibu Fire Department has encouraged them to plant vineyards, believing that irrigated vine rows are less of a fire hazard than brush covered hillsides, there is little public support for Malibu's burgeoning wine community.
The Las Virgenes Municipal Water District, which supplies water to many Malibu vineyards at prices close to residential rates, recently imposed a 33% rollback on its allocations of water to vineyards. The conservation measure is hardest on the hottest mountain crest vineyards, where it is now all but impossible to maintain vines without on-site water wells. That suits the Santa Monica Mountains Conservancy and the California Coastal Commission just fine. They consider vineyards to be a blight on the landscape.
"Malibu is the most challenging place I've ever worked," Roche says. The investment Malibu growers have made in their vineyards far outstrips any potential financial return. "It costs two to three times as much to grow grapes in Malibu as it does anywhere along California's Central Coast," he says.
Considering how few grapes survive such a series of apocalyptic events, the tendency has been to harvest as soon as possible to avoid further calamity. Under-ripe grapes may make bitter, herbaceous wines, but the alternative is no wine at all.
The best-known winery in the Malibu region is Rosenthal, the Malibu Estate. Los Angeles businessman and real estate developer George Rosenthal bought the estate in the 1980s, ultimately carving 29 acres of vineyards out of a lush 250-acre section of Newton Canyon filled with old oak trees.
The estate is in Malibu's temperate zone with average summer temperatures swinging between 90 degrees in the day and 60 degrees at night, optimal for ripening fruit while retaining natural acidity. But in this bowl-shaped canyon, each vineyard is planted on a steep hillside with a different orientation to the sun. So, the range of temperatures experienced at each site is unique.
An unwelcome signature of Rosenthal's wines has been the green bell pepper flavor of pyrazine, a chemical in under-ripe grapes.
In 2003, Rosenthal hired Roche to help him fix the problem. Roche pumped up the flow of irrigation, increased nutritional spraying to improve flowering and fruit set and pushed harvest later. He also sent crews into the vineyards to selectively pull leaves on each vine to expose the fruit to direct sunlight in the final days before harvest -- an expensive, labor-intensive step on top of the other costly measures.
Harvest is delayed until laboratory tests definitively show an acceptably low level of pyrazine.
For the love of wine
THE CHANGES increased the risk of damage from weather and pests, but Rosenthal obtained the flavor breakthrough he was seeking. Starting with the 2004 vintage now on the market, the wines are richer, more full-bodied.
Still leaner than Napa Valley Cabernets, a 2004 Rosenthal tasted at a Rosenthal blending session last week was a complex wine with fresh cassis and appealing cocoa flavors with a hint of herbs on the finish.
Ultimately, it is the wine itself that drives Malibu's hobbyist growers.
Tony Griffin, a screenwriter who works with his father's company, Merv Griffin Enterprises, produces Chardonnay and Malbec on a hillside next to his ocean view home. "I love my wine. I love drinking it. I love sharing it with my friends," Griffin says. He loves it so much that he's consulted with noted Malbec winemaker Paul Hobbs of Sonoma and Mendoza, Argentina, although Griffin's vineyard is less than half an acre.
Jim Palmer is a personal business manager and full-time Malibu resident who planted his Trancas Canyon vineyard in 1997 in the early days of the vineyard boom. "I'd like to produce a cult wine, a wine recognized as ultra-premium," he says. Like Estevez, he takes pride in working his vineyard himself.
"I've had to become a student of this stuff," says Palmer, who spends his spare time with Bob Lindquist and other veteran Santa Barbara area winemakers he considers his mentors. Palmer has persuaded several Los Angeles restaurants -- including Capo, Spago and Craft, as well as the Westwood wine shop Wally's Wines and Spirits -- to offer his Malibu Vineyards wines.
The hustle of selling wine doesn't interest Estevez, at least not at this early stage in his evolution as a winemaker. The attraction for him is the experience of extracting something delicious from a patch of dirt. He's shoehorned a chicken coop, apple trees and several raised vegetable beds alongside his vineyard rows.
The community of Malibu winemakers is as diverse as the region's microclimates, he says. The challenge is to make wine good enough to justify the Herculean effort.
---
The stories shaping California
Get up to speed with our Essential California newsletter, sent six days a week.
You may occasionally receive promotional content from the Los Angeles Times.