Where the movies pop
It's only fitting that Southern California, the home of movies, would have the best places to see them. Where else can you get signature cocktails, leather couches and refreshments from around the globe?
The Pacific Theatres complex at Grove developer Rick Caruso's new Americana at Brand in Glendale boasts 18 screens.
(Caruso Affiliated)
For escape from the free-from-school kiddies invading theaters, ArcLight offers 21+ screenings with drinks in Hollywood and Sherman Oaks. Trudy Planty and husband Isaac Planty have margaritas during a 21+ screening at ArcLight Hollywood.
(Stefano Paltera / For The Times)
Adult moviegoers who arrive at ArcLight Hollywood (6360 Sunset Blvd.) early can go to the upstairs bar and watch with a cold beverage as others wait in lines below.
(Genaro Molina / Los Angeles Times)
The Landmark Theatres at Westside Pavilion (10850 West Pico Blvd.) is posh and fun inside, can be difficult to get to -- the parking, while free, can be horrendous. Walk if that's a viable option.
(Spencer Weiner / Los Angeles Times)
The Landmark goes above and beyond in the snack department: gourmet pretzels and breads and candies, many from other countries.
(Al Seib / Los Angeles Times)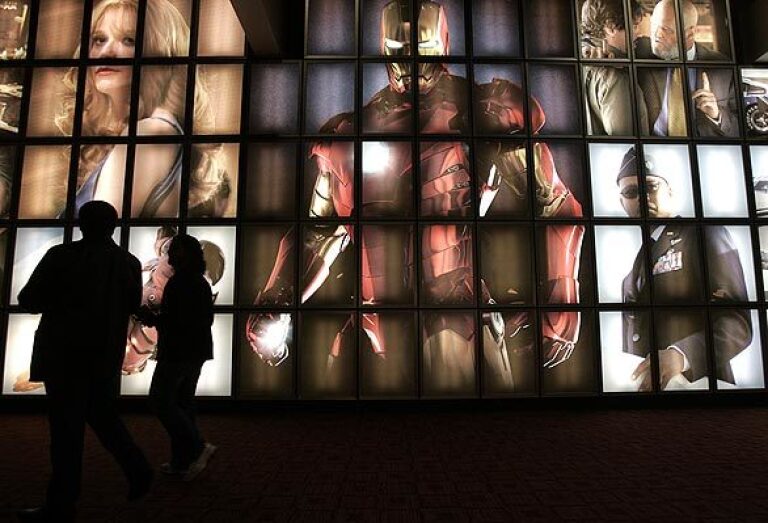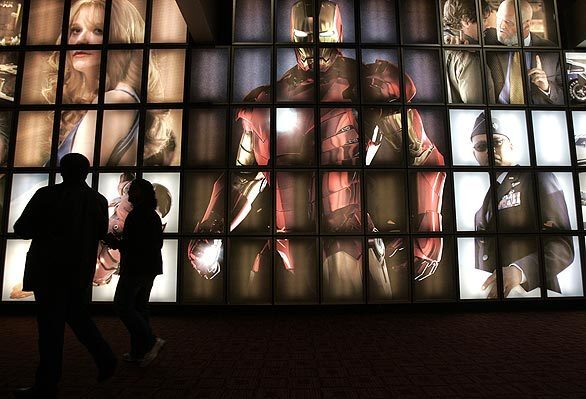 A giant lightbox at ArcLight Sherman Oaks (15301 Ventura Blvd.) promotes "Iron Man," the highly successful Marvel superhero movie that effectively started this year's summer movie season.
(Lawrence K. Ho / Los Angeles Times)
ArcLight Sherman Oaks' lobby bar offers a view of the 405 Freeway.
(Lawrence K. Ho / Los Angeles Times)
The Crest (1262 Westwood Blvd.) in Westwood is a majestic sight with a small-town movie experience: Owner Robert Bucksbaum tears the tickets and pops the popcorn.
(Gary Friedman / Los Angeles Times)
A look inside the lobby of Westwood's Crest.
(Gary Friedman / Los Angeles Times)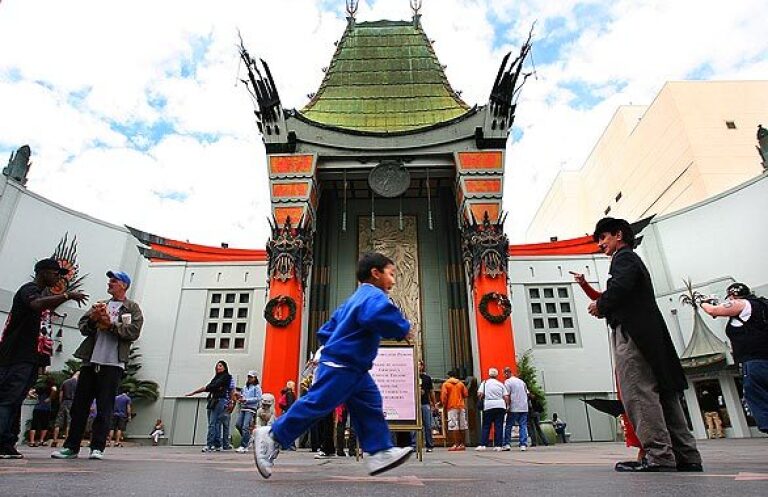 Sure, the court in front of Grauman's Chinese is packed with tourists comparing hand sizes with the cement impressions of Tinseltown legends, but if you go inside you'll find one of the city's most opulent movie palaces and a screen with a curtain that they actually go to the trouble of opening and closing.
(Wally Skalij / Los Angeles Times)
The ornate interior of the Orpheum on Broadway near 9th Street has been restored to its 1930s glory. The theater, now a concert venue, can also be seen on the Los Angeles Conservancy's organized tour of the old Broadway movie houses on Saturdays. See www.laconservancy.org
(Alexander Gallardo / Los Angeles Times)
We're lucky. As blockbuster moviegoing season gets into full swing this Memorial Day weekend, we live in a place where it's just as easy to see that new, hot indie as it is to see that old, familiar Indy (think crystal skulls). We get to do so in any one of dozens of unique theaters. And the price? Not so bad, considering the alternatives.
In Chicago, for example, the Village Roadshow Gold Class Cinema chain is slated to open a theater later this year that will charge an estimated $35 per ticket. That gets you reserved recliners in a 40-seat theater, food service brought to your seat, special parking and the latest in projection and sound innovations.
But a little intrepid researching around Southern California has revealed all those amenities and then some. Try signature cocktails. Leather couches. Refreshments from around the globe. Granted, they may not all be found at the same theater, but on the other hand, our admission prices top out at $15 -- at the El Capitan, of all places.
So which theaters have great picture and sound? The tastiest popcorn? Or a charming ladies' lounge? Read on.
Big is beautiful
Screen No. 1 at the Edwards Big Newport 6 offers viewers a 76-foot-wide movie screen, one of the largest in the country. While the auditorium has not gone through a stadium-seating upgrade, 1,108 high-backed rockers and a loyal opening weekend crowd make for a boisterous blockbuster experience.
Edwards Big Newport 6, 300 Newport Center Drive, Newport Beach. (949) 640-4600, bignewport.com
Breakfast of champions
For frugal film fanatics who like to wake up, stretch and immediately head into a dark theater, AMC Theatres offer A.M.Cinema. All shows before noon on Friday, weekends and holidays are $6. They also start as early as 9 a.m. The Century City 15 is the spiffiest locale in the AMC chain, and that's the one time you'll actually enjoy cruising the parking lot.
AMC Century City 15, 10250 Santa Monica Blvd., L.A. (310) 289-4AMC, amctheatres.com
The shoppingest place on Earth
Rick Caruso's new the Americana at Brand in Glendale has expanded on the Grove exponentially. The stores are sleeker, the little park has grown, the dancing fountain is grander, a large children's playground/sandbox has been added, and a golden Poseidon stands watch over it all. Ringed by apartments and condos, this mega-meta-Grove is nothing less than a capitalist commune. For that new theater smell, hit the Pacific Theatres Glendale 18. It's also bigger than its Grove counterpart, with four more screens standing at the ready to entertain the coddled masses.
Pacific Theatres Glendale 18, 322 Americana Way, Glendale. (866) 722-9720, americanaatbrand.com
You had me at ni hao
Grauman's Chinese is the epitome of curb appeal. Sure, it's corny and overrun with tourists, but it's also big, bold and gorgeous -- and stepping into Jimmy Stewart's prints is fun for all but the most jaded souls. Even the characterless Chinese 6 that shares its name can't detract from the grandeur. This is where a movie becomes memorable. If you skip it just because you're a local, the tourists win.
Grauman's Chinese Theatre, 6925 Hollywood Blvd., Hollywood. (323) 464-6266, manntheatres.com/chinese
The AV Squad Rules
Everyone has an opinion about the ArcLight Hollywood ushers and their little spiel before the show. But they really do stay to make sure the sound and picture quality are up to snuff, saving patrons the annoyance of having to find a human being to report that the film is out of focus or the volume too low. Not that it ever is. In a world of automated film platters run without projectionists, it's a comfort to know someone is looking out for us.
ArcLight Hollywood, 6360 W. Sunset Blvd., L.A. (323) 464-4226, arclightcinemas.com
Where to wear the kids out
The Cinemark at the Pike mall in downtown Long Beach is surrounded by a wealth of kid-friendly activity. If a day at the movies, the nearby Aquarium and the Queen Mary doesn't tucker out those little rugrats, just around the corner from the theater entrance sits a Ferris wheel.
The Cinemark Theaters at the Pike, 99 S. Pine Ave., Long Beach. (800) FANDANG, Code 1181, cinemark.com
Watch a movie theater without the movie
The Los Angeles Conservancy offers walking tours of a dozen stunning movie theaters from the early days of moving pictures in the Broadway Historic Theatre District in downtown L.A. Carved and gilded beyond imagination, they are true temples to escapism.
Broadway Historic Theatre District Walking Tour, 10 a.m. Saturdays, $10, (213) 623-2489, laconservancy.org
Whatta deal! Whatta rip!
Every Monday at 1 p.m., The Bridge: Cinema de Lux in Westchester screens a film from the '30s to the '80s. A mere $2 secures admission, a small cup of popcorn and a soda. The Silver Screen Classics program attracts a largely silver-haired crowd, and there's no texting in sight. At the same venue, you can attend a movie of a more recent vintage in the luxurious Director's Halls, where a waiter will bring food and cocktails to you before showtime. One of the offerings is a combo order large popcorn and soda, for a whopping 10 bucks. Who brings them, the director?
The Bridge: Cinema de Lux, 6081 Center Drive, the Promenade at Howard Hughes Center, Westchester. (310) 568-3375, thebridgecinema.com
Sweetest little loo
All the big chains now sport flowers in women's restrooms, and they're a welcome upgrade, no doubt. But there's something so inviting about the ladies' lounge at the Lido Theatre in Newport Beach. The two stalls mean any crowd will be faced with a horrendous line, but while they wait, trays of hand lotion, mousse and hair spray sit out for anyone to use. An old lobby card of the theater's first presentation, Bette Davis' "Jezebel," decorates one wall of the adjoining sitting parlor, a room Davis herself insisted upon. (She lived nearby, and used to visit during its construction in 1938.) Out in the auditorium, another anachronism adorns the walls: a swirling ocean scene that comes alive under black lights. It matches the surfer films the theater books along with its art-house fare.
Lido Theatre, 3459 Via Lido, Newport Beach. (949) 673-8350, regencymovies.com
Screen classic
Sherman Torgan, who ran the New Beverly Cinema revival house from its inception in 1978, died in July, but his film-loving spirit lives on. Filmmakers such as Joe Dante, Eli Roth and Edgar Wright have stopped by to program films and support his life's work. The theater is as beloved as the velveteen rabbit, and just as worn, but the $7 general admission-- for double features, no less -- is low, the popcorn is fresh, and the film education on offer is peerless. Sherman's son Michael now runs the joint, which recently celebrated its 30th anniversary.
New Beverly Cinema, 7165 Beverly Blvd., L.A. (323) 938-4038, newbevcinema.com
Validation? I don't need no stinking validation!
It's happened to the best of us. We get all the way to our cars, in some cases walking halfway home in the process, and realize we haven't validated our parking. Fortunately, that's not an issue in Marina del Rey, where both the Regal UA Marina del Rey 6 and its neighbor the AMC Loews Marina 6 offer free lots with no validation necessary. The Regal UA has an open-air lot that allows for "Doris Day parking" (just look at her movies; she always parks right in front of the building she's going to), but on busy nights your best bet is to park around the back and hoof it. The AMC lot is structured. Park on the second floor in the middle for ramp access; the southeast corner will get you a few stairs away from the theater.
UA Marina del Rey 6, 4335 Glencoe Ave., Marina del Rey. (800) FANDANG, Code 510,www.edwardscinemas.com
AMC Loews Marina 6, 13455 Maxella Ave., Marina del Rey. (310) 827-9588, amctheatres.com
It's all in the mix
From the South Coast in Santa Ana to the Camelot in Palm Springs, independent films find safe harbor at more than a dozen Laemmle Theatres -- even in summertime. But the venues don't all shun the big pictures. At places like Laemmle's Fallbrook 7 in West Hills, "Iron Man" is as welcome as the foreign selections. There is room for all under the tent pole.
Laemmle's Fallbrook 7, 6731 Fallbrook Ave., West Hills. (818) 340-8710, laemmle.com
Movie royalty
The Crest is a true movie palace hiding in plain sight in Westwood, its glorious neon signage and stunning interior mural of old Hollywood matched by contemporary touches like contouring-foam seats. But its best feature has to be its owner, Robert Bucksbaum. He conveys his love of the theater and small-town moviegoing in everything he does, from ticket tearing to popcorn popping. Every palace needs such a devoted king.
Westwood Crest Theatre, 1262 Westwood Blvd., Westwood. (310) 474-7866, westwoodcrest.com
Drink with a view
Both ArcLights, Hollywood and Sherman Oaks, sport bars that offer specialty martinis such as the "ArcLight Hollywood" -- Malibu Rum, Blue Curacao, pineapple and Sprite. At night, the ArcLight Sherman Oaks location offers a hypnotic view out huge picture windows of the 405/101 interchange that's at least as entertaining as some of the summer movies. Red brake lights have never looked so good.
ArcLight Sherman Oaks, 15301 Ventura Blvd., Sherman Oaks. (818) 501-7033, arclightcinemas.com
Meet the kernel
Fresh popcorn can be pretty much perfect at any theater. Stale, it provides all the enjoyment of Styrofoam packing material. So, any given movie house on any given night could go either way. But in terms of consistency, we found the best bucket is at the ArcLight Hollywood. (It seems readers agree; see the accompanying Web Chatter article.) Plus, the caramel corn is so good, it doesn't even need a surprise inside.
Pizza d'resistance
The Landmark is a serious snacker's wonderland. There's regular or soy milk for your Peet's coffee; regular and sugar-free Redvines; vegan cookies; and fresh pizza made on site daily. Tim Tam cookies and Mint Slice biscuits hail from Australia, Pocky snacks from Japan. Pom juices, Odwalla drinks and Fizzy Lizzy sodas made of carbonated water and fruit juice sit by the usual fountain offerings. The condiment counter has no less than three types of mustard and three popcorn seasonings.
The Landmark, 10850 W. Pico Blvd., L.A.
(310) 281-8233, landmarktheatres.com
The champ
In fact, the food isn't all the Landmark does best. Yes, it's on the Westside, which means it's not convenient to a lot of people. But the overall theatrical experience is hard to beat, based on a plethora of nice touches, including a swanky bar. The nicest: Seat options include regular stadium-style leather seats as well as the more casual Living Room auditoriums, which contain black leather couches for two or three, armchairs for one, or a front row of mushy couches for sprawling -- all reserved, and at no extra charge. However, the Landmark does lose points for parking. Though free, it's a labyrinth of misery down in those concrete bowels, especially if you're in a hurry. The most pleasant solution is to park early and have a meal across the street. The venerable Apple Pan offers up a great diner dinner, and Nizam a block to the west has some terrific Indian food. Just in case all those mustards aren't enough.
---
For reporting and exclusive analysis from bureau chief John Myers, get our California Politics newsletter.
You may occasionally receive promotional content from the Los Angeles Times.