6 Images
Imagination Uncorked
COMFY CORK:
Reza Feiz, relaxes on a couch inspired by cantilevered homes off Mulholland Drive.
(Bryan Chan / LAT)
LINEAR APPEAL:
Feiz and his wife Sheila Griffiths completely remodeled the Studio City ranch home they bought four years ago. They removed the carpeting to reveal the concrete foundation, which they stained black and polished. Prototypes of his two cork-covered BBC club chairs occupy spots on each side of the entryway, near the couch. A polished stucco finish replaced the volcanic rock facade of the fireplace.
(Bryan Chan / LAT)
PRIVATE NOOK:
Feiz works in his office, formerly a bedroom, where he removed the closet doors to create a desk alcove. To his left is the Pose chair. The simple Artemide fixture provides inexpensive lighting with personality, he says. And the In the foreground is the coffee table in the foreground was designed by Feiz with a cutout filled with a removable, cork-covered seating cube.
(Bryan Chan / LAT)
WELCOMING TABLE:
Feiz and Griffiths have dinner at the 4-by-8-foot walnut dining table set on solid stainless steel legs. Says Griffiths of the table's utility, "No matter how many people you add, they just all seem to fit.
(Bryan Chan / LAT)
New orange Formica cabinet doors add a mellow glow to the existing counters now sheathed in stainless steel.
(Bryan Chan / LAT)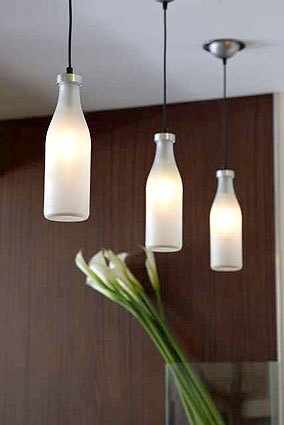 Feiz's first purchase for his home were whimsical milk bottle lights, left, from the Dutch design firm Droog.
(Bryan Chan / LAT)