California bullet train project may soon face funding shortfall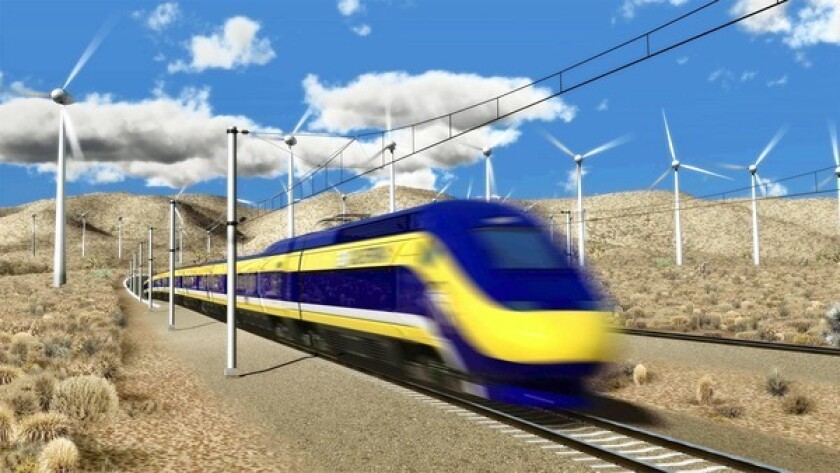 California's bullet train project is facing a potential funding shortfall in April when funding agreements require the state to come up with $180 million to match federal grants, said Rep. Jeff Denham (R-Turlock), the chairman of the House of Representatives' rail subcommittee.
Denham, who is scheduled to hold a hearing on the project Wednesday, said he believes the state's funding plans violate federal law.
"They have gotten too far over their skis on this," Denham said, referring to a position that can lead to a fall.
The proposed $68-billion high-speed rail system's finances have become increasingly uncertain in recent weeks.
The California High Speed Rail Authority lost the ability to tap $9 billion in state bond funds as a result of a December legal decision. And while Gov. Jerry Brown has proposed $250 million in new money, the state Legislature is not expected to act before June.
The state is currently paying its bills from $3.2 billion in federal grants. Those grants allow the state to spend some federal money before it is matched with state dollars, but by April, California will have to begin contributing its portion of funding, said Kevin Thompson, spokesman for the Federal Railroad Administration. Since late 2012, Thompson said, the state has been drawing on the federal grants, without providing matching funds.
The rail authority declined to provide details about its spending or how much money it has available outside of the federal grants. But the agency issued a statement Monday saying the "state is continuing to contribute money to the program and meet its obligations under the grant agreement."
Federal railroad officials allowed the state to consider $95 million it spent from 2011 to 2012 as eligible for matching under the grant agreements. Denham said the legality of that arrangement needs to be examined.
Whether Brown can win legislative approval for his proposal to tap $250 million from fees collected from businesses that exceed greenhouse gas emissions, known as cap and trade funds, is unclear. Major environmental groups are opposed to the plan. Brown has said his plan is legal and that the bullet train project is a long-range vision that will require patience.
"We can take a few years and build for the future," Brown said in Fresno on Monday.
On Tuesday, state rail authority chairman Dan Richard criticized a report by the Legislative Analyst's Office, which questioned the legality of the governor's funding proposal and said other cap-and-trade projects would yield greater reductions in greenhouse gases.
Richard took issue with a statement in the report that bullet train construction would cause new greenhouse gas emissions. The authority has said it is making an effort to mitigate all of the carbon dioxide it will generate. Richard said the authority would plant "several thousand trees" and use the most modern equipment available during construction.
Times reporter Anthony York contributed to this report.
---
The stories shaping California
Get up to speed with our Essential California newsletter, sent six days a week.
You may occasionally receive promotional content from the Los Angeles Times.