$10 million to be spent on sidewalks next to city properties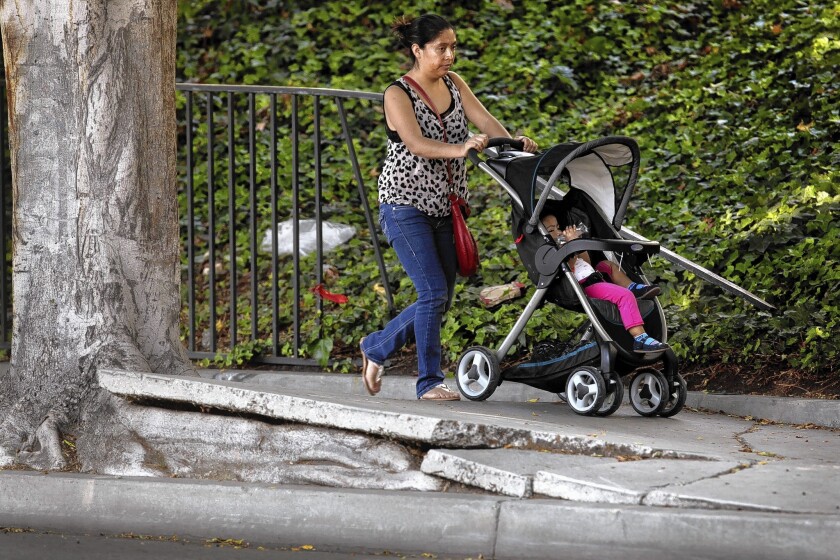 Los Angeles lawmakers gave the green light Friday to spend $10 million to repair broken sidewalks next to parks, libraries and other city facilities.
Despite public demands to step up sidewalk repairs, the action had been delayed because council members were concerned about how the spending might figure into negotiations to settle a related lawsuit. But with the budget year drawing to a close in two months, and chances increasing that the budgeted funds might not be spent as promised, the City Council decided to move forward.
It remains to be seen how quickly the money can be spent and whether officials can avoid having unencumbered leftover funds swept back into the city's general budget for next year. City Administrative Officer Miguel Santana says the goal is to spend at least $3 million on sidewalk repairs before the end of June.
Failing to spend the repair money as planned would mean "we're kind of kicking the can down the road," said Jessica Meaney, Southern California policy director for the nonprofit Safe Routes to School National Partnership.
Roughly 40% of city sidewalks may need to be fixed or replaced, according to the Bureau of Street Services. The city faces a yawning repair bill, estimates show. Budget officials have proposed a sales tax increase that would generate $640 million toward the repairs. That would allow the city to tackle the worst problems, but fixing every damaged sidewalk is expected to cost far more.
Despite the backlog, a council committee earlier this year chose to hold off on spending the $10 million.
Councilman Paul Krekorian said lawmakers waited because of a lawsuit filed by residents with disabilities, who say that broken sidewalks violate their rights to public access. Krekorian said the council wanted to avoid any spending that would not count toward a possible settlement.
The committee ultimately approved a plan that dedicated the dollars to fixing sidewalks next to city facilities. The plan is designed "to move this money as quickly as possible into the areas where it will have the most impact in improving accessibility for the public — which is around the public's facilities," Krekorian said Friday.
The decision disappointed those who wanted the city to prioritize repairing the most dangerous, heavily used sidewalks. City officials said repairs next to city facilities could be done the fastest. Santana added that the city also is clearly responsible for those sidewalks, an important distinction amid an ongoing debate over who should bear repair costs.
Pedestrian advocates have emphasized the need for rapid action.
"We still have hazardous sidewalks out there that people have to traverse every day, going to school or getting to their jobs," said Deborah Murphy, executive director of Los Angeles Walks. "Everybody in Los Angeles witnesses this every single day."
---
The perils of parenting through a pandemic
What's going on with school? What do kids need? Get 8 to 3, a newsletter dedicated to the questions that keep California families up at night.
You may occasionally receive promotional content from the Los Angeles Times.