Pasadena's Cliff's Books closes up shop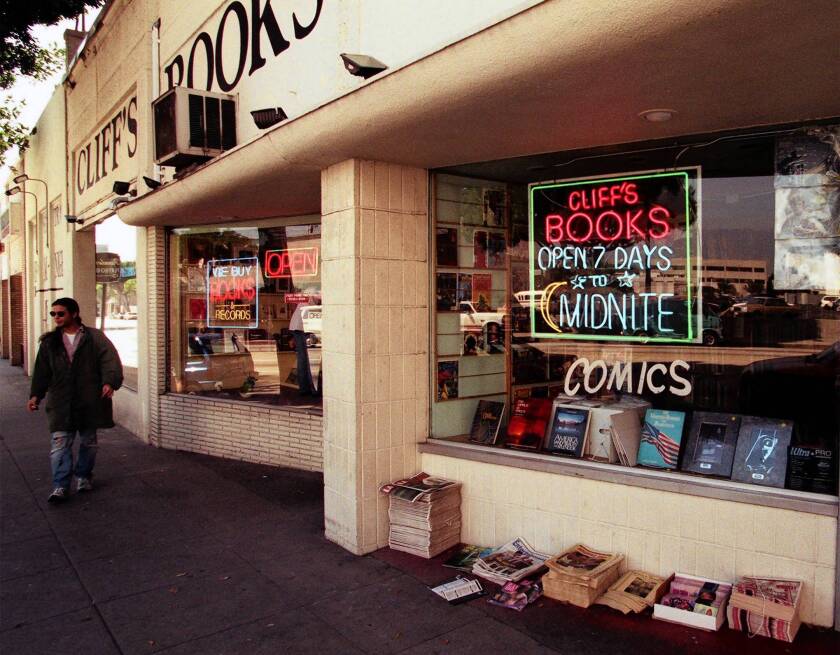 On the brick storefront, the words Cliff's Books remain in big, black, bold type. The building's doors are locked, but through the window you can see the bookshelves up against the walls, face to face, on their side — all empty.
A couple walk by, and the man, without slowing down, points to the store and says "Sad." The woman nods.
Cliff's Books, in the heart of Pasadena's Playhouse district, closed its doors late last month after 27 years. Last week, tattered white sheets spray-painted with the words "ALL BOOKS MUST GO!" were taped to the windows. The store tried to sell off its inventory of more than 100,000 books by pricing most at a dollar, or even a quarter.
Cliff's story is a familiar one: Customers who used to rely on the store for rare and used books can now find them faster, and usually cheaper, online. And the business didn't adapt fast enough to the changing consumer marketplace, said Jerry Lang, who worked at the store for 16 years.
"The last five years, they've all been losers," Lang said.
Just about anyone familiar with the area calls Cliff's Books an institution, one of many bookstores that once lined a section of East Colorado Boulevard. Its shelves of undusted books were stuffed into a maze of rooms.
A former probation officer, owner Cliff Gildart said he opened the store because he believed literacy can change people's lives.
"If [a person] can't read," Gildart said, "he is more likely to pull the trigger."
Gildart started with only his personal collection. There was little financial risk — at least in the beginning, he said.
"The rent on the place was incredibly low" when he started, Gildart said. "It was so low that even if you didn't know what you were doing, you could at least pay rent."
Knowing nothing about the trade, Gildart said he was nervous about buying books from strangers. So nervous that it made him sweat.
But everyone who came in was "so damn honest," he said, it made his job easy. That's what Gildart remembers most fondly: the people who came in to browse, to buy, to spend a day getting lost in the rows of books.
"It was the kind of bookstore you could roam around in for hours," said customer Peter Hartgens, 70. He said a store with Cliff's "flavor of intellectualism and curiosity" will be missed.
Gildart eventually increased his collection of books and estimates that he may have purchased more than a million over nearly three decades. Around the time the store closed, he said, he had tens of thousands.
In better days, he bought two neighboring stores and expanded his business. Bookstores thrived in the Playhouse district in the late 1990s. Vroman's, Super Crown, Borders, Barnes & Noble and four used book stores all made their home along a few blocks of Colorado. Today, only Vroman's, Barnes & Noble and one used book store remain.
Not only is it a tough market for booksellers, the Playhouse district has gentrified in the last decade, making it harder for quirky stores like Cliff's to compete with increasing numbers of big box stores. "Mom and pop stores are going out; you got franchise businesses coming in," said Don Cotten, manager at Angels School Supply, just a couple of doors down from Cliff's.
The neighborhood is now home to chain restaurants like Urth Caffe, Tender Greens, Roy's Hawaiian Fusion Cuisine and Blaze Pizza. Some worry that the area is losing its charm.
But Michael Moreno, owner of Zona Rosa Caffe, a funky coffee shop on the same block as Cliff's that's been there for nearly 20 years, said that he doesn't think Cliff's closure means that the neighborhood is moving away from its artsy vibe.
"If people could buy coffee online, we'd probably be out of business too," Moreno said.
Gildart sold off most of his remaining books to a private buyer but kept his collection of nearly 10,000 fine books — which start at about $100 apiece. He is thinking about selling them online, although he is reluctant to.
"I have such antipathy toward such things," he said. "I almost hate to do it."
---
Get breaking news, investigations, analysis and more signature journalism from the Los Angeles Times in your inbox.
You may occasionally receive promotional content from the Los Angeles Times.