Deasy, LAUSD at a critical juncture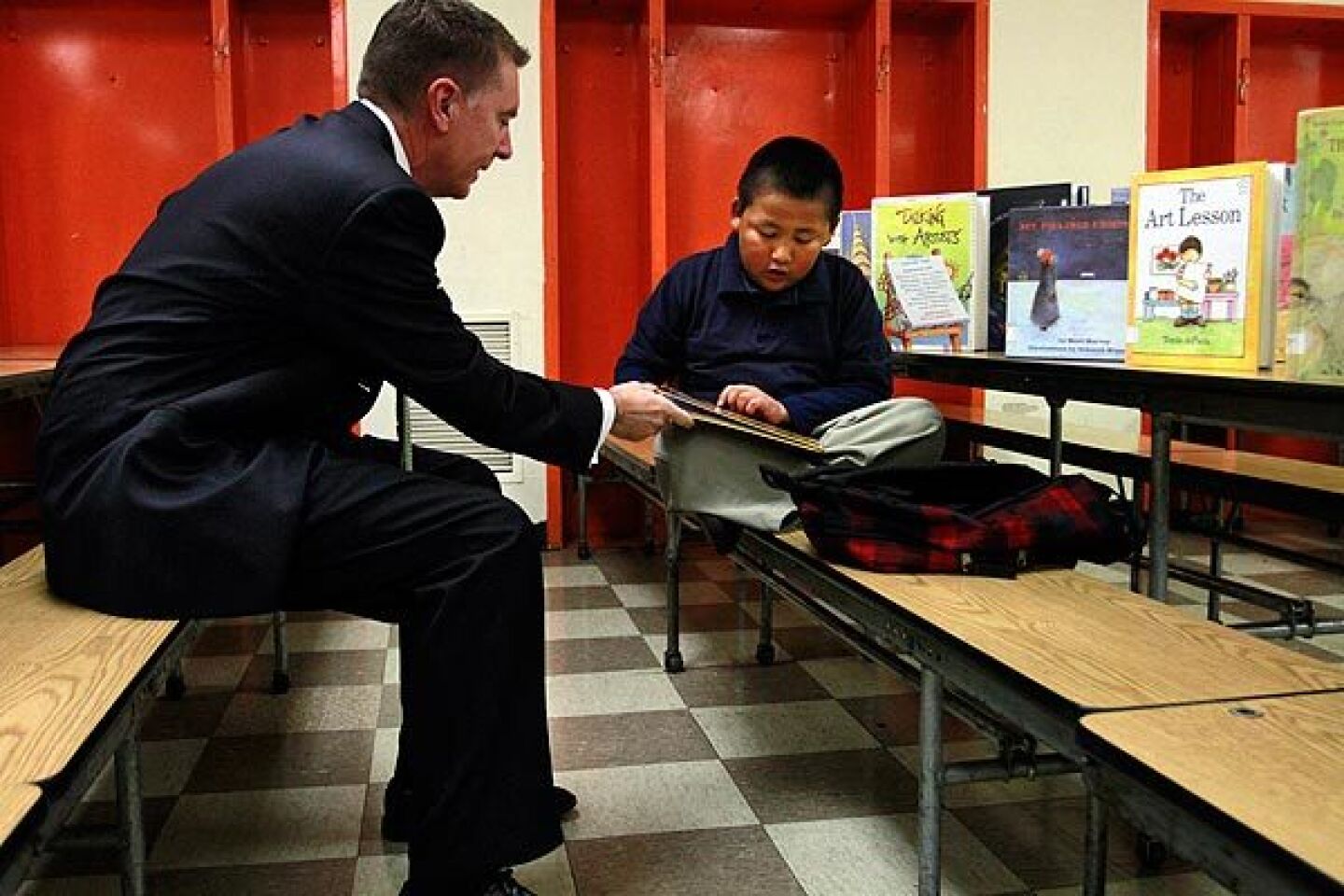 Los Angeles Unified School District Supt. John Deasy chats about a book that David Paredes is reading at Figueroa Street Elementary School in South L.A.
(Bob Chamberlin / Los Angeles Times)
Deasy talks with Luisa Garcia at Figueroa Street Elementary as the "Food for Thought" program, which provides breakfast in classrooms, is launched.
(Bob Chamberlin / Los Angeles Times)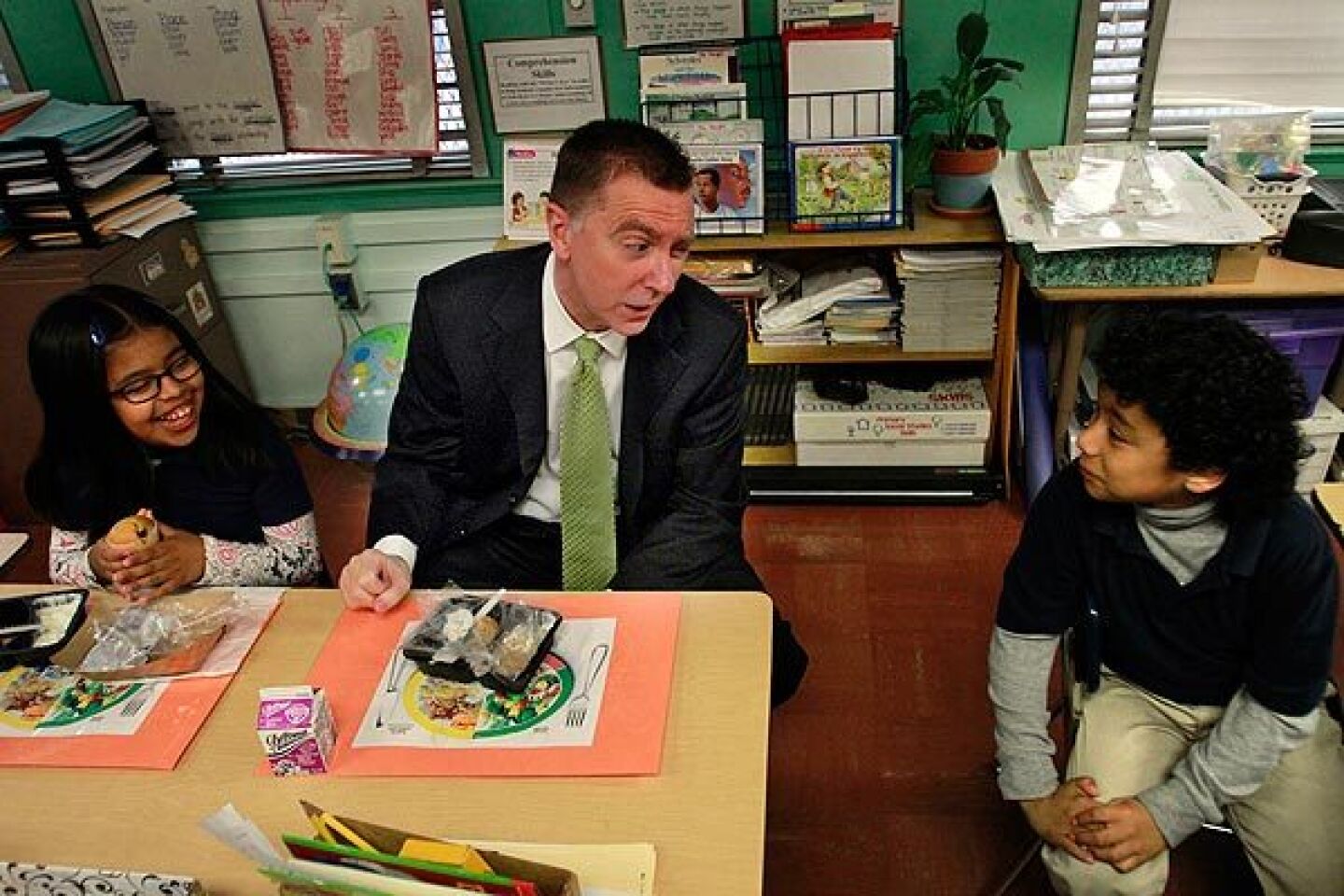 Deasy jokes with Christopher Palma-Cruz, right, and Luisa Garcia at Figueroa Street Elementary.
(Bob Chamberlin / Los Angeles Times)
L.A. Unified "has been paralyzed by a culture of fear to do anything independent in leadership," Deasy says. Now, he says, "we get things done."
(Bob Chamberlin / Los Angeles Times)
Deasy ponders a question in his office at L.A. Unified headquarters. Putting kids first requires "professional courage," he says.
(Bob Chamberlin / Los Angeles Times)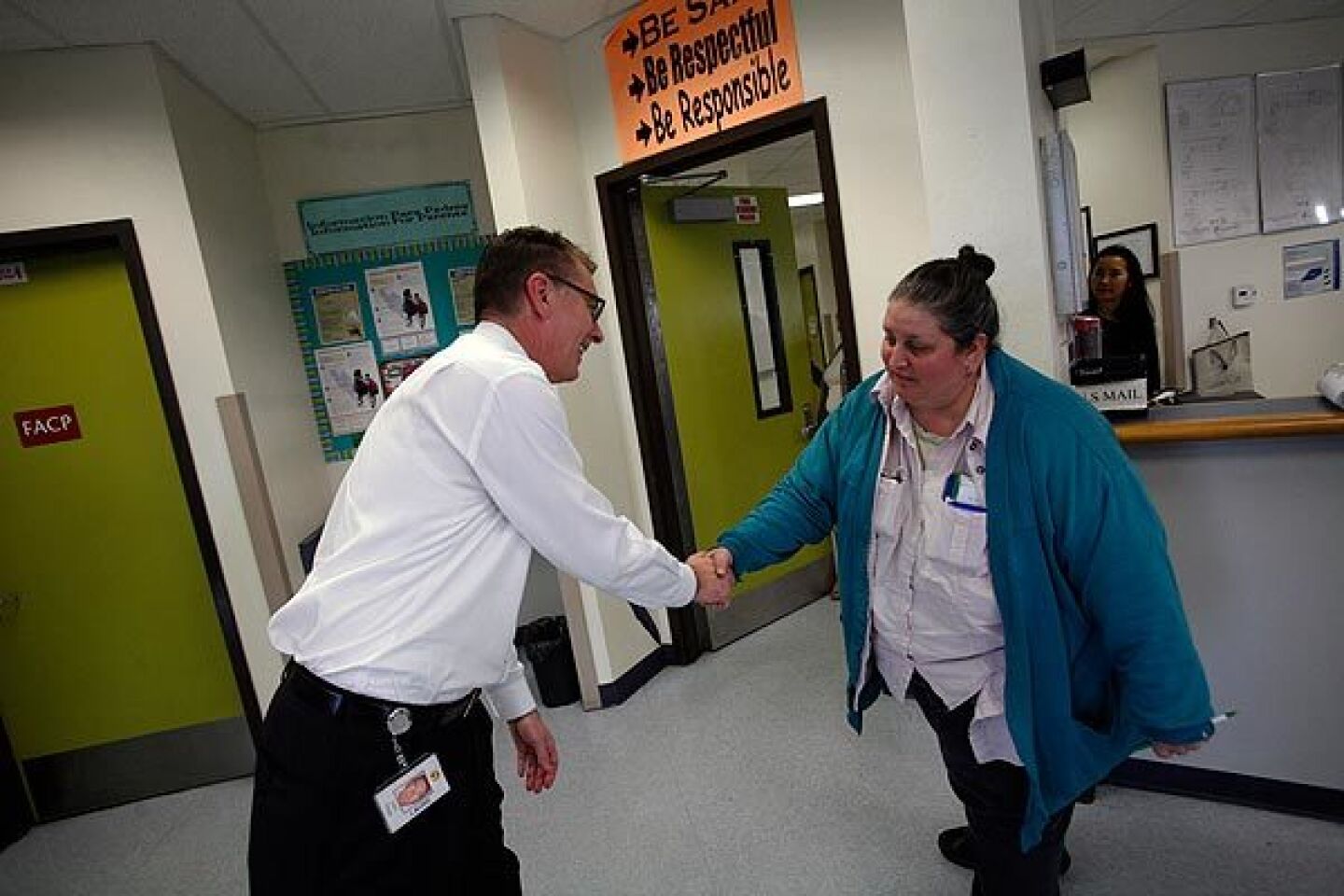 Deasy shakes hands with senior office technician Bonnie Sugerman on a visit to Liechty Middle School west of downtown.
(Bob Chamberlin / Los Angeles Times)
When John Deasy took the helm of Los Angeles Unified in 2011, he was backed by the school board, mayor and civic leaders in a bid to transform the nation's second-largest school district with bold measures to improve student performance.
Now Deasy's future — along with the district's direction — is in doubt at a critical point. L.A. Unified is facing new academic standards, major budget decisions and a massive iPad technology project.
On Thursday, just days before his scheduled performance review by a new, less supportive school board, the school chief told some top officials that he might step down. That, in turn, provoked strong warnings from civic leaders Friday to end what one called the "amateur hour" of political infighting that could endanger progress for students.
"I think the adults at the school district, across the board, need to remember that there are kids who are the collateral damage to any loss of leadership, any loss of momentum, and any dysfunction and fighting," Mayor Eric Garcetti said.
Garcetti added that the district had moved "in the right direction" under Deasy by continuing progress in lowering dropout rates, improving test scores and completing school construction projects.
Deasy, 52, remained tight-lipped Friday, saying he would not comment on his future until after Tuesday's performance review. He has said he hoped to stay eight years because continuity was essential for lasting change. He noted that his evaluation marked a key juncture.
"I am going to do everything in my human power to model dignity," he said. "Kids watch this. That is going to be my guideline."
In recent months, Deasy has struggled with a more combative teachers union and a more challenging school board.
Amid the tension, Deasy's second-in-command, Deputy Supt. Jaime Aquino, submitted his resignation last month after complaining that the board's second-guessing and micromanagement made it virtually impossible to function.
Robert Ross, president of the California Endowment, the state's largest healthcare foundation, said he was aware of the tensions but was "taken aback" by news of Deasy's possible resignation. While he said Deasy needed to work harder to forge more collaborative relationships with the teachers union and school board, he gave Deasy an "A-plus" for boosting student achievement and health with efforts to improve school nutrition and campus safety.
"On behalf of the children, people have to figure out a way to make things work," Ross said. "We adults need to improve our behavior."
At the same time, however, Deasy fell short — in some cases far short — of most of this year's performance goals for student achievement in reading and math.
United Teachers Los Angeles said it welcomed the possibility of new leadership. In April, 91% percent of 17,500 members polled responded that they had "no confidence" in Deasy's leadership.
News of Deasy's possible resignation surfaced this week, when some district insiders said Deasy talked of leaving in February. But Deasy said he has not submitted a letter of resignation.
What actually transpired between Deasy and other top district officials is still unknown.
Board President Richard Vladovic said he had spoken with Deasy multiple times over two days. "I think the clouds will clear more on Tuesday once we all hear the same things," he said.
Deasy's growing frustration has been evident for months. He failed to win support from the union for his revamped teacher evaluations and had to settle for a reduced role for the use of test results in the reviews.
His recommendations to use new state education dollars to close a budget gap and to boost pay based on test scores and other factors met resistance. Some board members instead are pushing to hire more teachers and others to restore staffing to pre-recession levels.
And Deasy's $1-billion initiative to equip all students and teachers with iPads has encountered numerous problems.
Board member Steve Zimmer said he believed the iPad deal had serious flaws but supported the concept and did not see the challenges as fatally undermining Deasy's position.
"John Deasy has one of the most remarkable work ethics I've ever seen," Zimmer said. "And I've seen no fracture in his drive, his urgency."
Board member Bennett Kayser, a frequent Deasy critic, could not be reached Friday, but his office issued a brief statement that all but anticipated the superintendent's departure.
"I met with Superintendent Deasy yesterday," the statement said. "I wish him well in his future ventures. We shall continue to remain focused on what is best for our students."
One senior official expressed disappointment over Deasy's possible exit but put much responsibility on the superintendent.
"Is he the kind of guy who would up and leave because the iPad program is under scrutiny? I hope not. When the going gets tough, the tough get going. I don't think that means out the door," the official said.
"There's a lot of amateur hour stuff going on," said a civic leader who didn't want to be publicly identified for criticizing the board. "It seems like a lot of adults are acting like kids."
Elise Buik, president of United Way of Greater Los Angeles, said community members are expected to pack the board meeting Tuesday to support Deasy. On Friday, United Way and 10 other organizations issued a letter to school board members urging them to retain Deasy and accusing some of "putting your own political agendas ahead of students' needs."
"After all of the progress that has been made, it is simply unacceptable to turn back to the failed policies of the past," the letter said.
Times staff writer Michael Finnegan contributed to this report.
The stories shaping California
Get up to speed with our Essential California newsletter, sent six days a week.
You may occasionally receive promotional content from the Los Angeles Times.