Afghan girl injured by explosion paints with a prosthetic arm in L.A.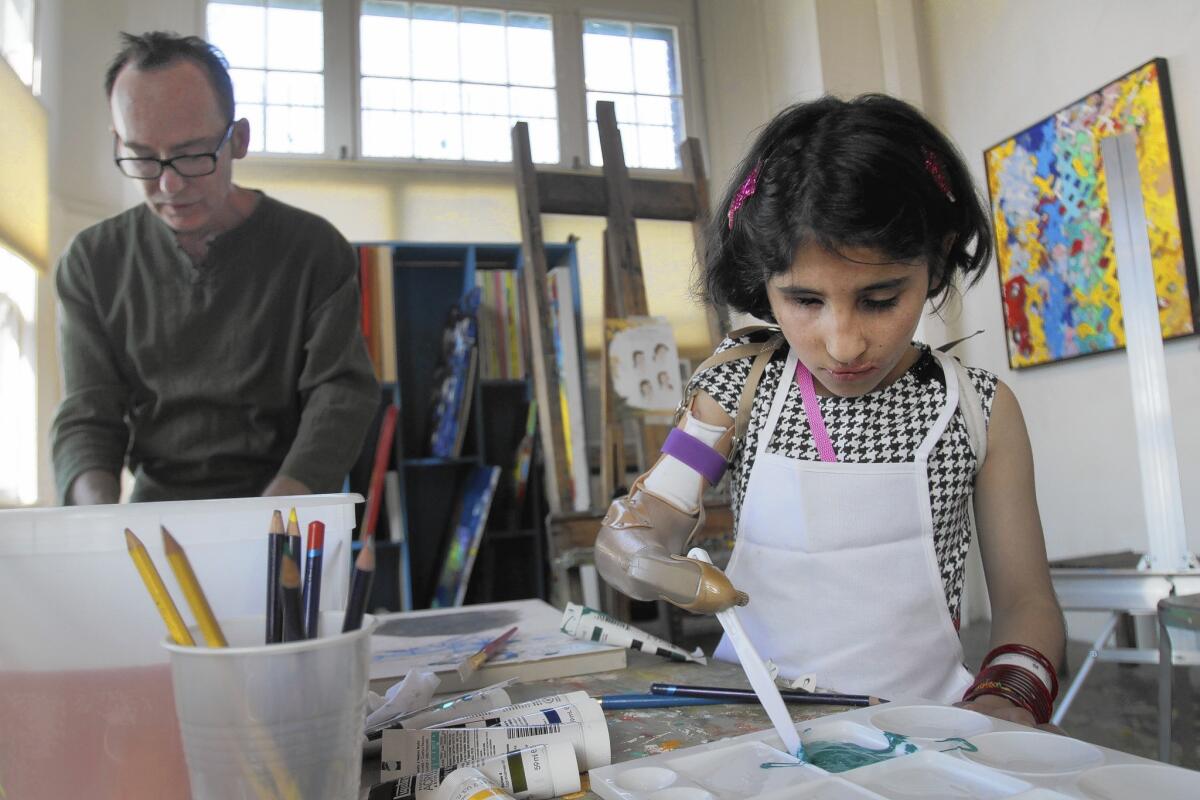 Surrounded by a messy array of paint tubes, brushes and paper cutouts, the little girl focuses intently on the canvas in front of her.
Not yet 7 years old, Shah Bibi Tarakhail rarely looks up, as she takes a brush and applies swirling colors of paint to the canvas. She starts using her left hand, then a few minutes later switches to her right — a prosthetic.
"As far as a gifted child — I can definitely say there's something there," said abstract artist Davyd Whaley, who hovered over Shah Bibi's shoulder, helping her paint.
When she finally looks up, the sheepish smile of a shy child spreads across her face, an innocent gesture made more profound by the visible scarring around her mouth and the loss of her right eye. She communicates only by pointing and using a few basic words.
Shah Bibi first came to Los Angeles from Afghanistan in December, having suffered injuries from a grenade explosion in her village near the Pakistan border. Children of War, a nonprofit based in L.A., brought her to the United States to receive treatment for her substantial injuries. She then returned to Afghanistan in April.
She didn't stay long. The attention she had received in the U.S. roused the anger of Afghan militants, and it quickly became clear she was no longer safe. Children of War brought her back to the United States in June.
Amel Najjar, the executive director of the nonprofit, said Shah Bibi seemed happy to be back when she picked her up at Los Angeles International Airport.
"I think in her mind, she knew she was coming here to stay alive," Najjar said. "And I think that's why she had that smile."
In August 2013, Shah Bibi went outside to play with a sibling and at least one other child the day after militants raided her village. She picked up what she thought was a rock and threw it at the ground, according to Americans who have heard Shah Bibi and her father's accounts.
The grenade exploded.
"You don't know whose bomb it was or whose grenade it was," said Ilaha Omar, Children of War's international outreach director. "It's a war zone at the end of the day. These kids are caught in the middle of it — literally in the middle of it."
Two of the children died, according to an email to Najjar from a trauma nurse with the U.S. Army. Americans who have heard accounts of the event said one of the children killed was Shah Bibi's sibling, whose gender is unclear. Shah Bibi suffered major injuries and was taken to a North Atlantic Treaty Organization hospital.
The trauma nurse reached out to Children of War, asking the organization if it could arrange for Shah Bibi to receive treatment in the United States.
Shah Bibi lost her right eye and her right arm from the elbow down. She had shrapnel embedded in the skin around her mouth and on her face, and suffered burns on her body.
She came to Los Angeles on a medical visa in December. Shriners Hospitals for Children funded and performed a surgery, and she received a prosthetic arm.
Still, Shah Bibi's soul didn't heal until she took up painting. She didn't seem interested in using her unharmed left hand, most likely because the left hand is considered unclean in Afghanistan.
"Up until the day that she started using that arm, she was kind of lifeless. She never smiled, she never talked, she was not open to anyone," Najjar said. "When she was able to start coloring and writing and cutting construction paper and stuff, she completely transformed."
Shah Bibi soon met Whaley, who immediately recognized her talent by the way she arranged colors on the canvas and her brush strokes.
She returned home to Afghanistan in April, planning to go back to Los Angeles to get a prosthetic eye in September. But when Shah Bibi's psychiatrist from Los Angeles, Arsalan Darmal, contacted her father in June, he was told that she needed help — now.
"There were rumors going on they were going to try to attack and perhaps shoot her," Darmal said, adding that her father had said people she didn't know were showing up to Shah Bibi's village asking for her.
In less than a week, Shah Bibi left Afghanistan and was back in the United States with no luggage except a small pink bag containing a doll-sized pink dress.
"When she came back, she came back with nothing except the shirt on her back and a prosthetic arm that was not working," Najjar said.
Medically, Shah Bibi still faces a long road ahead. She must undergo cosmetic surgery to help with her facial scarring, and another surgery to place a prosthetic eye. She will live with a host family; communicating with her own family is difficult.
But these things don't appear to be on her mind when she paints. She is just a 6-year-old child with a paintbrush, wearing sparkly shoes, a small pink purse and a child-sized painter's smock.
Twitter: @caitlin__owens
Sign up for Essential California for news, features and recommendations from the L.A. Times and beyond in your inbox six days a week.
You may occasionally receive promotional content from the Los Angeles Times.