Air quality officials OK strict new rules for battery plant emissions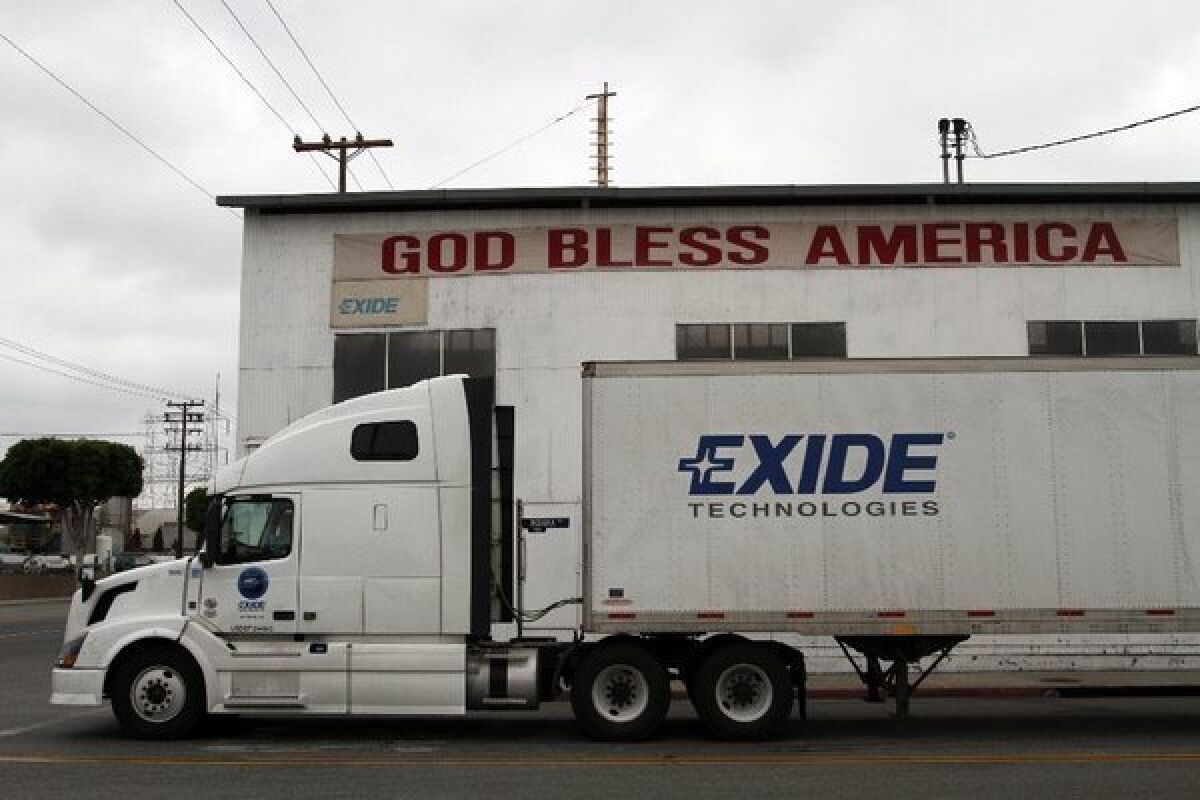 After an emotional hearing that had residents of southeast Los Angeles County talking about family members who have died of cancer, air quality officials voted unanimously Friday to adopt strict new rules on emissions of arsenic, benzene and other toxic chemicals from lead-acid battery facilities.
The rules, which will go into effect next month, apply to Exide Technologies in Vernon and Quemetco in the city of Industry — the only two battery recyclers west of the Rocky Mountains.
Though the rules apply to both companies, Exide, in Vernon, one of the world's leading makers and recyclers of lead-acid batteries, has been the focus of most of the concern over emissions in recent years, particularly arsenic and lead.
Last March, the South Coast Air Quality Management District released a health study showing that arsenic emissions from the plant posed an increased cancer risk to 110,000 people from Boyle Heights to Maywood. The news enraged residents and elected officials, who have been pushing for the plant's closure.
The plant has also been repeatedly cited for emitting too much lead, a potent neurotoxin. Air district officials announced this week that the plant had once again violated lead emission rules.
The new limits adopted Friday by the AQMD board require that by Feb. 1, the facilities must meet an ambient concentration of arsenic that does not exceed 10 nanograms per cubic meter. By 2015, the facilities must limit arsenic emissions to 10 pounds per year or less — the strictest limit in the nation. Benzene must be limited to 450 pounds per year, and 1,3 butadiene to 30 pounds per year. All three toxic compounds are known to cause cancer.
The board also directed air district staff to develop a plan to further reduce lead emissions at both facilities.
"It's a dirty industry. We say 'ya basta,'" said Msgr. John Moretta, explaining that means "enough" in Spanish. Moretta is the pastor at Resurrection Catholic Church in Boyle Heights, where parishioners have been fighting for the plant's closure.
Moretta's plea was joined by those of scores of residents from southeast Los Angeles, most sporting T-shirts that read "Exide Kills" and some wearing gas masks as they pleaded with board members to take action, telling of family members dying of cancer or racked by respiratory problems.
Plant workers, meanwhile, urged the governing board to protect their well-paying jobs. They stressed that the plant is safe and its workers healthy.
Exide Senior Director Bud Desart released a statement saying the company "supports key aspects of the rule that protect public health, including the stringent arsenic ambient air limit and the arsenic mass emissions limit."
He added that the company has concerns about other aspects of the rule, but "the company will work to achieve compliance."
In a separate process, the air district is also seeking to temporarily shut down Exide until its air pollution control systems are improved and deemed adequate to control emissions. Exide is fighting that move, arguing that its arsenic emissions have been reduced by 95% and meet air district limits.
A hearing board for the air district has taken two days of testimony on the district's petition, with additional hearings scheduled later this winter.
Times staff writer Kim Christensen contributed to this report.
The stories shaping California
Get up to speed with our Essential California newsletter, sent six days a week.
You may occasionally receive promotional content from the Los Angeles Times.