Schwarzenegger likely to back McCain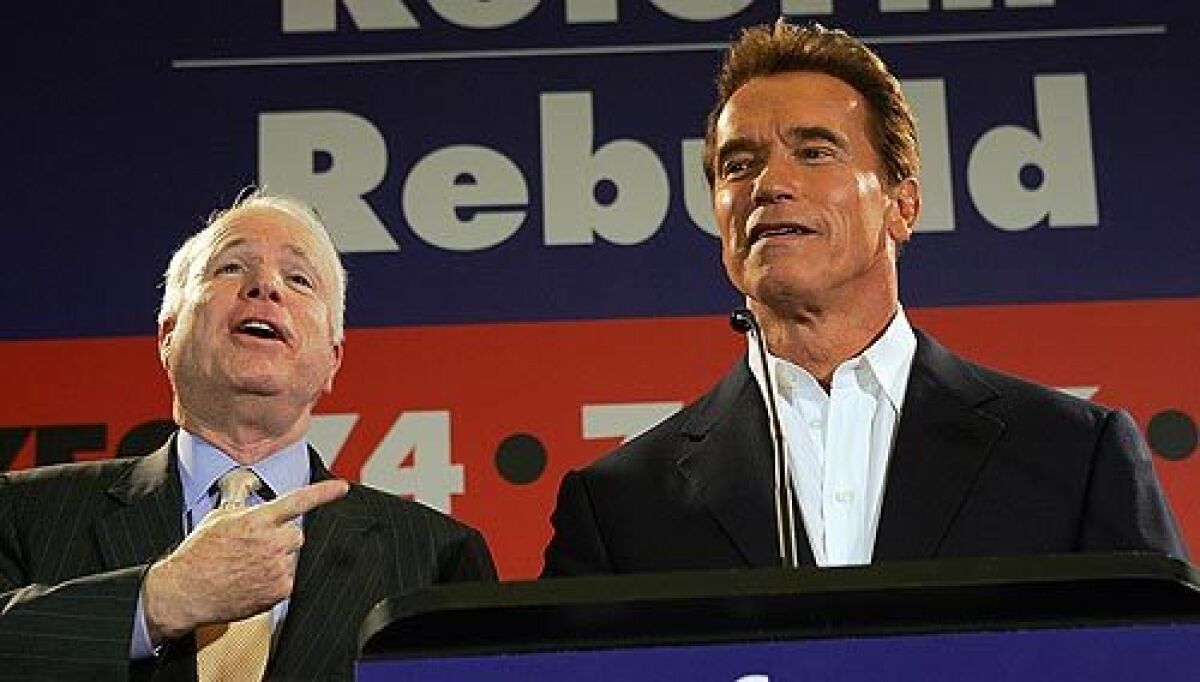 Los Angeles Times Staff Writers
In a marriage of political mavericks, Gov. Arnold Schwarzenegger is expected to endorse John McCain's presidential candidacy Thursday as the Arizona senator works to fasten his grip on the GOP nomination.
News of the governor's backing -- a reversal of his neutrality pledge less than two weeks ago -- comes as McCain also won the support today of former rival Rudolph W. Giuliani. The New York City mayor quit the race at a Simi Valley news conference, where he hailed McCain as a friend and "American hero."
"John McCain is the most qualified candidate to be the next commander in chief of the United States," Giuliani said as McCain stood silently next to him.
Schwarzenegger is expected to announce his support for McCain at an event Thursday in Los Angeles, according to associates of both men.
"Gov. Schwarzenegger is an exceptional governor, and Sen. McCain is honored by his decision to endorse," McCain strategist Steve Schmidt said Wednesday night.
Giuliani's decision to quit the race was instrumental in the governor's about-face.
"He's good friends with both and thought they were both strong candidates," said one high-ranking Schwarzenegger administration official, who did not want to be named because the endorsement has not yet been made. "With Giuliani dropping out, that cleared the way for the governor's decision."
By endorsing McCain, Schwarzenegger is aligning himself with a candidate who shares a penchant for speaking his mind -- sometimes to his political detriment -- and occasionally breaking with party orthodoxy.
During two separate media appearances this afternoon, the governor would not confirm that he is jumping into the race on McCain's behalf but hinted that an announcement is imminent.
"The whole thing is peaking very quickly, and the whole thing is changing very rapidly," the governor told reporters just before the start of the Republican debate at the Ronald Reagan Presidential Library. "I have no news to give you today, although I am sure you would love to have some news. But the dynamics here have changed."
The governor said McCain and Giuliani "are very close friends of mine. I can't tell you anything more than that."
People familiar with Schwarzenegger's plans said he did not want to upstage tonight's debate by making his preference known.
Sherry Bebitch Jeffe, a senior scholar at USC and expert on California politics, said the governor's move is also being timed carefully for other reasons.
"It looks like McCain is fairly significantly ahead in California, and I think Schwarzenegger feels he can use some of the credit for backing a winner," she said. "If he was ever going to endorse, now's the time to do it."
Bebitch Jeffe said the back-to-back endorsements are sure to give the senator a significant boost.
"What the Schwarzenegger endorsement will do, if it comes tomorrow, we'll have one full news cycle of Rudy Giuliani telegraphing that John McCain is the inevitable nominee, and he is the front-runner, and then one full news cycle of Arnold Schwarzenegger saying John McCain is the inevitable nominee," she said.
Times staff writers Amanda Covarrubias and Maeve Reston contributed to this report.
The stories shaping California
Get up to speed with our Essential California newsletter, sent six days a week.
You may occasionally receive promotional content from the Los Angeles Times.