For the true-blue Dodgers faithful, years of ritualized fandom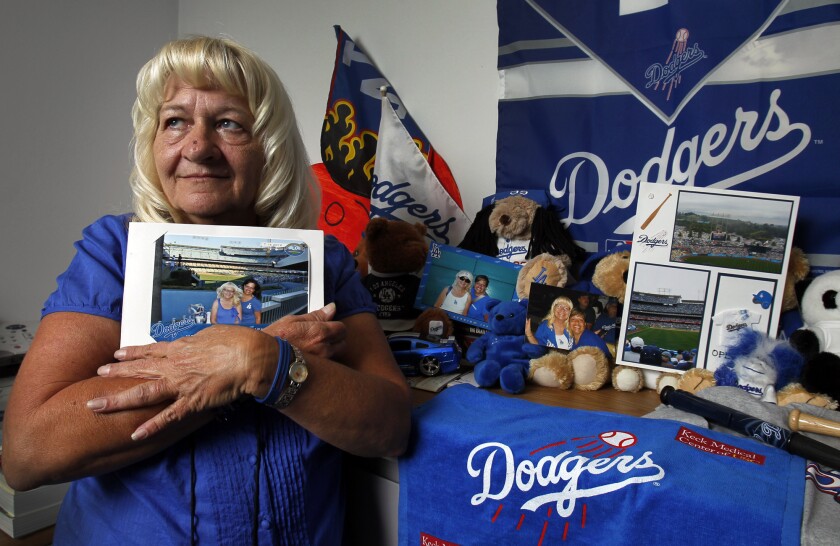 Lois Peralta's Mustang GT is Dodger blue. That's also the color she paints her toenails for each game.
When the Dodgers lose, she wipes the polish off and starts over. Fresh toenails equal a fresh start for her team.
Ritual is everywhere in baseball and its ballparks, from the dugouts to the bleachers' back rows. Fans do what they can to help their teams — even if it means not changing their underwear for luck.
Fandom follows family lines. Parents bring their children, as their parents brought them. They start them early with traditions that soon become sacrosanct — to be continued rain or shine, win or loss.
Jeremy Green came to Dodger Stadium on Wednesday with his boys Colby, 12, and Parker, 14.
"We don't bring Mom," he said. "She's a big-time bad luck charm. Every game she watches, the Dodgers lose."
The Greens' plan worked. But Dodger Stadium remains a family affair.
Isabella Nava, 2 months old, arrived at her first game Wednesday in the arms of her father, Gilbert, 21.
Peralta of the blue toenails introduced her daughter to Dodger Stadium in 1979, when Laurie was 8.
In 2010, after their 30th consecutive opening day together, mother and daughter got matching tattoos: red hearts with LA — in Dodger blue, of course — at their centers.
Lois' is on her shoulder. At Wednesday's game, the 59-year-old wore a Dodger blue tank top, so the heart was plain to see.
Laurie's heart was on her ankle, Lois said as she stood in a smokers' area just outside the left field gate. Her voice and Virginia Slims Superslim started to shake.
On Aug. 25, 2012, she said, Laurie went to the stadium to see the Dodgers play the Miami Marlins on what turned out to be a big day. The Boston Red Sox had just traded Adrian Gonzalez here. In his first Dodgers at-bat, Gonzalez hit a home run.
"She got to hear 'I Love L.A.,' " Lois said.
When Laurie left the stadium she headed north, driving fast on California 99. She clipped a car. Her own car flipped. It hit an almond tree. She died instantly.
"Forty-one years, 1 month, 11 days, 18 hours and 27 minutes," her mother said. "That's how long I had my baby."
Laurie was Lois' only child. Dodger Stadium, capacity 56,000, was the special place they went to be alone together.
On Wednesday afternoon, the ballpark was packed with others who felt a similar attachment.
Ron Godinez of East L.A., manning a kiosk near the left-field entrance, said he now takes his grandchildren to the stadium he first visited as a fourth-grader. On the job, surrounded by Dodger blue T-shirts and caps, the 59-year-old is near enough to hear the roar of the crowd and catch replays on the Jumbotron. But he prefers to follow the games on his small transistor radio, just as he did as a boy.
Cynthia Perez, originally from Texas, said she inherited the Dodgers when she started dating Mario Flores, now her husband. They often bring their 3-year-old daughter, who loves the cotton candy. And next season they'll bring their second daughter, due in five weeks.
When they got off the Dodger Stadium Express on Wednesday afternoon, Perez and Flores heard the start of the national anthem. Both stood still, holding their blue caps to their hearts. Hers was Hello Kitty-themed with a red bow.
"This is my favorite place on Earth," said Flores.
"This is his Disneyland," Perez replied.
Lois and Laurie Peralta always came to the stadium as a pair. Laurie's father, Henry, not a sports fan, stayed home.
They always sat in left field, where they collected memory after memory, like a teamful of signatures squeezed onto a ball.
Each Fan Appreciation Day, the final Sunday home game of the season, Laurie got her friends to bet on how long it would take Lois to start crying. Laurie's bet never changed: during the national anthem. Usually she was right.
Laurie loved the annual Jackie Robinson Day and the Dodger bobbleheads. Mother and daughter were there for Manny Ramirez Bobblehead Day on July 22, 2009. The outfielder wasn't in the starting lineup, but pinch hit with the bases loaded in the sixth inning.
A grand slam.
Lois and Laurie had rituals. You do not drop them lightly, Lois said.
She was back at the stadium five days after her daughter's death because it was Vin Scully Bobblehead Day, which Laurie wouldn't have missed for the world.
It has never been Lois' ritual to go to a playoff game. "I get too stressed. I can't stand to watch the other team score."
But this year, she is going for her daughter.
"She is my angel on the left-field side," she said. "And this is my heaven."
So she'll be going as long as the going is good.
Follow City Beat @latimescitybeat on Twitter and at Los Angeles Times City Beat on Facebook.
---
The stories shaping California
Get up to speed with our Essential California newsletter, sent six days a week.
You may occasionally receive promotional content from the Los Angeles Times.