Bay Area officials approve suicide-prevention nets for Golden Gate Bridge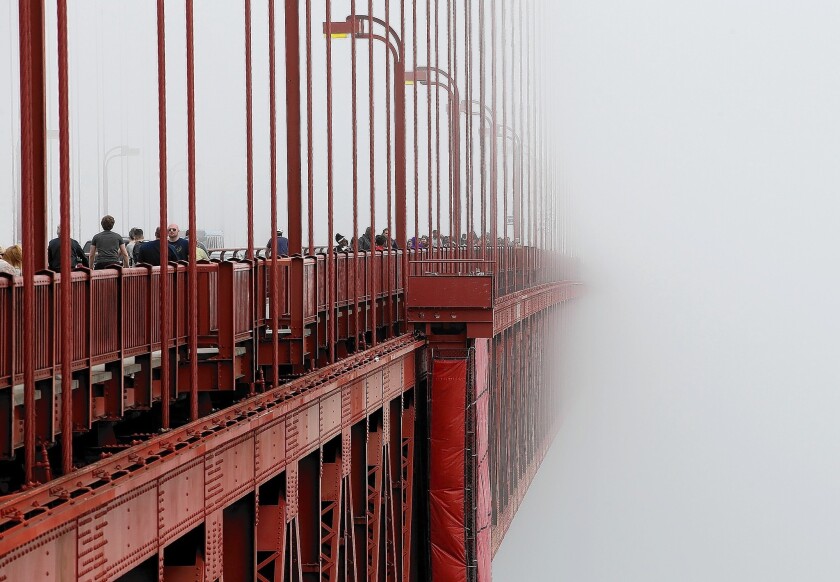 Bay Area officials approved a $76-million package Friday to fund suicide-prevention nets that will extend 20 feet on either side of the Golden Gate Bridge, handing a victory to advocates who have long pushed to hem in the 1.7-mile-long span against suicidal jumpers.
Since the bridge opened in 1937, an estimated 1,600 people have plunged to their deaths, officials said. Of that total, a record 46 suicides were recorded last year and more than 100 other would-be jumpers were stopped by bridge workers.
"It's an obvious, obvious problem, and this is the best solution we've come up with so far," said San Francisco resident David Matthews, whose close friend died after jumping off the bridge last year.
The board of directors for the Golden Gate Bridge, Highway and Transportation District, which voted unanimously in favor of funding the nets, had previously rejected raising the bridge's 4-foot-high railings.
Advocates of the netting argue it will prevent jumpers from hurling themselves to their deaths, and possibly act as a deterrent. Opponents of the plan have said it won't stop people from finding alternative ways of committing suicide and could be an eyesore.
But experts on suicides say creating an obstacle to impulsive acts can prevent suicides and lead people to get the help they need, Assemblyman Tom Ammiano (D-San Francisco) said in a statement.
Ammiano was the first to testify in favor of funding the nets at the board's meeting Friday.
"The barrier does not keep people from jumping, but it keeps them from dying — that is probably a deterrent enough to keep them from jumping," Carlos Alcala, a spokesman for Ammiano, said after the vote.
At its highest point, the bridge span is 220 feet above San Francisco Bay.
To construct the stainless steel net system, rolling scaffolds used by maintenance workers under the bridge will be replaced because the project will block the equipment.
A separate $8-million wind retrofit project will also be combined with the netting to avoid construction delays. Crews will then install a horizontal net system that extends 20 feet from below the sidewalks.
Some of the money will still require additional approval, but the decision Friday is the final step by the district's board to clear the way for the project. Funding will come from a mix of federal and state money, as well as proceeds from bridge tolls. Federal funding became available for the project through a bill signed by President Obama two years ago.
"The Golden Gate Bridge is a source of immense pride to San Francisco, but for too many families in our community, it has also been a place of pain," House Minority Leader Nancy Pelosi (D-San Francisco) said in a statement. "A suicide-prevention barrier offers a critical second chance for troubled men and women acting on often impulsive suicidal thoughts."
Kevin Hines got a miraculous second chance without the nets as one of a only a handful of people known to have survived a jump from the Golden Gate Bridge. In the lead up to the vote, he lauded the project in a statement as long overdue.
"We are finally showing the rest of the world that San Francisco can be as progressive as it claims to be," he said.
---
For reporting and exclusive analysis from bureau chief John Myers, get our California Politics newsletter.
You may occasionally receive promotional content from the Los Angeles Times.