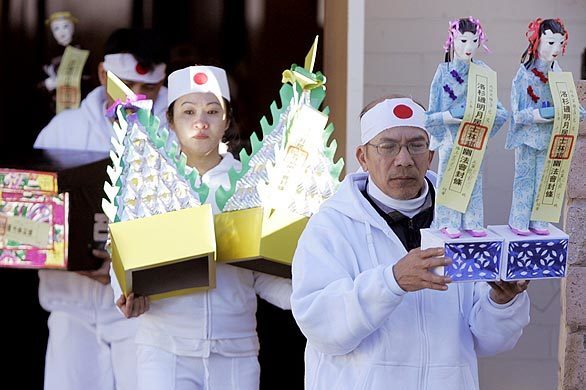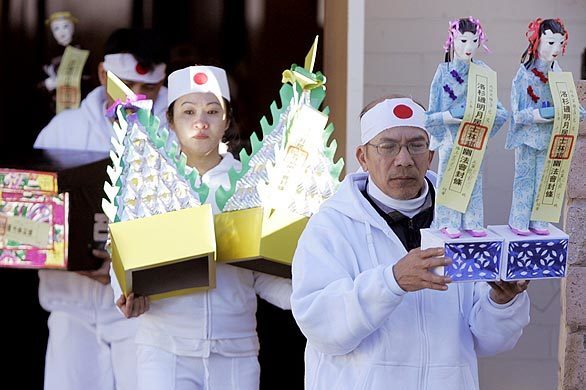 The immediate family of Dam Lam carries paper models that will be thrown into the flames during the funeral. Chinese mourners have been burning funeral paper — known as joss paper, or dzi-dzat — for centuries. Traditionally, stacks of bamboo or rice paper bank notes were burned in braziers before the body of the deceased was lowered into the ground.
(Glenn Koenig / Los Angeles Times)
These paper models await the flames at the funeral. Dam Lam was a simple man with a gentle soul, said his son, Konn Lam. The immigrant made some money in the import-export business, but also endured some financial difficulties. Now, Lam's family wanted to give him all the luxuries that eluded him in life.
(Glenn Koenig / Los Angeles Times)
In L.A.'s Chinatown, customers shop at Commonwealth Trading Company, where elaborate paper models are sold to burn at funerals.
(Mel Melcon / Los Angeles Times)
A paper servant boy and servant girl are among the paper models at Commonwealth Trading Company on Broadway. Such paper goods may be in demand now, but funeral directors and merchants predict that the burning ritual is headed for a downturn as the Chinese community becomes more assimilated.
(Mel Melcon / Los Angeles Times)
A paper car is among the offerings at Commonwealth Trading. The store's owner gets custom requests, including for a specific paper Honda model with silver rims or a BMW in a particular color.
(Mel Melcon / Los Angeles Times)