Boy's death shows weaknesses of L.A. County's child welfare system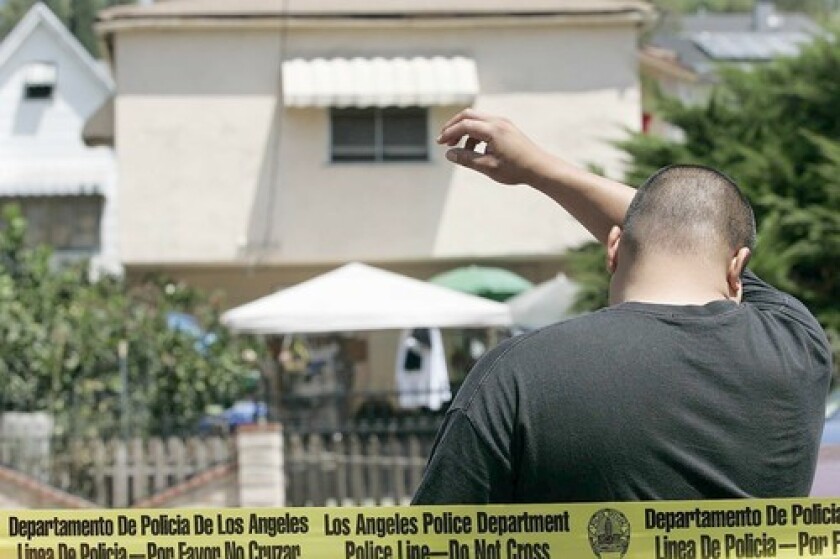 Nine months before the mother of a 4-year-old decapitated him with a Ginsu knife, the principal of a Highland Park preschool phoned Los Angeles County's child abuse hotline to report that the woman was screaming and shouting outside the building.
Yolanda Tijerina's tirade, which seemed directed at no one in particular, drew a crowd of neighbors and staffers at Meridian Children's Center.
"I think you killed my son!" shouted Tijerina, whose 4-year-old boy, Lars Sanchez, attended the school. "I think you killed my son. I have panic attacks."
Principal Elizabeth Blackwell's call led to an investigation by mental health and child welfare officials, according to county documents recently obtained by The Times. The boy's grandmother told officials that the mother had "episodes," and his adult sister told them she believed the boy was in danger.
The documents, released by the county Department of Children and Family Services under a 2008 disclosure law, show in chilling detail how even dramatic evidence of a mother's illness was not considered sufficient grounds for removing a child from her care.
The department closed the case in a matter of days, saying that allegations of emotional abuse against Lars could not be substantiated. The home was considered "stabilized."
On July 18, shortly after daybreak, Lars' grandmother found him dead in the bedroom he shared with his mother. Tijerina was on the floor next to the bed, her left wrist slashed to the bone. A knife lay next to her.
Supervisor Gloria Molina, publicly condemned the county's handling of the case as "a big mistake." As is routine, the social workers involved were assigned to desk duty pending a review.
The brutal death of Lars Sanchez underscored a significant weakness of the child welfare system: gauging the risks of a caregiver's mental illness.
Mental illness in itself does not disqualify one from raising a child.
Child welfare officials must consider whether the person is under effective treatment, whether the child's care is overseen by other stable adults, and whether the illness results in abuse or neglect of the child. These are determinations that can be a challenge even for psychiatric experts.
"Social workers are not necessarily trained to assess a parent's mental health," said Charles Sophy, medical director with the Department of Children and Family Services.
Nor are they necessarily privy to key information about the parent or other caregiver. For instance, they can't access mental health treatment records without the patient's permission. Without that, the decision may be largely based on a one-on-one interview.
"Mental illness is easy to hide sometimes," Sophy said. "You can put on a smiling face when I knock on your door, and I will never know that you tried to kill yourself last week."
Nevertheless, social workers confront and decide the issue frequently.
Almost a fifth of the 4,468 children removed from their homes by the family services agency last year were removed primarily because of a parent's mental illness.
Lars' death has already prompted some changes.
The department has sped up its plans for an internal hotline allowing social workers to consult with Sophy or his medical staff when mental illness is at issue, Sophy said.
But social workers in Lars' case were not acting entirely on their own, interviews suggest. According to two sources with knowledge of the case, the social workers called in evaluators from the county Department of Mental Health to do an assessment of the mother, and the findings persuaded them that she was not a threat.
That exam failed to diagnose the gravity of Tijerina's illness and did not reveal the fact that a private hospital had once placed her under an involuntary psychiatric hold, said the sources, who spoke on condition of anonymity because mental health records are confidential.
Such a hold allows a qualified peace officer or clinician to confine a person if the mental disorder makes her a danger to herself or others, or if it interferes with the person's ability to meet her own basic needs.
"One of the things that concerns me," Molina said, "is that no one checks to see if someone has children when they place a person" under a such a hold.
"They need to be checking that and alerting" the children's services agency.
In the end, the social workers found that Tijerina often spoke nonsensically. They found that her "emotional stability, developmental status or cognitive deficiency impairs her current ability to supervise, protect or care for the child."
But they said this risk could be addressed through three months of informal monitoring by a neighborhood resource center and observation by family members and neighbors, according to county documents.
(Neighbors said the boy's grandmother was seen frequently around the house, but it was unclear whether she lived there.)
Also counting in favor of the mother was the fact that she had been cooperative during the child-abuse investigation.
Department of Children and Family Services Director Trish Ploehn said confidentiality laws prohibited her from speaking about the case.
Dr. Roderick Shaner, medical director of the Mental Health department, said he also was constrained by confidentiality restrictions.
But he noted that records of an involuntary psychiatric hold at a private hospital would not necessarily come to light without the patient's explicit consent to search for the record.
Shaner said such mental health evaluations were "not geared to make determinations or predictions of what might happen."
Children and Family Services social workers "should be aware of the limited sources of information we have," Shaner said.
Times staff writer Molly Hennessy-Fiske contributed to this report.
---
For reporting and exclusive analysis from bureau chief John Myers, get our California Politics newsletter.
You may occasionally receive promotional content from the Los Angeles Times.