A gay couple's countdown to marriage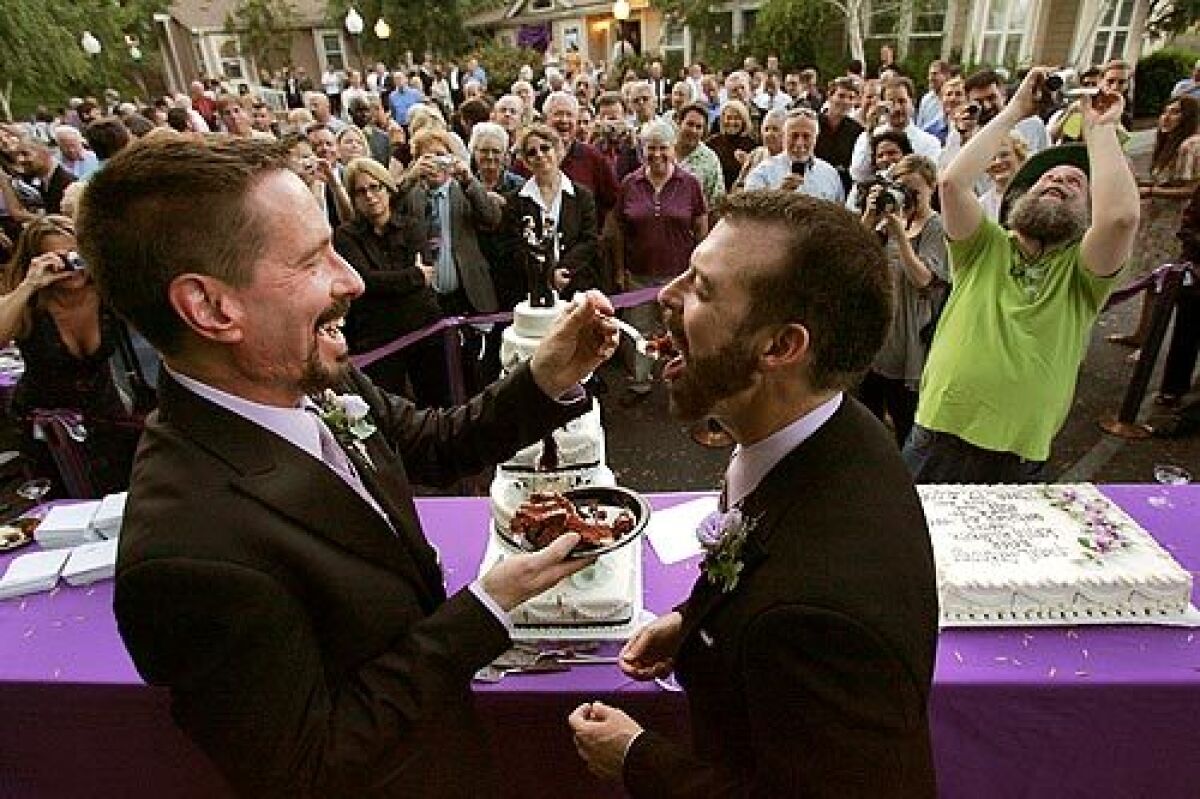 Los Angeles Times Staff Writer
Monday night. Less than 24 hours before the wedding.
Paul Waters was restless. Every day for the last three weeks, he was consumed with planning his marriage to Kevin Voecks. They had waited 15 years for this moment, from the time they had matching commitment rings engraved with the date they moved in together and left room for a future wedding date to be added.
At the time it seemed like wishful thinking.
Just hours after the first same-sex marriages began in California, the Valley Village couple lay in bed trying to get some rest.
"I'm getting married in the morning," Voecks sang to Waters.
"I'm getting married in the afternoon," Waters sang back.
The wedding, in fact, was scheduled for 7 p.m. Tuesday. At 1 p.m., they had an appointment to get their marriage license in Ventura. They crossed county lines because Los Angeles County was operating on a first-come, first-served basis Tuesday.
Waters slept poorly. At 5 a.m. Voecks finally turned to him and asked him to stop fidgeting.
They woke at 8:30 a.m.
At their home, the two selected their clothes for the civil ceremony: polos, slacks and dress shoes. Voecks chastised Waters, usually the more vocal of the two, when he noticed a hole in Waters' sock, saying, "You can't wear those!"
"Then get me another set," Waters snapped.
Voecks fished out a pair of black Gold Toe dress socks from one of his drawers.
Waters sat on their bed, watching.
"Kevin's got a scale of either one or 10 -- nothing in between," he said. "It either is fabulous, or it completely sucks. But he picked me, so I guess you can tell where I rank."
Waters stepped on the scale, his final weigh-in an intense three-week pre-wedding diet.
"177!" he said. "So close!"
He was two pounds off his goal weight, down from 200 pounds when they started planning.
"I still love you," Voecks said.
"I just wanted to look good in the photos," Waters lightly lamented with a faint smile. "But two pounds off is better than 20."
11 a.m. First stop: picking up Waters' mother in Westlake Village en route to the afternoon appointment in Ventura to get their marriage license. At her town house, Waters embraced his mother, Peggy Waters, 80. "Oh, my God, did you hear about the West Hollywood situation?" she asked as she got into their Mercedes for the ride north.
"A little bit. What happened?" Waters asked.
"Well, about 100 people showed up and had sleeping bags overnight but the copier broke down so they're having trouble getting their licenses!" his mother said.
"If any of them had weddings planned for today -- " Voecks said.
"Then, they're probably going crazy!" Waters finished.
His mother said she was glad they opted for Ventura, where they could get an appointment.
"No protesters at Ventura yet," Waters said.
"Good," she said.
+++
12:19 p.m.: The jitters came only as Waters pulled up to the Ventura County Administration Building.
"You know, I just got my first butterflies," Waters told Voecks.
"Well, you know this is the real deal," Voecks said as they parked the car.
Peggy Waters walked with her son and his groom as the men held hands.
"Oh, are they yours?" a passerby asked.
"Yes," she said.
"Aw, congratulations!" the woman said.
When the three arrived in the county clerk's office, a group of Unitarians greeted them and offered them hugs and a bouquet of burgundy and orange daisies tied with a small rainbow ribbon.
"Today is important because we are seeing what so many people have struggled for, have finally been able to reach -- marriage equality," said Jan Christian, a minister with the Unitarian Universalist Church of Ventura.
Inside, Voecks and Waters signed in for their 1 p.m. appointment and were shown to a kiosk to fill out their application.
Waters signed in "Party A" and Voecks then completed "Party B."
"Kevin thought Party A was the bride part," Waters joked about the gender roles in their relationship.
At 12:40 p.m., about 20 minutes ahead of their scheduled appointment, the two, along with Peggy Waters, entered the line to wait for a clerk to review the application. Nicole Nava, a twentysomething boisterous Latina, enthusiastically agreed to take their application.
They were the 19th same-sex couple (out of 22 couples) who got licenses before 1 p.m. at the Ventura County site, said Jim Becker, the county's assistant clerk and recorder.
"It's similar to our crowd size on Valentine's Day, but the crowd looks a little different this time around," Becker said.
At 12:48 p.m., the clerk processing their application asked for the $97 fee.
Peggy Waters moved up to the counter and doled out the $97 in cash, her wedding gift to her son and his groom.
"No turning back now," she said.
The clerk asked the couple to raise their right hands. "We, the undersigned, declare under penalty of perjury under the laws of the state of California that the foregoing information is true and correct to the best of our knowledge and belief. We further declare that no legal objection to the marriage nor to the issuance of a license known to us. We acknowledge receipt of the information required by Family Code Section 358 and hereby apply for a license and certificate of marriage."
"I do," they said.
She handed over their license with congratulations and a handshake.
The couple kissed.
The moment was interrupted by a middle-aged, white male customer, audibly complaining.
"Aw, come on, they're kissing each other," he said, with a look of disgust.
Becker asked a colleague to keep an eye on the man, who left quickly as Waters and Voecks posed for photographs.
The couple sang "Here Comes the Bride" as they walked to the car. Peggy Waters joined in.
At 1:15 p.m. they all piled back to the car to go home to Valley Village and get ready for the ceremony.
+++
2 p.m.: Marriage license in hand, with Peggy Waters dropped at home to get ready for the 7 p.m. ceremony, Waters and Voecks had last-minute details to check.
Waters, who in three frantic weeks of wedding planning had earned the nickname "Groomzilla" from his longtime love, pulled out a list with dozens of numbers for Voecks to call as Waters drove.
Next task: getting the flowers at It's a Blooming Business in Sherman Oaks' Westfield Fashion Square.
The couple ordered corsages for the women and boutonnieres for the guys. Voecks' nephew Garett and his son Ryan were to have bright red roses to match their red ties and cummerbunds. The others in the wedding party had lavender flowers to match the tuxedo shirts, vests and ties.
"So, sweetie, can we make this as short as possible?" asked Voecks, who was hungry.
"Of course. We're going to head in, get our flowers, show the license, get a hug and head home," Waters said.
Searching for parking in a crowded lot, the pair spotted a woman in jeans so tight they looked painted on.
"Oh, now that's something you should get a license for," Waters said, laughing.
Sarah Harrison, the flower shop's bridal designer, greeted the couple with a hug. She unearthed a clear plastic box from the refrigerator packed with their flowers.
"Oh, that is just -- " Waters paused after placing one of the flowers on Voecks' chest to show contrast on his black polo shirt.
The two lightly kissed, collected their box and headed home.
They were ahead of schedule. Still, it was 3 p.m.
Only an hour and half before the wedding rehearsal.
+++
3:30 p.m.: Waters and Voecks stopped at El Pollo Loco in Sherman Oaks to pick up Mexican food. Their marriage ceremony was scheduled to start in 3 1/2 hours.
"This is so glamorous on our wedding day," Voecks joked.
"It's all we have time for," Waters said.
At home, they tore through their food. Scurrying upstairs, the two had only 30 minutes to get showered and dressed.
+++
4:07 p.m.: "Three minutes!" Waters told Voecks as the clock ticked toward 4:10, when they were scheduled to arrive for their final wedding rehearsal and photos in Studio City.
They were still at their Valley Village home getting ready.
Earlier, for a moment, Waters, 53, and Voecks, 51, could not figure out whose tuxedo was whose.
"That is one disadvantage of a gay marriage!" Waters said.
Similar enough in height and build to share clothes, the two usually abhor dressing like twins. That day, though, they chose identical tuxedos with lavender dress shirts, long neckties and vests.
Then they realized the difference: the shoes: Waters is a 9 1/2 and Voecks is 12 1/2 .
"Oh, these are painful," Voecks muttered on his way out the bedroom and to the car.
+++
6:20 p.m.: The sandwiches for pre-wedding snacks were late but the guests were on time. Dozens of friends, including Robin Tyler and Diane Olson, the only same-sex couple married Monday night in Los Angeles County, streamed into the corporate garden park in Studio City where Voecks and Waters would be married.
"We're finally equal," Tyler said. "The state sees us like equal citizens."
With two hundred guests waiting in their last-minute wedding locale, Waters adjusted Voecks' lavender tie and said sheepishly, "You're actually marrying me."
At 7 p.m. sharp, Waters and Voecks -- with Peggy escorting them arm in arm -- started down their sidewalk aisle to a grassy hill.
Instead of "Here Comes the Bride", a friend started singing "Here Come the Guys."
Assemblyman Mike Feuer (D-Los Angeles) greeted the wedding party.
"There would be a footnote," said Feuer, a family friend who agreed to officiate, referring to their previous options of marrying in Massachusetts or abroad. "but not here, not today in California."
Feuer then bowed and asked Peggy Waters, "Who gives these men to be married?"
"I do, with the happiest of hearts," she responded.
The vows were traditional, ending with the exchange of "I do."
"By the authority invested in me, by the state of California," Feuer said, "you, Paul Anthony Waters, and you, Kevin Roderick Voecks, are now legally married."
So, at 7:14 p.m., Tuesday, June 17, 2008, their 15-year wait ended.
If the vows were traditional, other moments were not.
Instead of flowers, they threw a Speedo to the single men and a flannel shirt to the single women; the grooms had concealed the tongue-in-cheek stereotypical clothing under their clothing.
"This time the gays aren't off the hook," Waters told the crowd.
Shortly after 9 p.m. it was off to a country-western bar, Oil Can Harry's -- the final leg in the wedding day marathon. Their black Mercedes, marked in white shoe polish, bore a message on the back window: "Just married! It's never too late when the day arrives."
+++
9:45 p.m.: Still dressed in their tuxedos but also wearing cowboy boots, Waters and Voecks stood in the middle of the emptied dance floor in the heart of Studio City.
Waters used to call the dances at gay and straight country-western clubs before he came out. Voecks had just started taking country-western dancing classes when he met Waters at a North Hollywood country bar beer bust.
It was the only time they had danced.
Until their wedding night.
Voecks took Waters' hand and nervously let his husband take the lead.
Although the two had momentarily held hands on the way to the Ventura County clerk's office and kissed briefly and lightly on the mouth a few times throughout the day, it was in the protection of the gay bar that they passionately embraced -- to the uproarious applause and whoops of the crowd.
A chronology of their union decorated their reception cake, with the final date in the largest chocolate syrup letters:
* July 4th weekend, 1993: Paul Waters and Kevin Voecks meet at a country-western beer bust at a North Hollywood bar.
* Oct. 29, 1993: They moved in together in Voecks' Valley Village home.
Aug. 21, 1997: Registered as domestic partners in West Hollywood.
May 6, 1999: Registered as domestic partners in Los Angeles County.
July 3, 2001: Register as domestic partners in the state of California.
June 17, 2008: Married.
The next day, their first full day of married life, they took care of a final piece of business.
At 1 p.m. Wednesday, they had their rings engraved with their long-awaited wedding date.
francisco.varaorta@latimes.com
For the original report on Waters and Voecks on the planning of their wedding with an audio slide show and expanded photo gallery, visit www.latimes.com/couple
The stories shaping California
Get up to speed with our Essential California newsletter, sent six days a week.
You may occasionally receive promotional content from the Los Angeles Times.