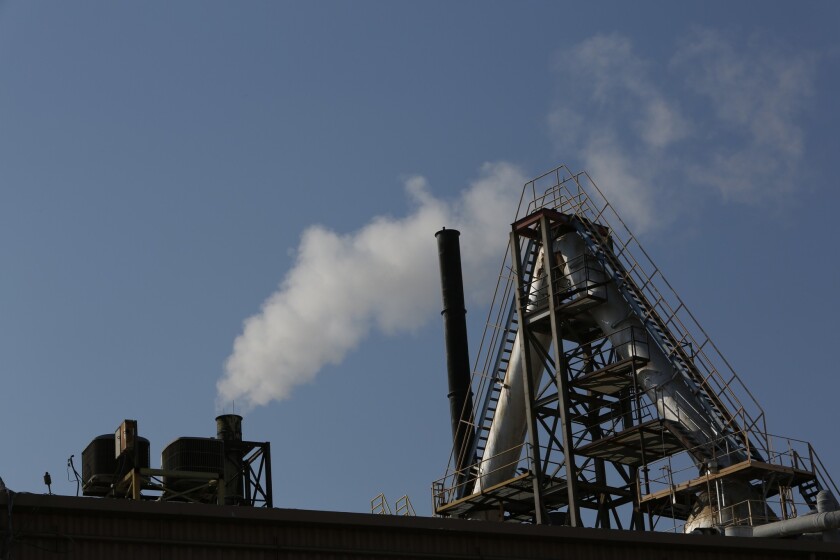 The speaker of California's Assembly and two state senators took environmental regulators to task before an angry crowd Tuesday over their failure to regulate a battery recycler in Vernon whose emissions have been deemed a health risk to hundreds of thousands of people.
The people in this community feel "completely ignored by those in government," said Assembly Speaker John A. Pérez, who arrived midway through the community meeting with regulators including the South Coast Air Quality Management District and the California Department of Toxic Substances Control.
The fact that the problems at Exide Technologies in Vernon have taken so long to get attention "is quite frankly unacceptable," he said.
Turning to regulators at the front of the room, he added, "Each of your agencies has let them down."
Community outrage has been building since officials announced in the spring that Exide has been releasing dangerously high lead and arsenic emissions, which can cause cancer, neurological diseases and learning disabilities in children. The company has since agreed to pay for blood tests for lead on a massive scale to people living and working in the area.
At one point in the raucous meeting, the crowd started screaming, "Shut it down! Shut it down!" Pérez and state Sens. Kevin de León (D-Los Angeles) and Ricardo Lara (D-Bell Gardens) clapped in time to the chant.
Delores Mejia held a cardboard box of red-paint-splattered fake million-dollar bills, which she said represented blood money Exide has made at the expense of the largely working-class and minority community.
Joe Gonzalez of Boyle Heights demanded of regulators: "How dare you come back here and ask us what we want. You're killing us...at what point does this become blatant racism?"
De León, who called the meeting, noted that "there are no Exides in Brentwood ... in Malibu."
"Are our children worth as much as any other child?"
Agency Director Debbie Raphael somberly told the crowd that she could not explain the failures of the past but that her agency has been vigorously working to bring the facility into compliance during her two-year tenure.
Interrupting Raphael at one point, Mejia picked up a megaphone and screamed: "Stop permitting serial polluters! That's what you can do!"
The meeting came the same day that the Department of Toxic Substances Control issued a consultant's report saying that its permitting program is racked by "poor management practices" and that the department does not have a system for revoking or denying permits even when there is a significant threat to human health, according to a consultant's report released by the agency Tuesday.
Reviewing permits for companies that treat, store or dispose of hazardous waste takes years and sometimes more than a decade, according to the report by CPS HR Consulting, a nonprofit that advises governments. Other states get it done within 180 days, the consultant found.
Permits are intended to ensure the safe handling of dangerous materials such as flammable liquids and soil contaminated with carcinogens and other toxins, and help regulators monitor compliance with environmental law.
As The Times reported in the spring, the Exide plant has never received a permit as required by the landmark federal 1976 Resource Conservation and Recovery Act, which has complicated long-standing efforts to bring the plant into compliance with the law.
The plant, which Exide bought in 2000, has been operating under "interim status" for decades, even as it has amassed a long list of citations. Earlier this week, officials at the toxic substances agency announced a deal with Exide in which the company will set aside millions to improve operations. The company's permit application is in process.
Exide is not the only facility with permit issues. The report pointed out that of the 117 facilities in California that are permitted to store, treat or dispose of hazardous waste, 29 are operating on expired permits. Among them is a hazardous-waste treatment facility in Santa Fe Springs whose permit expired more than 15 years ago.
Agency officials say that facilities operating on expired permits are allowed to continue as long as they have applied for renewals.
The consultants found the agency's permitting program to be fundamentally disorganized.
At one point, agency officials gave the study's authors a flow chart depicting the "standard process" for reviewing permits. But when consultants interviewed employees about the flow chart, the report says, "staff first expressed surprise ... and asked where it had come from." Then they told the study authors that the flow chart "does not capture how things are really done."
The 115-page report also noted that representatives of many environmental groups believe that the department has "a strong bias toward industry at the expense of public health." Some in the hazardous-waste industry, meanwhile, told the authors that the Department of Toxic Substances Control allows "unreasonable opposition" from the public to stand in the way of permits even when objections are "not based on science or law."
Agency officials declined to comment on the study that they had commissioned and released. They noted on their website that staff members would "review the report in depth" and provide a response in November.
---