Boy is empowered by his weakness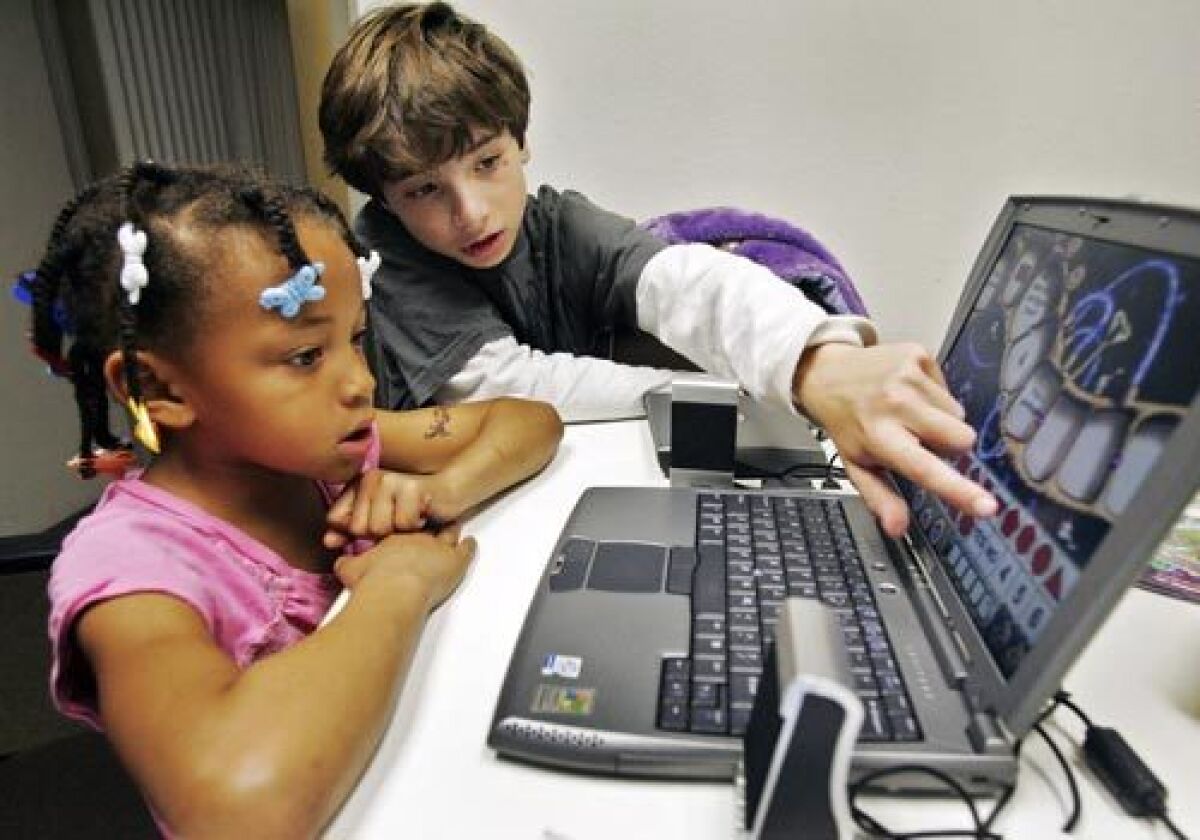 Los Angeles Times Staff Writer
Every Wednesday at the Sydney M. Irmas Transitional Living Center in North Hollywood, Michael Guggenheim teaches a handful of students how to type their names and basic phrases in Microsoft Word and how to work with math, vocabulary and typing programs.
At a recent tutoring session, Michael moved between the laptops used by shelter residents Alicia Lewis and Heaven Sanders, both 7. He coached them for 30 minutes on typing their names, then switched to a half hour of vocabulary and math games.
"Michael, I'm lost," Heaven said, resting her face on her hands.
He quickly went to her computer and punched the "load" button on the keyboard to get the software working.
Another student in distress, another rescue.
But Michael is not just another teacher. He is 12, a sixth-grader at Los Encinos School in Encino. He can't drive, vote or write much with a pencil, but he started a nonprofit when he was 11 and teaches computer skills to elementary students once a week.
He doesn't regard his dysgraphia, a learning disorder that severely impairs writing, as a disability. Instead, he has turned it into a driving force.
For starters, he was quick to discover that he could use a computer, and now he earns straight A's using a laptop for course work. Later, he started the nonprofit organization that takes laptops and educational software to elementary school children in homeless shelters.
New skills
Along the way he discovered his skills at pitching the project that is close to his heart: "Many disadvantaged kids and teenagers don't have the opportunities and access to learning and using computer skills," Michael said. "The tool that changed my life was a laptop, and it's a skill that's necessary to learn to get good grades and a good job so you aren't left behind."
Dysgraphia, a form of dyslexia, makes it difficult to write by hand. It is a lifelong condition that has nothing to do with intelligence, according to Los Angeles-based educational psychologist Nita Ferjo, who has treated Michael since he was 6.
Like some people with dysgraphia, Michael experiences pain while trying to write. His written work is illegible after a few sentences, and even tying his shoes can be difficult.
"Michael used to feel very sad in the beginning, after being diagnosed," Ferjo said. "But he's a warrior of sorts, even a bit perfectionistic. He's been driven since I've known him."
Michael has had tutoring and physical therapy for his condition. When he was younger he sometimes dictated homework assignments to his mother. But when he entered third grade, he was allowed to use a laptop computer in the classroom.
"He changed when he got the laptop," Ferjo said. "It empowered him to learn and do more on his own. The fact that he can now help others truly empowers him beyond his dysgraphia."
Michael was inspired to start his nonprofit -- which he christened Showing People Learning and Technology, or SPLAT -- after participating in school-sponsored volunteer work and observing that some children had little or no access to technology.
After researching nonprofits on the Internet in June, he came up with the name and digitally designed a logo with his father's help. He then asked a family friend who works on copyrighting issues in the entertainment industry to help him trademark the logo.
In July, after using an Internet service to help him prepare the necessary documents, Michael applied for and received nonprofit status from the California secretary of state's office and a federal tax exemption identification number.
In August, he decided to approach L.A. Family Housing, which provides temporary shelter and social services to homeless people, to launch his program. The organization, for which he had done his school-sponsored volunteer work, runs the North Hollywood shelter.
Cecilia Ribakoff, L.A. Family Housing's volunteer coordinator, said Michael "blew her away" when he interviewed for a volunteer position, giving her a written proposal and pitching his nonprofit for the organization's North Hollywood shelter.
"At first I thought he was too good to be true, but he's completely dedicated to his mission," Ribakoff said. "I just have found Michael to be a blessing for me and the organization. He pays attention to our younger kids that sometimes get overlooked."
Stephanie Klasky-Gamer, L.A. Family Housing president, said Michael's fledgling program helps fulfill a dream of bridging the digital divide that separates children like Michael from the homeless children he helps.
"It's very important that kids understand how other people and kids their age live, especially if you have a comfortable lifestyle," said Lori Guggenheim, Michael's mother. "The kids here are just as smart and capable as the ones back at Michael's school. It's just a matter of resources and a support system."
Help for Heaven
Michael lives in Beverly Hills with his parents and his 8-year-old brother, Ryan. His mother, a former lawyer for Universal Studios, is now a stay-at-home mom; his father, Paul, is a regional manager for a dental supply company. Mother and son travel 45 to 90 minutes to get to the shelter from home.
Before moving to the shelter among 64 other families, Heaven Sanders called South Los Angeles home, along with her single mother and five brothers and sisters, ages 2 to 16. Heaven's mother, Taneshia Burson, 32, said they became homeless after her roommate moved out and she couldn't make rent payments. Now she is back on her feet and has found an apartment south of downtown. Michael is trying to get a donated laptop for Heaven so she can continue to hone her typing skills.
And he wants to expand SPLAT to other shelters in the city. So far, he's been able to acquire four laptops and about 20 CDs of donated software by writing to manufacturers and businesses, painstakingly signing each letter.
"Where I think some may see having dysgraphia as a disadvantage, I don't, because my computer skills and teaching these kids is helping me gain even more knowledge," Michael said. "And it exposes me to people I may have never met."
francisco.varaorta@ latimes.com
For more information on Showing People Learning and Technology, go to https:// splatcharity.wordpress.com.
---
The stories shaping California
Get up to speed with our Essential California newsletter, sent six days a week.
You may occasionally receive promotional content from the Los Angeles Times.