East-sigh story: Just where is the Eastside of Los Angeles?
For more than a decade, the debate about what constitutes the Eastside has embroiled two clusters of L.A.'s oldest neighborhoods.
For more than a decade, the argument about what constitutes the Eastside has embroiled two clusters of L.A.'s oldest neighborhoods.
Everyone is certain where the Eastside is.
It's east of the L.A. River. Of La Brea. Of La Cienega.
It's east of wherever the Westside stops. But where is that? Just look at the street signs. Fold a map of the city in half. Fold it nine times. Ask your grandpa.
For more than a decade, the debate has embroiled two clusters of Los Angeles' oldest neighborhoods. There's the historic Eastside east of the river: Latino neighborhoods such as Boyle Heights, Lincoln Heights, El Sereno and East L.A. And then there's the new Eastside: hipster enclaves such as Silver Lake, Echo Park and Los Feliz.
It is a discussion about geography, layered with gentrification, race, history and community identity.
But be careful where you tread — as the Silver Lake Neighborhood Council learned when it recently voted to stop calling the enclave the Eastside. It was the first time a governing body has officially drawn the line.
"Now how will we enforce this, for God's sake?" council member Rusty Millar asked the night of the 13-3 vote.
Because changing minds is hard to do.
Moments after the decision, comments started to light up the Internet, where the spat between the neighborhoods often plays out.
Some celebrated: Silver Lake Admits It Is Not The Eastside
Some rebelled: Silver Lake Votes To Renounce The Eastside!
Most, not surprisingly, continued to argue — over where the Eastside is, what it signifies and who has a right to claim it.
Others say arguing is a waste of time. Everyone knows where the Eastside is, after all. Until he or she meets someone from the other Eastside.
For years Al Guerrero, who grew up in East L.A., has made it a point to correct anyone who calls anything west of the Los Angeles River the Eastside. He lives in Silver Lake, but people know better than to drop the "E" word when he's around.
He and his wife, neighborhood council member Dorit Dowler-Guerrero, pushed for the Silver Lake motion.
"The Eastside is not to be borrowed or shared or bounced around," he said. "You can't buy it like you buy a pair of vintage jeans. It means something very deep in the heart and soul of the people east of the river."
The term is synonymous with the Chicano movement, home to working-class immigrants and the social justice battles of the 1960s. It's Los Lobos, Cheech Marin, Mariachi Plaza, El Tepeyac Cafe and Garfield and Roosevelt high schools. It's the place Jews, Russians, Asians and Latinos once were relegated to but are now proud of.
Folks west of the river may never understand — or care to research the history, Guerrero said.
People adopt names, but they're not just names. They're full of meaning, nuances, history."
About a decade ago, young professionals began settling in Silver Lake and the surrounding neighborhoods — beyond the skyscrapers where Cesar E. Chavez Avenue gives way to Sunset Boulevard. They opened boutiques, art galleries and cafes, pushing out discount stores and mini-marts.
To distinguish themselves from the Westside, the gentrified areas collectively began to call themselves the Eastside.
For some, it's merely a handy tool to use in conversation.
Others, like Kit Williamson, a Mississippi native who moved to Silver Lake five years ago, are more attached to the term.
The 28-year-old gay filmmaker lived in New York and Michigan before coming to California — setting up in Venice, Park La Brea and then West Hollywood. Nothing felt quite like home, he said, until he found his Spanish-style apartment steps from Sunset Boulevard.
Here he made friends with roots all over the country — actors and writers, artists and yoga instructors. In Silver Lake he found a sense of family.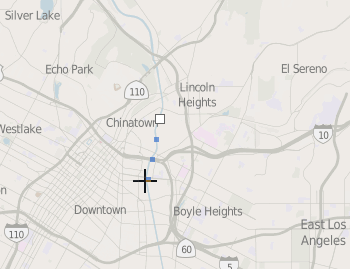 "You could be whatever you wanted to be and not have to conform to anything," Williamson said. "You could be a bit offbeat, dress a little funny, no one cared."
Not long ago, he released a Web series about a gay couple living in Silver Lake. As a tribute to his neighborhood, he called it "The Eastsiders." He didn't think using the name in any way diminished those living east of the river.
"I would never say Boyle Heights and those other areas are not the Eastside," Williamson said. "That would be hurtful and should be avoided. The term is big enough it could be applied to both places."
It could, but there's going to be friction, said Ali Modarres, professor and director of urban studies at the University of Washington, Tacoma. The social geographer has spent 20 years studying the landscape of Los Angeles.
"People adopt names, but they're not just names," he said. "They're full of meaning, nuances, history, cultural and political relationships."
Boundaries can expand, but people will resist and be very protective, he said.
Anne-Marie Johnson, co-chair of the Silver Lake Neighborhood Council, saw the lines blur a few years ago when developers began labeling their pitches to the panel as "Eastside projects."
"It was our biggest pet peeve," said Johnson, an actress and Silver Lake native. "They had no knowledge of the history."
She and Dowler-Guerrero wrote the motion, knowing there would be no way to enforce it — unless, of course, you dropped the "E" word before the council.
"Then you will be referred to our bylaws and informed you are mislabeling the neighborhood," Johnson said.
Everywhere else in Silver Lake, Echo Park and Los Feliz, the word goes on unrestricted — a darling among business owners.
There's Eastside Petsitters, The Eastsider LA and Eastside Studios. There used to be an Eastside Art Crawl, but folks from the old Eastside — bloggers, artists, musicians — protested so much that the name was changed to the Silver Lake Art Crawl.
While the debate plays out on the Internet, the city has no plans to put ownership of the "Eastside" label up for a vote.
"It is always in the eye of the beholder," said Los Angeles Mayor Eric Garcetti, whose grandparents and great-grandparents hail from Boyle Heights.
Still, "true east is east of downtown," he said. As for those living farther west, Garcetti suggested they try: eastside (lowercase) or "Eastside" (quotes mandatory).
If that becomes too confusing, a list of other potential names is making the rounds in cyberspace:
Eastside Lite
The West Eastside
Hipsteria
And, courtesy of SoHo or perhaps the J.Lo effect:
LoFeSiLaEcPa
Follow Esmeralda Bermudez(@LATbermudez) on Twitter
---
The stories shaping California
Get up to speed with our Essential California newsletter, sent six days a week.
You may occasionally receive promotional content from the Los Angeles Times.