U2 guitarist's Malibu house plans create some reverb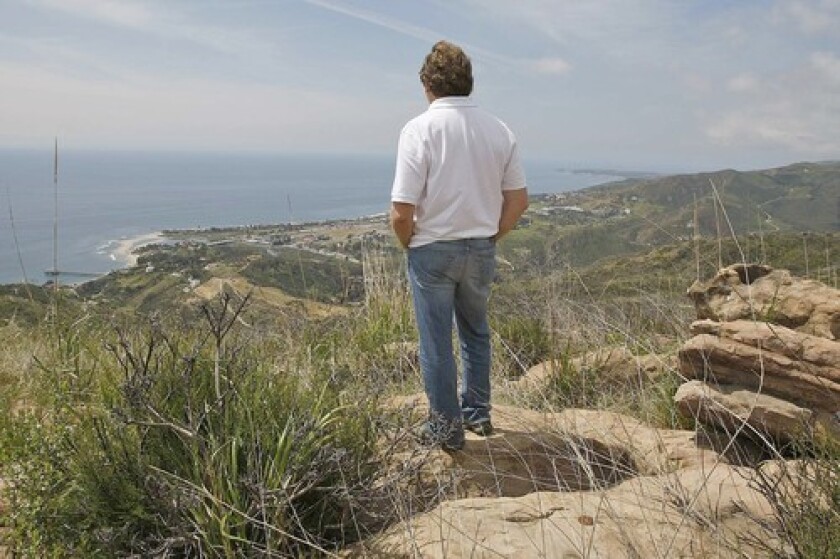 U2 guitarist David Evans, a.k.a. the Edge, has a dream: to build five contemporary houses on a hill high above Malibu, with expansive views of the Santa Monica Mountains, the Malibu Pier, Surfrider Beach and the Pacific Ocean.
But accomplishing that dream would require feats of engineering and some delicate political maneuvering to get around objections in Malibu.
The proposal has sent reverb through the exclusive Serra Retreat neighborhood below, home to the likes of Dick Van Dyke, Kelsey Grammer and James Cameron.
Residents worry that the project would produce an environmental disaster, since it would mean extending a road on rugged slopes through slide-prone areas, running a water line under similarly challenging terrain and grading more than 70,000 cubic yards of earth.
Given the Irish band's long-cultivated reputation for green crusading, many Malibuites sniff duplicity in the salt air. The Edge's people, for their part, sense Malibu's notorious NIMBYism at play.
"The downside of this is a permanently scarred mountainside for the benefit of a very few that for many years all will view," said Jefferson Wagner, a Malibu councilman. "For somebody so revered even to be orchestrating this type of development in such a sensitive area is hypocritical."
Jim Vanden Berg, a representative for Evans and his partner in the venture, Irish real estate investor Derek Quinlan, countered that the rock musician is taking pains to ensure that the development will "create a sense of place that respects the environment [and] architecture that will stand the test of time."
Each home, Vanden Berg said, has been tailored to the contours of its site and will be "notched into the hillside," with boulder outcroppings and other natural elements incorporated into the designs.
Evans has for years maintained a house in Malibu's relatively modest La Costa development. As a political activist, he has played second fiddle to Bono, U2's lead singer, who has gained fame (and occasional mockery) for championing the cause of African poverty relief.
Evans, whose guitar delay (echo) helped create the band's distinctive sound, stepped up for a cause in 2006, serving as spokesman for Music Rising, a campaign to replace musicians' instruments destroyed by Hurricane Katrina.
"My family and I love Malibu, having maintained a residence there for more than a decade," Evans said. "These homes will be some of the most environmentally sensitive ever designed in Malibu -- or anywhere in the world. I'm disappointed that certain critics either don't have the facts or have ulterior motives."
The properties he hopes to develop perch above Malibu's city limits in Serra Canyon, on 156 acres in an unincorporated area of Los Angeles County. The county has granted them "certificates of compliance," signifying only that they are legal parcels.
Evans and Quinlan would occupy two of the houses, and the other three would be built on speculation, a sore point for some Malibu residents.
Critics question whether Sweetwater Mesa Road can handle the traffic from five new homes. Ozzie Silna, treasurer of the Serra Canyon Property Owners Assn., said Sweetwater Mesa is merely a driveway, albeit one that goes on for miles, for the many houses built along it. As it is, sections are barely wide enough for two cars.
The California Coastal Commission has "significant concerns" about the project, said Jack Ainsworth, deputy director of the panel's South Central Coast District. Among them, he said, are damage to habitats, the high number of truck trips, landslide issues, the potential for hillside eyesores and the "growth-inducing impacts of pulling down a water line through other properties" that might then be developed.
Plans for extending the road call for sinking deep caissons through the slide plane, "a pretty significant undertaking from an engineering standpoint," Ainsworth said.
The commission intends to take up the matter in June. When it does, the Edge will have an edge: his rights as a property owner.
"Even if it's considered an environmentally sensitive habitat," Ainsworth said, "we've got to allow for some residential use to avoid a constitutional taking of property."
---
The stories shaping California
Get up to speed with our Essential California newsletter, sent six days a week.
You may occasionally receive promotional content from the Los Angeles Times.