9 Images
The search for Fossett
On the lookout
A Civil Air Patrol craft begins another day of the search, which has covered more than 1,700 square miles along the eastern Sierra. Officials say finishing the fly-overs of Fossett's most likely landing spots could take another week.
(Robert Durell / LAT)
Heading for takeoff
Civil Air Patrol pilots head to their search plane shortly after dawn. Thursday's clear skies are prime conditions for trying to spot Fossett's small plane amid Nevada's rugged desert terrain.
(Robert Durell / LAT)
Preflight check
Civil Air Patrol pilots examine a craft before takeoff from the Minden, Nev., airport on the fourth day of a frustrating search for missing adventurer Fossett. A squadron of 10 airplanes and helicopters took off shortly after dawn Thursday to scout across a wide swath of rough territory.
(Robert Durell / LAT)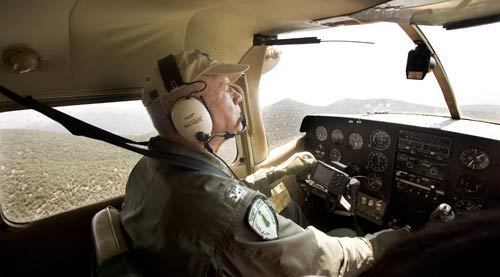 In the air
Col. Ed Lewis of the Civil Air Patrol flies over Yerington, Nev., one of more than 650 rescuers on the ground and in the air involved in a round-the-clock search for Fossett that's taking place across a wide swath of rough terrain straddling Nevada and California.
(Robert Durell / LAT)
Remote airport
A corporate jet lands at the Flying M Ranch owned by hotel magnate William Barron Hilton. Fossett was said to have departed from the strip with the proper equipment and an official says the plane, a Bellanca Citabria Super Decathlon, had been well maintained by the staff at Hilton's aircraft resort.
(Robert Durell / LAT)
Barren territory
Fossett took off Monday morning from this airstrip at the Flying M Ranch, about 70 miles southeast of Reno. It was to be a short flight to scout for dry lakes beds suitable for his planned attempt to break the land speed record, but Fossett failed to return as scheduled Monday night.
(Robert Durell / LAT)
Morning search
An Army National Guard helicopter lands early Wednesday morning at the Minden Airport in Nevada, the command post in the 600-square-mile search for missing adventurer Steve Fossett.
(Robert Durell / LAT)
Group effort
Civil Air Patrol pilots and members coordinate search efforts at the Minden Airport. The patrol's Nevada wing is providing many of the planes that are looking for Fossett.
(Robert Durell / LAT)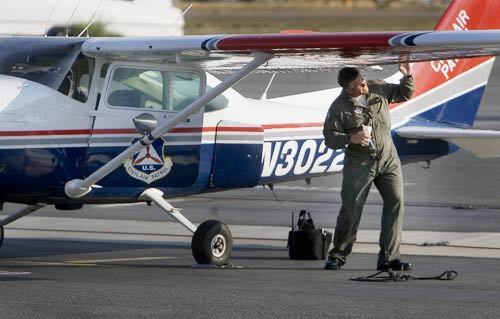 Safety check
A Civil Air Patrol pilot checks a plane involved in the hunt for Fossett's whereabouts. Ground crews and helicopters are focusing on parts of the Walker River Canyon and spots near Bishop and Lee Vining on the backside of Yosemite National Park after witnesses reported seeing a plane like Fossett's flying in the area Monday morning.
(Robert Durell / LAT)