O.C. theater's renovation is still a work in progress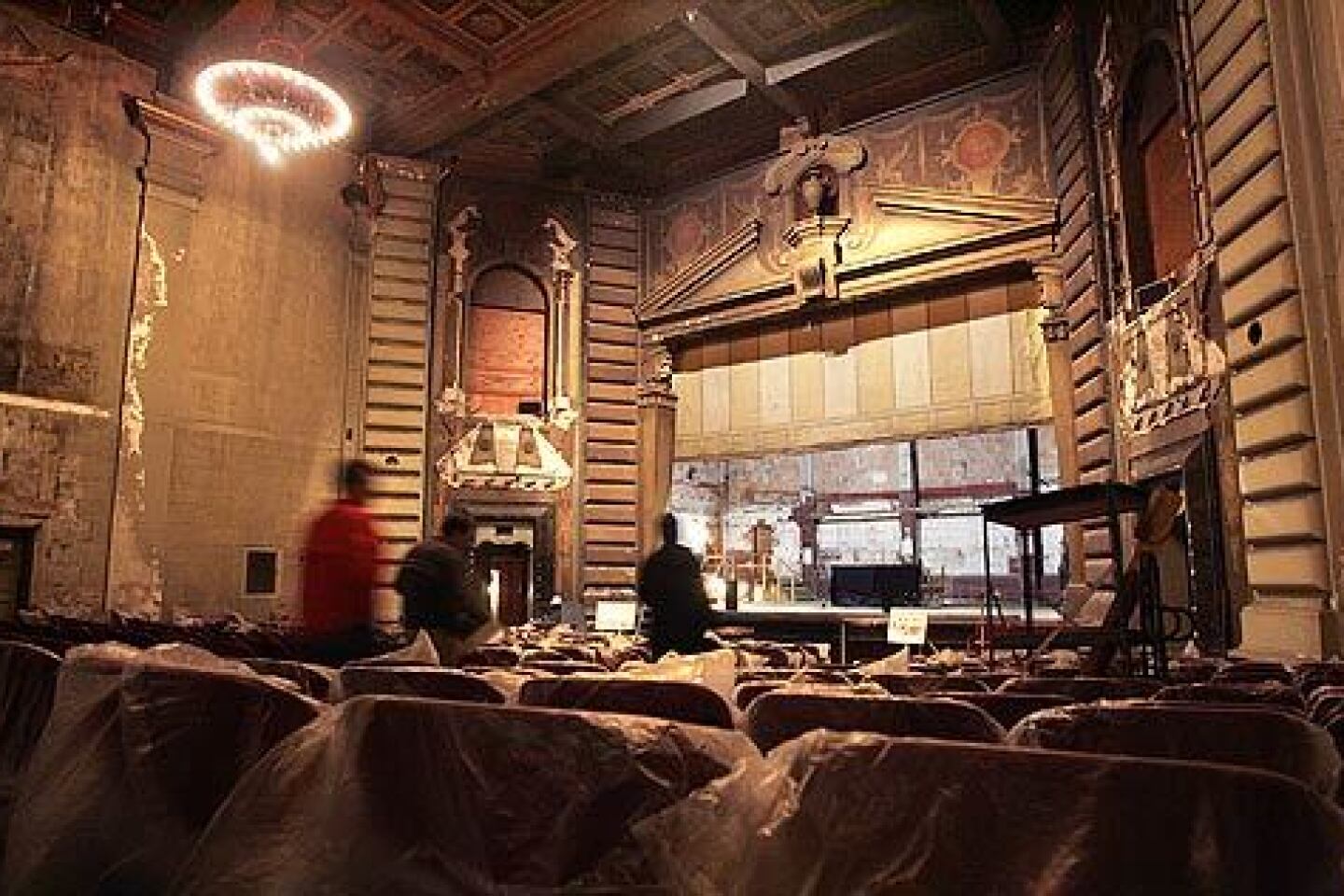 The 82-year-old Fox Theatre in Fullerton has fallen into decay. The Fullerton Historic Theatre Foundation aims to raise enough money to bring the space back to its original opulence, with safety and technical upgrades for stage productions and movies.
(Don Bartletti / Los Angeles Times)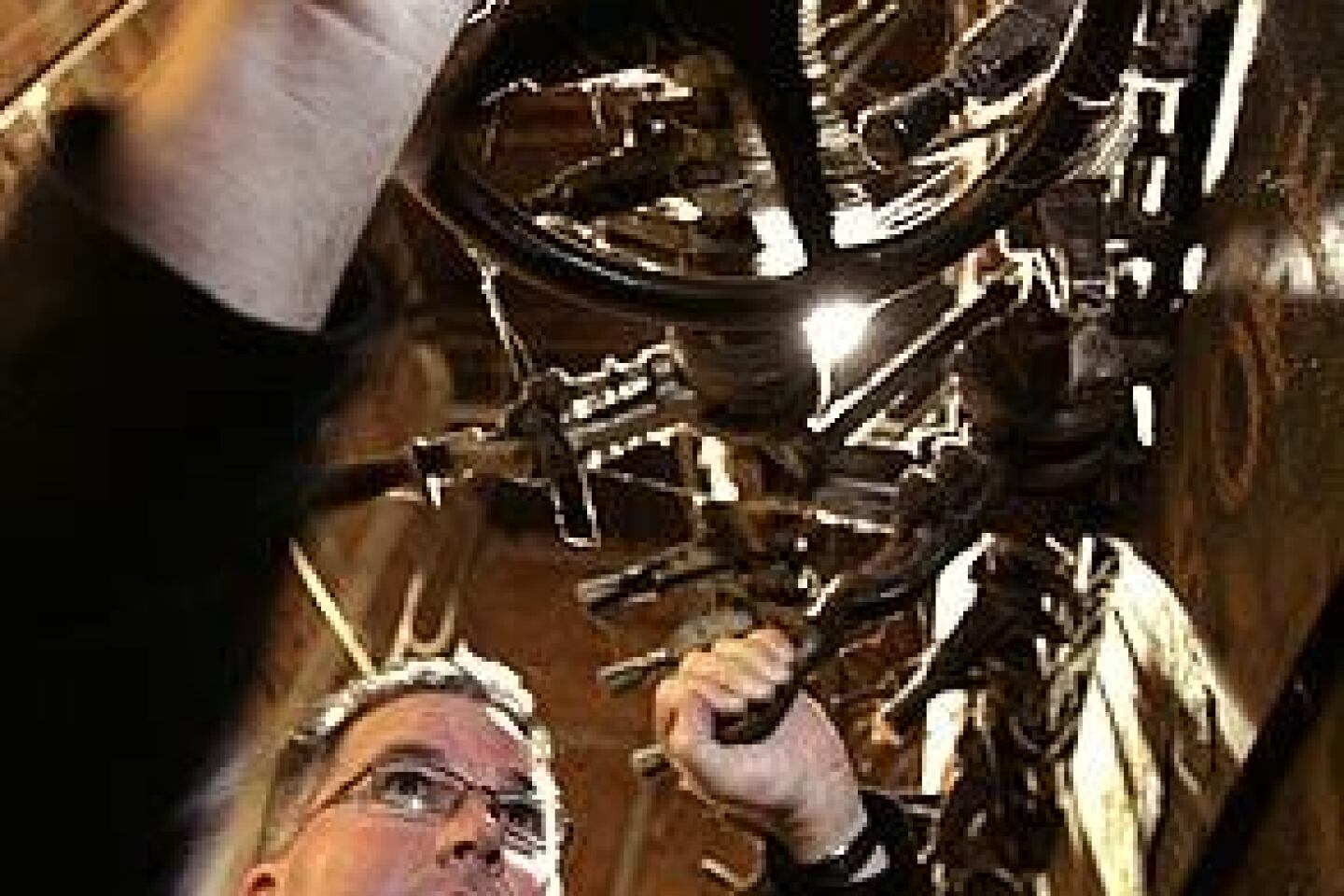 Todd Huffman, president of the Fullerton Historic Theatre Foundation, plays with the iron levers and wheel that were used to dim and raise stage lights at the Fox Theatre. In a modern theater, such functions are done with a laptop computer. Plans include preservation of the old lighting control panel.
(Don Bartletti / Los Angeles Times)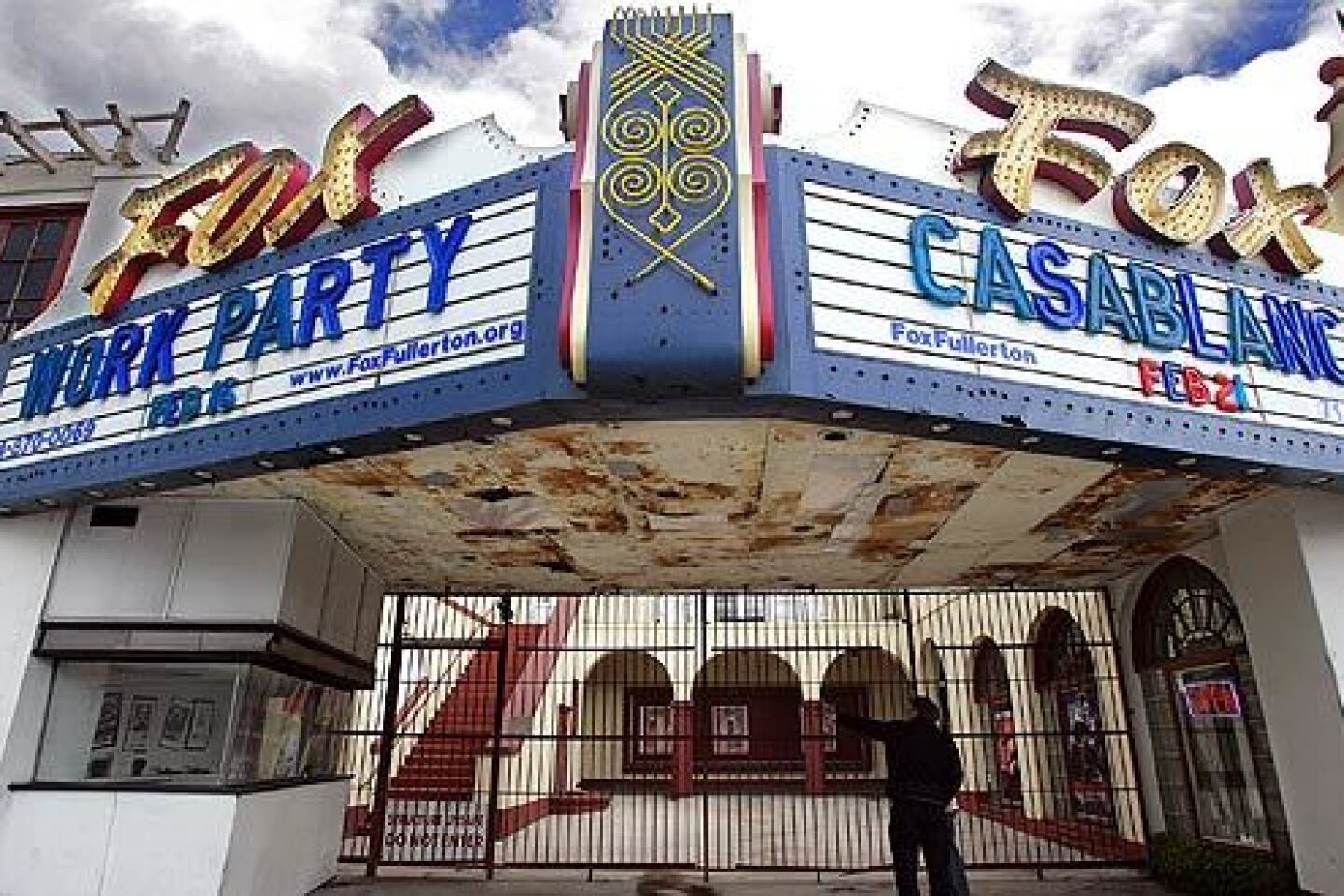 The Fox Theatre's marquee announces upcoming movies that will be projected outside on the back wall of the building.
(Don Bartletti / Los Angeles Times)
Restoration has barely progressed at the Fox Theatre. "Any forward movement is positive," said Cynthia Peck, whose eatery, Angelo's and Vinci's Ristorante, sits next to the landmark. "Just the fact that there's activity going on is exciting to me."
(Don Bartletti / Los Angeles Times)
The Fox Theatre sits at the corner of Harbor Boulevard and Chapman Avenue. The Fullerton Historic Theatre Foundation hopes to create an entertainment destination with restaurants and shops.
(Don Bartletti / Los Angeles Times)
Los Angeles Times Staff Writer
More than three years after Fullerton residents raised $3.5 million to save the historic Fox Theatre from the wrecking ball, the 82-year-old structure remains in peril.
Despite the efforts of preservationists, the dilapidated one-time vaudeville theater and movie house stands in contrast to the urban hipness that has swept downtown Fullerton, now brimming with upscale restaurants, jazz clubs and a lively street scene.
Some $9 million in grants, interest-free loans and community donations have been earmarked for restoring the landmark building on Harbor Boulevard and Chapman Avenue, but the nonprofit group that took over the project remains $17 million short of its goal.
"It's slow and it's a little tough out there," said Todd Huffman, president of the Fullerton Historic Theatre Foundation. "There's still people out there that think it's saved and done, but it's still on life support."
The struggle to bring the Fox back to life is hardly unique. Driven in part by nostalgia, reopening old movie theaters is often frustrating and sometimes futile. The costs are enormous, and the old cinemas typically hold up poorly in an era of surround-sound and widescreen presentations.
In Newport Beach, the historic Balboa Theater has been undergoing renovation for more than a dozen years. And in San Pedro, workers overhauling the Warner Grand Theatre have been at it for 12 years. About $4 million in government and private funds have gone into transforming the 77-year-old port-area movie house into a 1,500-seat performing arts venue, but $3 million more is needed.
Jon Wagner, hired two years ago to oversee the $26-million Fox Fullerton restoration project, prefers to look past the dank, spacious building's crumbling infrastructure and plastic-covered seats that have been empty since the Mickey Rourke film "Wild Orchid" screened in 1987.
Wagner can look to theaters like the Balboa in San Diego for inspiration. This month, after a decade-long redevelopment battle, 22 years of dormancy and a five-year, $26.5-million restoration, the Spanish Revival theater is presenting live performances.
Fullerton officials envision a restored Fox Theatre as the centerpiece of a redeveloped block that could include a hotel, movie theaters, shops, a parking garage and possibly live/work lofts.
Returning the Fox to its former glory -- as a venue for plays, independent cinema, concerts and events -- would nearly complete two decades of redevelopment in the city.
The city has made available nearly $3 million, including a $1.25-million loan for seismic retrofitting in 2006, but the foundation may be on its own the rest of the way.
Councilman Richard Jones, the only council member to vote against the loan, said he didn't understand why the city should pour any more money into the Fox.
"I want this to fly. It could be a crown jewel for our city that people would gather around," Jones said.
"But I don't want it to suck the city's resources. I don't want to keep spending money on something that could be the Titanic."
Jones questions whether restoring a structure built in 1925 is worth the large investment.
"I know a lot of people would scream, holler and cry if we tore down this 1920s theater," he said.
"But if you take a bulldozer and start from scratch, it wouldn't take nearly as much to build and you could still make it look like the traditionalists want it to look."
Fullerton Mayor Sharon Quirk, who has fond memories of first dates at the Fox two decades ago, said people must understand the theater won't be restored overnight.
"When something takes a long time to materialize and it's not a snappy movement, people can lose faith," she said.
Since the foundation bought the building in 2004 for $3.5 million, Wagner and a group of volunteers have concentrated on fundraising, applying for grants, renting attached retail space and finishing preliminary plans on the theater, designed by the firm responsible for the Egyptian and Grauman's Chinese theaters in Hollywood.
The Fox's exterior has been painted white, broken windows repaired and the inside cleaned after years of neglect.
But the brick building is so unstable that the 100 patrons who attended a fundraiser signed liability waivers before entering. The spring 2007 concert by the Fullerton College jazz band was the building's first live show in 50 years.
In the 1950s, the theater was remodeled, and the stage opening was replaced with a movie screen.
Since 2005, a Movies on the Fox series have been shown on the theater's outside wall. While people watch classics such as "War of the Worlds" and munch popcorn, volunteers pass hard hats in search of donations.
Foundation officials are expected to soon announce that all four retail spaces have been rented and a restaurant/brew pub is slated to move into the attached tea room.
"Any forward movement is positive," said Cynthia Peck, whose eatery, Angelo's and Vinci's Ristorante, is next to the theater. "Just the fact that there's activity going on is exciting to me."
Foundation officials said they were aiming for a grand reopening sometime in 2010. Jackson Browne and Bonnie Raitt, both Fullerton natives, have expressed interest in performing at the opening, according to reports.
But if significant progress has not been made by 2013, the city has the option to take the property back.
"The thought of losing the Fox stirred the emotions and memories of a lot of people," Peck said.
"Maybe now we need another surge of sentimentality from our residents. It will happen. I just don't know when."
The stories shaping California
Get up to speed with our Essential California newsletter, sent six days a week.
You may occasionally receive promotional content from the Los Angeles Times.