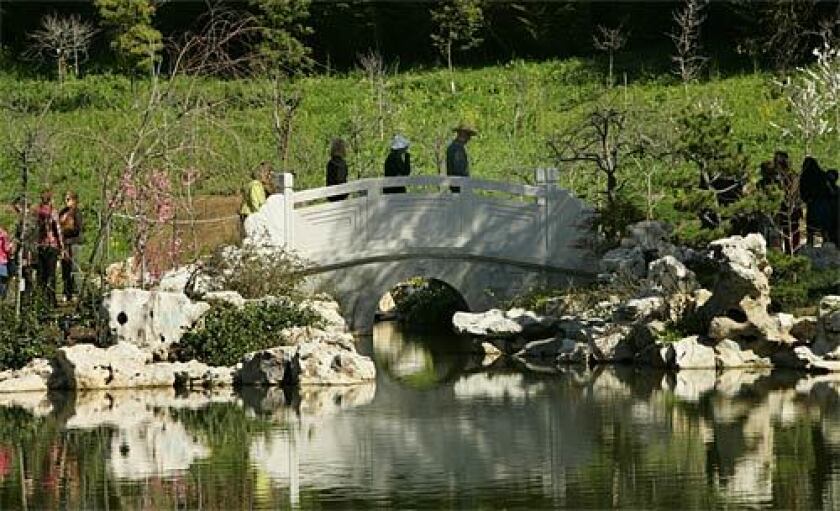 Los Angeles Times Staff Writer
Far from the frenetic pace of modern China, hidden behind a Wall of the Colorful Clouds in suburban San Marino, a placid garden links botany with poetry and a scattered ethnic community with the elegant grandeur of its ancient civilization.
In the 12-acre site on the grounds of the Huntington Library, Art Collections and Botanical Gardens, colorful carp glide through a shimmering lake. Chinese bamboo mingles with California live oaks. Hand-carved bridges, wooden pavilions and stone terraces feature China's centuries-old techniques of master craftsmanship. In flowing calligraphy, the garden is given life with poetic couplets and lyrical names evoking moonlight, verdant mist and jade camellias.
This is Liu Fang Yuan, the Garden of Flowing Fragrance, where a carved wooden placard just beyond the entryway informs visitors that Another World Lies Beyond.
In an invitation-only event for hundreds of dignitaries, donors and supporters, the garden was formally dedicated Saturday after many years of work to bring one of the largest classical Chinese gardens outside China to Southern California.
"The garden is a magnificent window that the people of California now have into the Chinese culture, which doesn't exist anywhere else," Huntington board Chairman Stewart R. Smith said after the ceremony.
The garden's $18.3-million first phase was powered by a landmark partnership between the Huntington and the region's fast-growing and increasingly influential Chinese American community. The Huntington, long seen as a staid and largely Eurocentric institution, recognized that ethnic Chinese were rapidly changing the San Marino neighborhood -- and the world -- and sought the ethnic community's help in bringing a 20-year garden vision to fruition, according to Suzy Moser, assistant vice president for advancement.
"The garden is a way the Huntington can throw open its doors to an increasingly Chinese neighborhood and an increasingly Chinese world," she said.
To aid the project, the Chinese American community launched one of its broadest collective efforts to support a mainstream institution. Disregarding political and regional differences that have impeded community projects in the past, many Chinese Americans rallied to volunteer time, raise millions of dollars and use their all-important guanxi, or connections, to tap donors in China, Taiwan and Hong Kong.
For many of its supporters, the garden has given bloom to personal transformations, reconnections with their heritage, a new appreciation for their ancestors, a desire to pass on China's traditions to their children and the broader public.
Ginko Ching Lee, a 37-year-old artist, says the garden has helped heal her reluctance to fully embrace her Chinese heritage.
For years after immigrating to the United States from her native Hong Kong, Lee said she was slightly embarrassed about her heritage -- her accented English, for instance -- and deliberately sought distance from it by embracing Western design in her art.
The garden has drawn her back, offering comfort amid a successful fight against cancer. Now training to be a docent, Lee said a fragment of Chinese nature poetry she hated learning as a schoolgirl suddenly popped into her mind during a recent garden stroll, refreshing her with a new appreciation for its beauty.
"These Chinese impulses are bubbling out of me, and I don't restrain them," Lee said. "I'm able to accept myself and who I am, and it's a lot more healing."
Others say the garden has helped connect generations through distance and time. Richard Woo, a Portland, Ore., native and part-time consultant to the Jet Propulsion Laboratory in La Cañada Flintridge, learned during a Huntington lecture on Chinese gardens that one of the most famous sites actually belonged to his great-great-grandfather.
Gene Wen, a 38-year-old Beijing native and owner of a technology firm, is looking forward. He donated $10,000 and placed the name of his 6-year-old son, Edmond, on the garden's donor wall. Wen said he hopes the garden will inspire his son, who is bilingual and already learning to recite classic Chinese poetry, to continue embracing his Chinese heritage.
"It will help make this a special place for him," Wen said of the donor wall recognition. "Through that, maybe he'll feel an additional fondness and acceptance of the culture behind his garden."
Some supporters say they particularly appreciate the way the garden showcases an entirely different aspect of China -- a font of rich cultural traditions -- at a time when the country is often seen as a relentless economic competitor battered by news of unsafe toys, contaminated food, environmental crises and human-rights abuses.
Many hope the garden, which will open to the public Saturday, will spark interest and excitement about Chinese traditions among those who have never been exposed to them.
Dominic Ng, the East West Bank president who helped spearhead early fundraising efforts, said he imagines busloads of schoolchildren from all corners of Los Angeles discovering China through garden visits.
"Maybe some of them will say, 'This culture is cool,' and decide to study Chinese in school," said Ng, a native of Hong Kong who pledged $1 million on behalf of the bank and, with his employees, donated $50,000.
Reflecting both East and West, the garden's first phase includes a 1.5-acre lake, seven pavilions, five hand-carved stone bridges and a canyon waterfall set against a scenic backdrop of the San Gabriel Mountains.
The garden contains more than 70 plant types, including indigenous California live oaks and pines, and native Chinese trees and plants. Those include weeping willows and several flowering trees.
Modeled after a scholar's retreat popularized in the 16th and 17th centuries in the Suzhou area near Shanghai, the garden was designed and largely crafted by ethnic Chinese, including more than 50 stonecutters, wood carvers and other artisans from China. Most of the materials were shipped from China, including 850 tons of sculptural Tai Hu limestone rocks.
But at the heart of a Chinese garden, said curator June Li, are the poetic, literary and artistic associations that give it expressive life. An advisory committee of three scholars spent more than a year with Li researching names for 24 of the garden's scenic views and structures, plumbing China's centuries-old literary traditions.
The committee's selection of Garden of Flowing Fragrance as the overall name, for instance, was inspired in part by a paean to a Chinese river goddess by the poet Cao Zhi nearly 2,000 years ago.
The Huntington first proposed building a Chinese garden more than two decades ago, in part because many of its famous botanical collections -- camellias and azaleas, for example -- originated in China, according to library officials.
A $10-million bequest in 2001 from the estate of the late Peter Paanakker, a Los Angeles businessman, helped launch the effort. Major foundations, including the James Irvine Foundation, Starr Foundation and Annenberg Foundation, contributed seven-figure gifts
But the Huntington also actively reached out to the ethnic Chinese community in California and overseas to meet its fundraising target.
"We've got one of the largest communities of ethnic Chinese outside of China," said Susan Turner-Lowe, the Huntington's vice president of communications. "This garden speaks to their culture and heritage, which I believe is more and more important for citizens of the United States to understand."
Under cloudless blue skies, the dedication Saturday featured quartets of Chinese musicians playing a song, "Suzhou Garden," specially written for the Huntington by a Hong Kong composer.
The garden was decorated with sumptuous floral arrangements by artists flown in from Taiwan.
Four generations of the family of Lily Wong, who donated $200,000, enjoyed the scene. For daughter Angela, 34, the moment was almost unbelievable. Just a century ago, she recalled, the institution's founder, Henry E. Huntington, had developed his railroads on the backs of indigent Chinese laborers.
"To think at one point we were just poor laborers working on his railroads," she said. "I feel proud of the progress we've made."
---