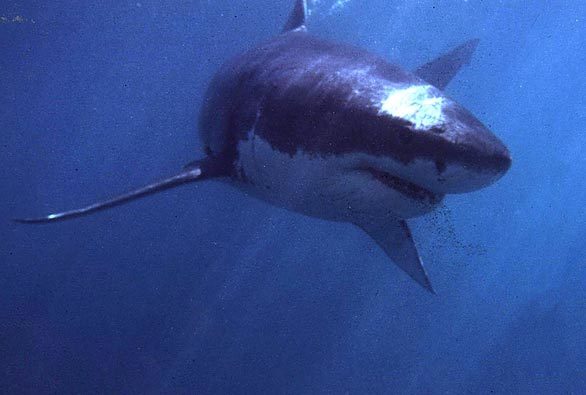 7 Images
Great white sharks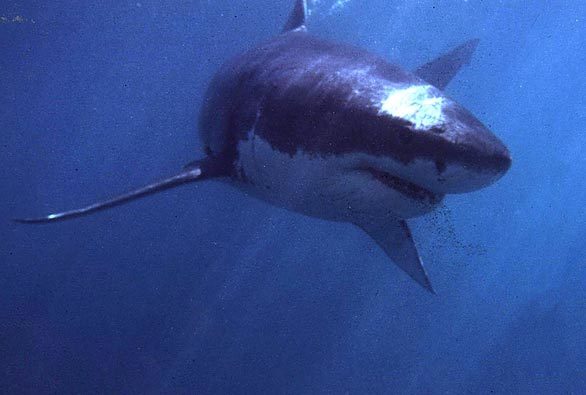 A great white shark swims off Gansbaai, South Africa. Tour operators have been accused of making the waters dangerous by "chumming," in which a mixture of fish blood and oil is thrown into the water to attract the sharks.
(Theo Ferreira AFP/Getty Images)
A great white shark off Guadalupe Island, a 22-mile-long volcanic land mass 150 miles west of Baja California. The island has become a preeminent shark-diving location, and there is competition between operators to lure passengers onto their boats.
(Al Seib / Los Angeles Times)
From the safety of a sturdy aluminum cage, a shark diver watches a great white swim near Guadalupe Island in September 2001. The island has long been a haunt for the sharks.
(Alan Studley / For The Times)
A great white shark eats part of a whale near Anacapa Island off the Ventura County coast in 1999.
(David Lominska / For The Times)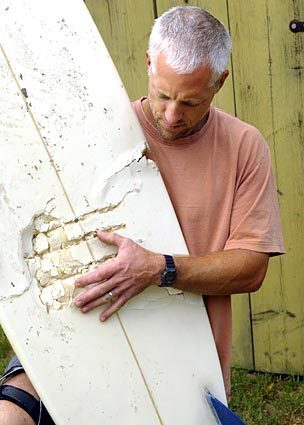 Peck Euwer of Santa Barbara shows the damage a great white shark did to his surfboard off Maverick's in 2001. The newly glassed board absorbed the bite that could have been fatal to Euwer.
(Stephen Osman / Los Angeles Times)
A 15-foot great white breaches the water off South Africa during an attack on a juvenile seal returning to Seal Island through an area researchers refer to as the "ring of peril."
(Chris Fallows)
Great white sharks, often found off the Ventura County coast, rarely leave the water in pursuit of prey, but this 10-footer went airborne after being fooled by a seal decoy.
(Chris Fallows)