9 Images
When Griffith Park burned: May 2007
On May 8, 2007, a fire broke out in Griffith Park that took two days to contain and burned 817 acres. These are scenes from the fire that threatened some of Los Angeles' most famous landmarks and was one of the largest fires in the area in three decades.
Left, nearby flames light up Griffith Observatory. About 500 fire personnel were on the scene and water was being dropped by five Los Angeles County firefighting helicopters. They were aided by two aircraft from the state.
(Spencer Weiner / Los Angeles Times)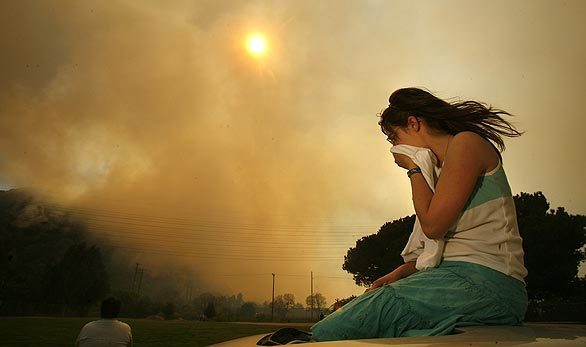 USC student Beckie Loewenstein, 21, covers her nose and mouth as smoke billows from the Griffith Park brush fire of May 2007.
(Rick Loomis / Los Angeles Times)
Mary Afifi prepares to evacuate her home as flames approach on the first night of the fire. As it turned out, no homes were destroyed by the blaze.
(Rick Loomis / Los Angeles Times)
Police and firefighters knocked on doors the first night of the fire on Dundee Drive in the Griffith Park area, looking for stragglers hesitant to leave their homes.
(Lori Shepler / Los Angeles Times)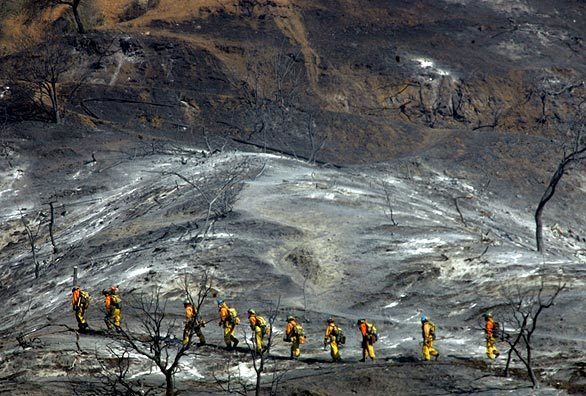 Los Angeles County firefighters make their way to Dante's View in Griffith Park, which fell victim to the flames. The popular hiking destination near Mt. Hollywood was planted over decades by various park lovers.
(Genaro Molina / Los Angeles Times)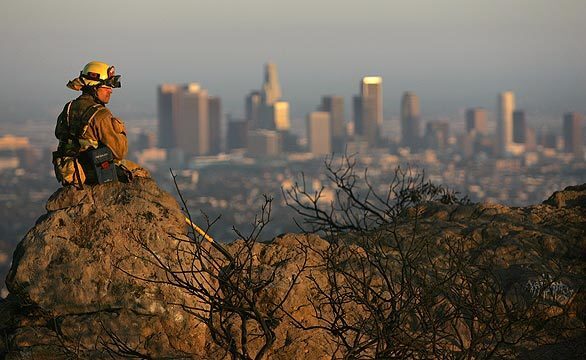 Firefighter Robert Damico looks out over Griffith Park. Firefighters remained near Griffith Observatory to guard against flare-ups.
(Spencer Weiner / Los Angeles Times)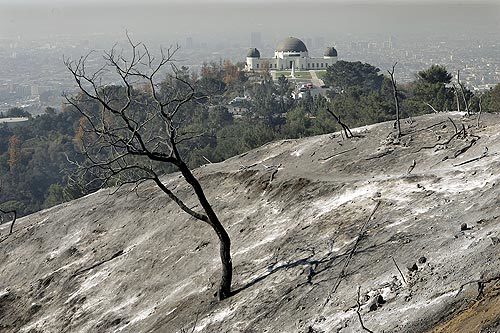 Griffith Observatory stands undamaged the morning after the brush fire broke out. The fire threatened other park landmarks, including the merry-go-round and zoo.
(Al Seib / Los Angeles Times)
Los Angeles City Councilman Tom La Bonge and others walk through a burned area near Mt. Hollywood in July, two months after the fire. New growth was sprouting even then.
(Annie Wells / Los Angeles Times)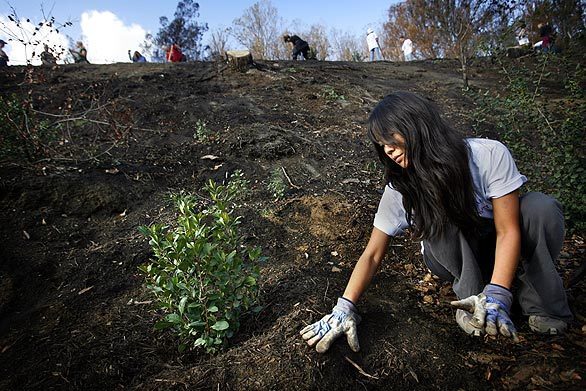 Kara Yoshimoto Bua pats down mulch around a toyon sapling planted in December. Sixty toyon trees and 40 others were planted in the burn area of the park at the tree-planting event.
(Barbara Davidson / Los Angeles Times)