A monumental idea for Griffith Park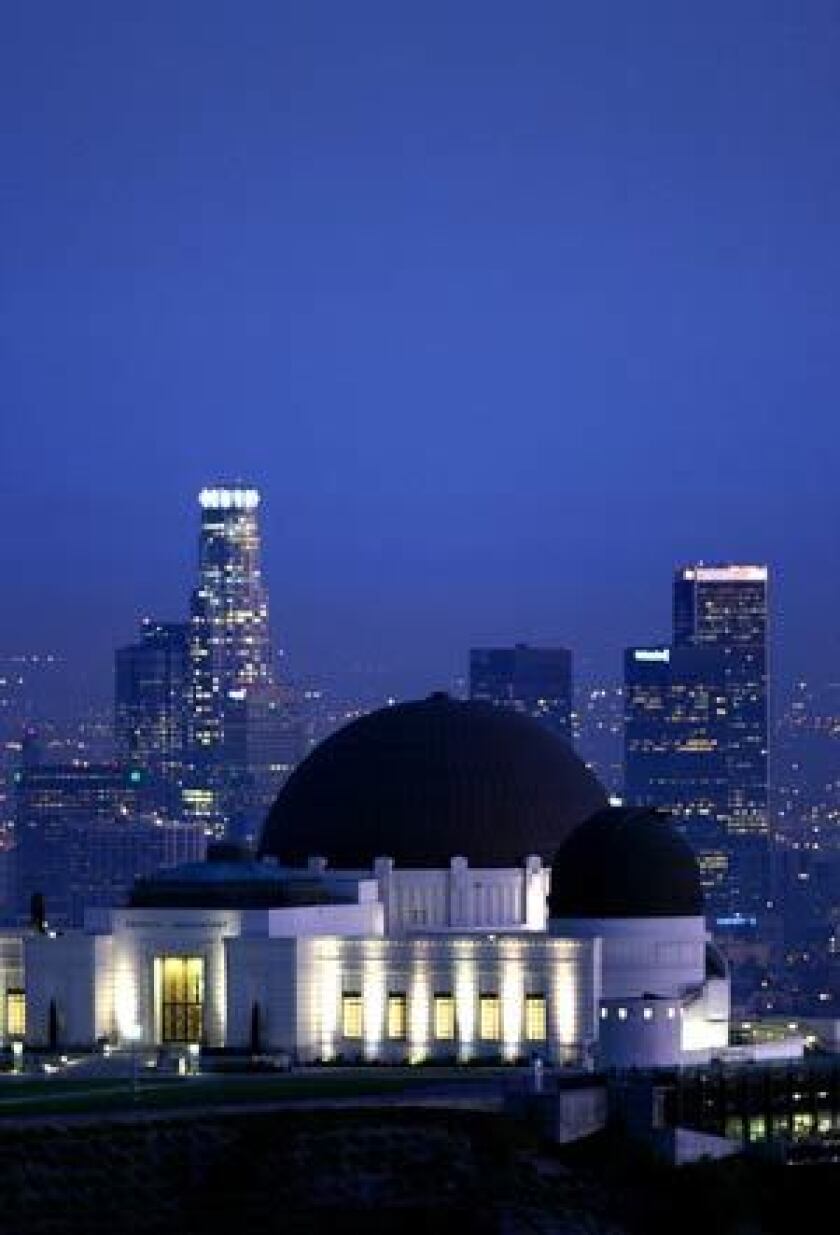 Los Angeles Times Staff Writer
Asked an opinion of his native Los Angeles -- where he lived for four decades before fleeing up the coast 15 years ago -- Griffith Van Griffith's mind goes to gridlocked streets, overflowing high-rises and urban unrest.
"I think about the millions of people who live in apartments in Los Angeles that don't even have a backyard. . . . They need a place to go," he said. "And if they don't have a small local park, they could always know they could go to Griffith Park. . . . That's the way my great-grandfather saw it."
Griffith is scheduled to appear today at Los Angeles City Hall to push for historic-cultural monument status for the park his great-grandfather gave the city 112 years ago.
At 4,218 acres, Griffith Park would be the largest such monument in the country. Griffith said the designation is needed to prevent commercial developments similar to those briefly proposed by city officials in a 2005 master plan.
That plan, which cost the city $400,000, included aerial trams, parking structures and revenue-generators, including restaurants and lodging, to the horror of some Griffith Park boosters. The city soon scrapped it.
But the proposal jarred Griffith into action. And, supportive of the citizens working group formed soon after to come up with a new strategy, he remained concerned that plans for the park could go in a direction his great-grandfather never intended.
Why, Griffith asked, does the park need an updated master plan at all?
"The only other direction you could do is to commercialize it," he said. "They just can't leave it alone."
'A safety valve'
With a full mustache reminiscent of the one worn by Col. Griffith Jenkins Griffith, the great-grandson, 55, seems a leaner, taller version of his forebear. Late last month, he sat in a weathered chair in the sideyard of his Morro Bay home and recalled the colonel's vision for the nation's largest urban park.
"He just saw it as a safety valve for the public," he said. "People like to go there to get away from the city, to hike in a quiet area with not too many cars around and just enjoy nature. . . . He always wanted it to be a free park and for everybody."
Still, in many ways, Griffith Van Griffith -- whose double moniker plagued him as a kid until he started using his middle name -- is an unlikely savior for the park.
Although retired from his job as a buyer for an office supply company, he hasn't visited the park since its famed observatory, originally constructed with money left in his great-grandfather's will, reopened two years ago after a five-year, $93-million renovation.
Even when he lived in Los Angeles, Griffith never resided east of Sepulveda Boulevard. He never played a ballgame in Griffith Park, instead frequenting his neighborhood park in Brentwood, where he played in Aaron Spelling's Sunday morning softball games, tossed a pigskin with Mark Harmon and took on Bill Cosby in pickup football games.
It was on school field trips, not family visits, that he got to know Griffith Park.
"It was incredible," he said of the first time he saw the planetarium show at the Observatory on a field trip in fourth or fifth grade. "They had this old thing that you cranked around. It showed you going into space, showed you all the stars."
By the time he was 25, he manned the souvenir booth for Friends of the Observatory. Kids would leave the planetarium show each morning wide-eyed and excited and line up at Griffith's counter to buy pencils and miniature space shuttles, he said.
"I don't even remember if I got paid for that job," he said, laughing. "It was something I felt I needed to give back [to] a little bit."
As an only child, far greater responsibilities fell to him in 1985, when his father died unexpectedly.
"I had to protect the park," he said of taking over the trust his great-grandfather had created to fund his vision.
The role was one his family had found frustrating in the past.
In the early 1900s, his great-grandfather unsuccessfully pushed the City Council to place a park improvement bond measure on the ballot. Half a century later, his grandfather lost lawsuits to prevent the city from siphoning away part of the park for the 5 Freeway and from turning Toyon Canyon into a landfill. In 1981, his parents sued the city and lost when it imposed vehicle entrance fees of 50 cents on weekdays and $1 on weekends. Three years later, the city rescinded the fee.
Griffith said he hopes that this time, the city will see it his way.
He faces a skeptic, however, in City Councilman Tom LaBonge, perhaps the park's best-known cheerleader.
"This is a park, not a preserve," said LaBonge, who sports a well-worn white Dodgers sweat shirt and totes a football when he hikes the park's Charlie Turner Trail nearly every day at sunrise.
"I'm all for designation of buildings and spots of significance in the park, but right here?" LaBonge asked, circling his finger over the dirt trail path one Friday morning, "Would it be something to designate? I'm not sure."
LaBonge said he supports a review of the application by the Cultural Heritage Commission but questions how a designation would affect the park. In particular, he worried that it might hamper park maintenance and his dreams for significant improvements to infrastructure.
Ken Bernstein, manager of the Cultural Heritage Commission, said a historical designation would not "freeze historic properties at a point in time."
If the commission's five members vote today to take up the application, they would spend the next several weeks touring the park before deciding whether to refer the matter to the City Council for a vote.
Although Griffith said he will never again live in Los Angeles, he vowed that as long as there are Griffiths, they will act as park caretakers. His son Trevor, 20, and daughter, Morgan, 24, are proud of the park that bears their name and well aware of their legacy, he said.
"As time goes on here, we get farther away from who actually gave away the park," Griffith said. "I don't know what the future would hold, but I hope the city respects that the Griffiths are still around, looking over their shoulder."
---
For reporting and exclusive analysis from bureau chief John Myers, get our California Politics newsletter.
You may occasionally receive promotional content from the Los Angeles Times.