4 Images
At the Unveiling
LANDMARK:
The observatory restoration has more than doubled the size of a facility that director Edwin Krupp likes to call "the hood ornament of Los Angeles."
(Anne Cusack / LAT)
TOUR:
Edwin Krupp, director of the Griffith Observatory, points out a new exhibit. Admission, though free, will require a reservation — a system expected to last about a year. Visitors who don't walk or ride bicycles to the facility must take shuttle buses.
(Anne Cusack / LAT)
NEW LOOK:
The Gunther Depths of Space hall is one of the additions to the observatory. Other new features include exhibits on tides, seasons and phases of the moon. The renovation has increased the site's interior space from 27,000 square feet to 67,000.
(Anne Cusack / LAT)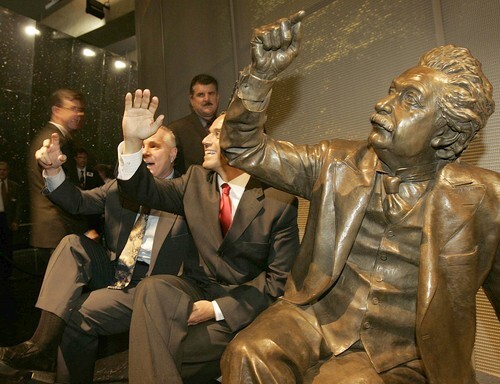 GOOD COMPANY:
L.A. Councilman Tom LaBonge, left, and Mayor Antonio Villaraigosa pose with a statue of Albert Einstein in the Gunther Depths of Space exhibit hall. The hall includes a 20-by-152-foot photomural that depicts a million galaxies.
(Anne Cusack / LAT)