12 Images
Keeping cool in California
A hot sun shines over power lines Thursday, the third day of a heat wave that's expected to reach its peak over the Labor Day weekend. Residents are urged to avoid outdoor activities from morning through early evening, wear loose-fitting clothes and drink plenty of water to avoid ill effects of the heat, the National Weather Service said.
(Justin Sullivan / Getty Images)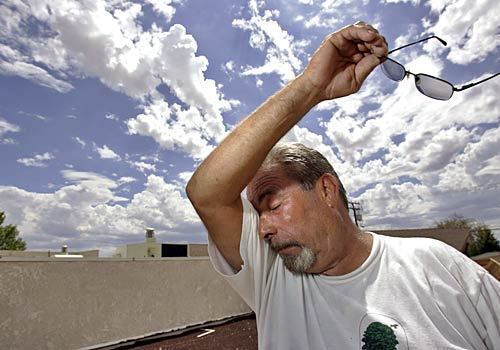 Gary Cochran, a 55-year-old handyman, wipes sweat from his face while he and a friend build a low wood fence on the roof of Trinity Lutheran Church in Victorville. Officials say this is the longest heat wave since last summer, when high heat resulted in the deaths of 100 mostly elderly people around the state.
(Irfan Khan / LAT)
Residents in Orange County flock to Soak City at Knott's Berry Farm in Buena Park for a cool-down under the spray from a giant bucket of water.
(Mark Boster / LAT)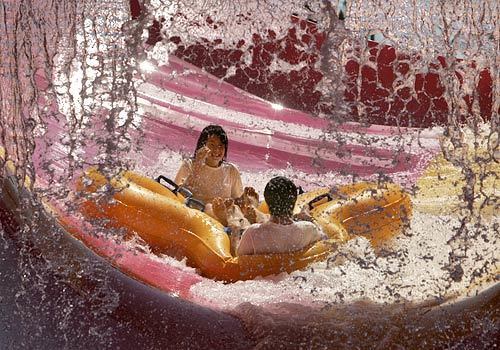 At Knott's Berry Farm, another hot place to cool down is on the Pacific Spin on a big yellow raft.
(Mark Boster / LAT)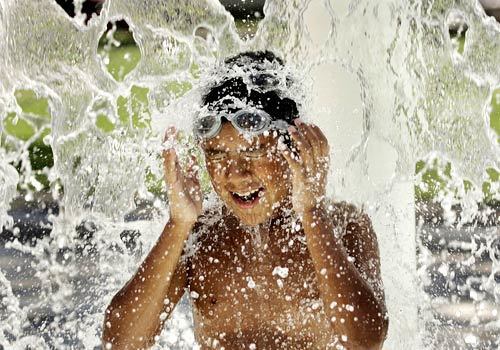 Alessandro Mendoza of Sherman Oaks gets a splash in the kiddie pool fountain at the Van Nuys Sherman-Oaks swimming pool. Outside, it was 110 degrees.
(Al Seib / LAT)
The Hadad siblings and their cousins leap into the pool at Van-Nuys Sherman Oaks. Many people are expected to escape the heat by heading to the beach over the weekend.
(Al Seib / LAT)
A teenager dives into the Alhambra Park pool to cool off from the triple-digit weather. Residents are urged to avoid activities.
(Kevork Djansezian / AP)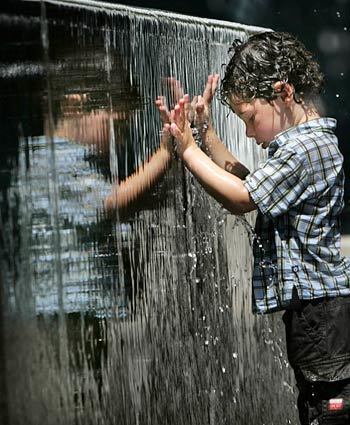 Ethan Eisler, 3, visitng his father from Canada, plays with his reflection as he cools off in the water fountains at Universal CityWalk.
(Karen Tapia-Andersen / LAT)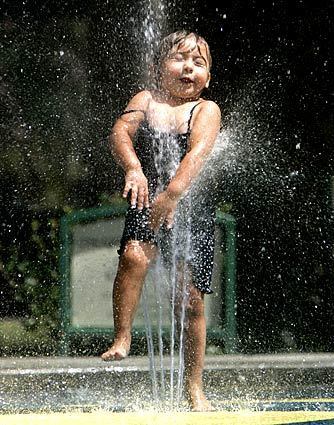 In Simi Valley, Trinity Jones, 2, has a look of delight as she frolics in the water play area of Rancho Tapo Community Park.
(Brian Vander Brug / LAT)
Tinkerbell, a 1-year-old Shih Tzu, relaxes with an air of contentment in front of a fan in Huntington Beach.
(Lori Shepler / LAT)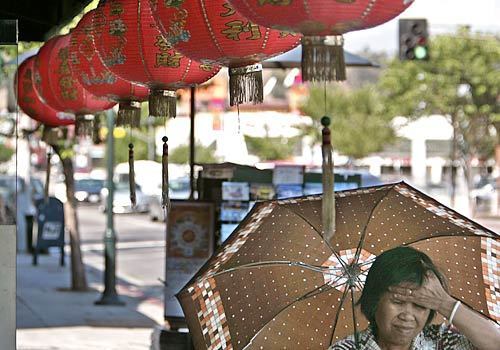 Under Chinese lanterns in Chinatown, a woman wipes the sweat from her brow on Broadway.
(Luis Sinco / LAT)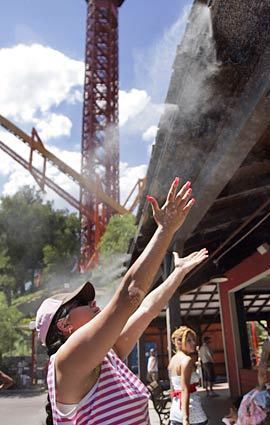 Blanca Barba of Los Angeles tries to cool off under misters at the Six Flags Magic Mountain theme park in Santa Clarita. Thursday's high temperatures reached 91 in downtown Los Angeles, 109 in Woodland Hills, 97 in Anaheim and 111 in Riverside.
(Reed Saxon / AP)