Pedestrians detour outside of the Kodak Theatre as Oscar preparations have made getting around from Highland to Vine on Hollywood Blvd. a real challenge.
(Ken Hively / LAT)
Befuddled pedestrians make their way around detours due to Oscar setup on Hollywood Blvd.
(Ken Hively / LAT)
A tent and bleechers have been set up in front of Kodak Theatre for the hundreds of Oscar fans looking to catch a glimpse of a contender.
(Ken Hively / LAT)
The Force is not with many out-of-town visitors forced to detour around the Hollywood Walk of Fame to get around the Academy Award setup.
(Ken Hively / LAT)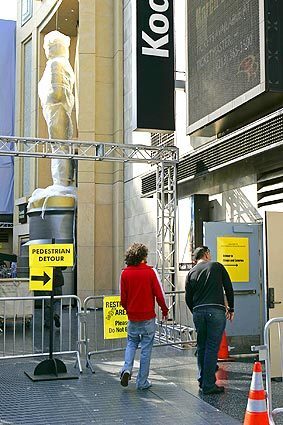 Walk of Fame strollers hit a detour leading through Virgin Mega store outside the Kodak Theatre.
(Ken Hively / LAT)