KCRW to leave 'creative dungeon' for new above-ground studio complex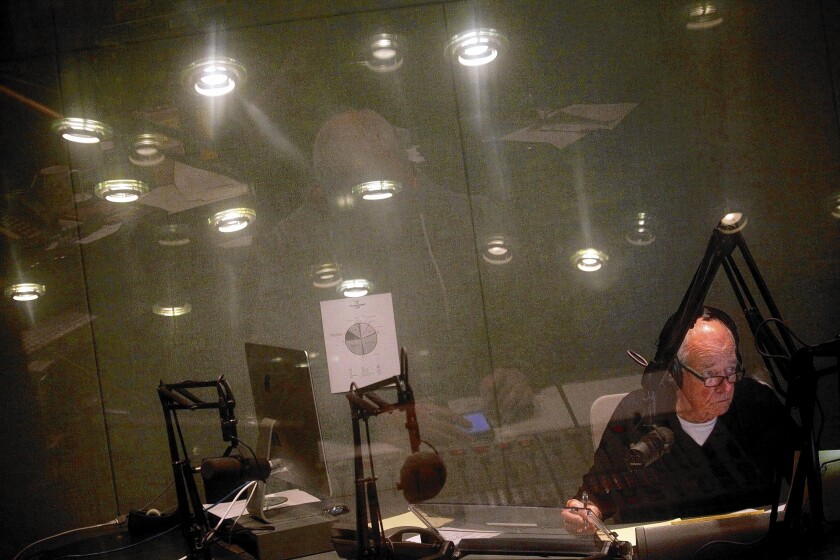 KCRW-FM (89.9) will soon be crawling out of the basement, and we're not talking about ratings.
The popular NPR affiliate, which for decades has produced a raft of music, news, cultural and public affairs programs out of claustrophobic underground studios in the heart of the Santa Monica College campus, has begun construction of a 35,000-square-foot, cutting-edge media center that will nearly triple its current space.
------------
FOR THE RECORD:
KCRW studio: An article in the June 16 LATExtra section about plans for a new headquarters for NPR affiliate KCRW-FM (89.9) said that the station had a goal of raising $20 million, in part to fund its new $48-million studio. In fact, the new KCRW headquarters will cost $28 million, and Santa Monica City College has committed $28 million to the project. The additional $20 million that KCRW seeks to raise would cover the costs of furnishing the building as well as new technology and programming. The error regarding the purpose of the station's fundraising effort also appeared in an article in the Feb. 19 Business section about KCRW's purchase of a Santa Barbara radio station. —
------------
The three-story headquarters — all above ground — will be part of the college's planned $91-million Academy of Entertainment and Technology satellite campus about a mile from the main college grounds.
KCRW's portion, expected to open in early 2016, will include a roomy performance studio and viewing gallery, multiple audio and video editing suites, and a digital music library and DJ lounge. The station, home to the music show "Morning Becomes Eclectic," Warren Olney's issues talker "To the Point" and the new "Press Play" with Madeleine Brand, will also program events at a courtyard and outdoor stage and a 180-seat auditorium planned for the complex.
Last year the station kicked off a fundraising drive with the goal of generating $20 million, in part to fund the new $48-million studio. Santa Monica College, which has contributed $28 million toward the cost, envisions the station serving as a lively learning environment for students interested in journalism and radio.
"KCRW is part of our identity," said college President Chui L. Tsang. "It's the kind of technology-driven and multi-platform delivery … that new media has to be."
Wallis Annenberg, whose Annenberg Foundation is KCRW's largest private donor and contributed to the project, said: "KCRW's innovative programs and live events inspire the imagination and bring communities together."
Over the last three decades, KCRW's staff has grown to 110 from 14. They work in the cramped but convivial basement and some nearby offices.
The basement studio has no kitchen; employees wash their coffee mugs in the bathroom. It features a narrow hall lined with graphic artwork and black-and-white photos of the many influential filmmakers (Quentin Tarantino), actors (Tom Hanks), authors (Maya Angelou) and musicians (Moby) who have descended into KCRW's realm. Yo-Yo Ma strapped his cello to his back to venture down the shabby concrete steps.
"From my perspective, there's no more important or powerful radio station in L.A. than KCRW," said Moby, a fan and financial supporter who has visited the station many times over the last 20 years. "I love that basement space. I have a nostalgic attachment to it, but I also don't have to work in it."
Matt Holzman, who has served as KCRW program director and producer and as host of the First Take movie-screening series, said much of the station's energy "comes from that weird fact that we're shoved together." He said he was looking forward to the new elbow room with a mix of "about 80% excitement and 20% light trepidation. The trepidation is we're going to lose the energy that comes from being in such close quarters, but I know for a fact that's not true."
Maintaining the collaborative environment was crucial, said architect Clive Wilkinson, whose Culver City firm also designed Google Inc.'s corporate headquarters in Mountain View, Calif.
"They had always had to be lean and frugal," he said. "That was their ethos — scrappy, with high constraints and lean resources." In the new building, the ground floor will be devoted primarily to the music side, with the performance studio and spaces for music editing and technology. The upper two floors will feature communal meeting areas as well as offices and workstations.
On the second floor, a cafe and terrace will provide an informal place for staff to convene and exchange ideas. It will include a full kitchen and dining terrace with indoor-outdoor seating overlooking the plaza courtyard.
The new campus will be located amid a bustling creative business district that is home to digital and entertainment companies, including Red Bull Media House and Lionsgate. Many of them are housed in retrofitted brick warehouses and factories dating to the 1920s.
Throughout the media complex, swaths of sunny yellow on the three buildings and the 430-space parking garage will serve as a unifying motif.
Although KCRW significantly trails KPCC-FM (89.3), the region's other public radio station, in daily listeners (just under 500,000 and more than 730,000, respectively), president and general manager Jennifer Ferro points to the robust Twitter followings for the station and its on-air personalities and the station's 134,000 Facebook "likes." Each month, people around the globe spend 2.1 million hours listening to the station's online programming.
"Our social media reach is so much larger than any other station's," she said.
Seeking to expand that reach, KCRW last week rolled out its first website redesign in many years. It has a "persistent audio player," meaning that it continues to play even as visitors navigate from page to page. A video introducing the redesign features an animated Jack Black, the actor, and David Lynch, the film director turned musician.
Lynch, too, has paid many a visit to the "creative dungeon," as Tsang described the basement office during a groundbreaking party at the new site Wednesday. Lynch said he looks forward to the new environment.
"It was always quite an ordeal to get to KCRW," he said. "You had to walk through campus for a long time. I wouldn't mind them having a place that's easier to get to."
Twitter: @MarthaGroves
---
The stories shaping California
Get up to speed with our Essential California newsletter, sent six days a week.
You may occasionally receive promotional content from the Los Angeles Times.