L.A. school board moves forward with computer effort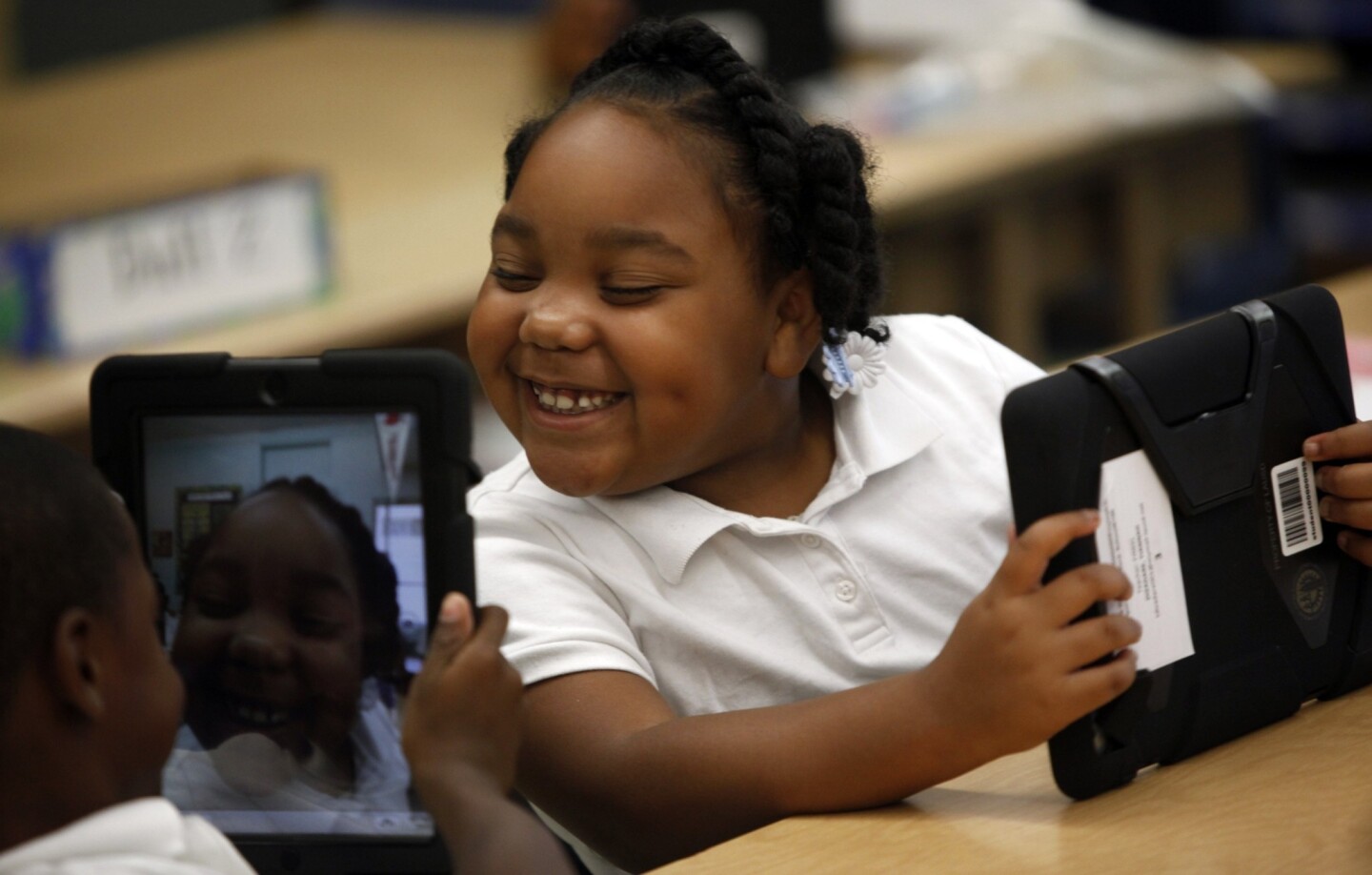 Tiannah Dizadare smiles as she works with classmate Avery Sheppard as they explore their new LAUSD-provided iPads.
(Bob Chamberlin / Los Angeles Times)
King Shelton, left, and Zylan Giles work with their new iPads at Broadacres Avenue Elementary School in Carson.
(Bob Chamberlin / Los Angeles Times)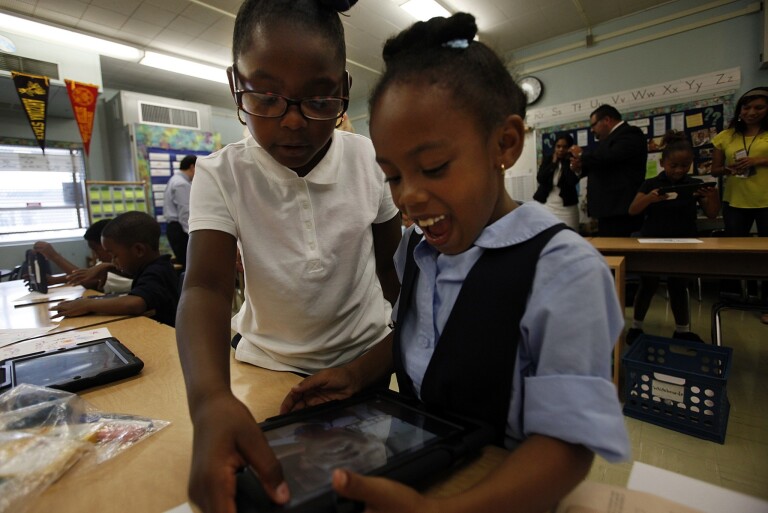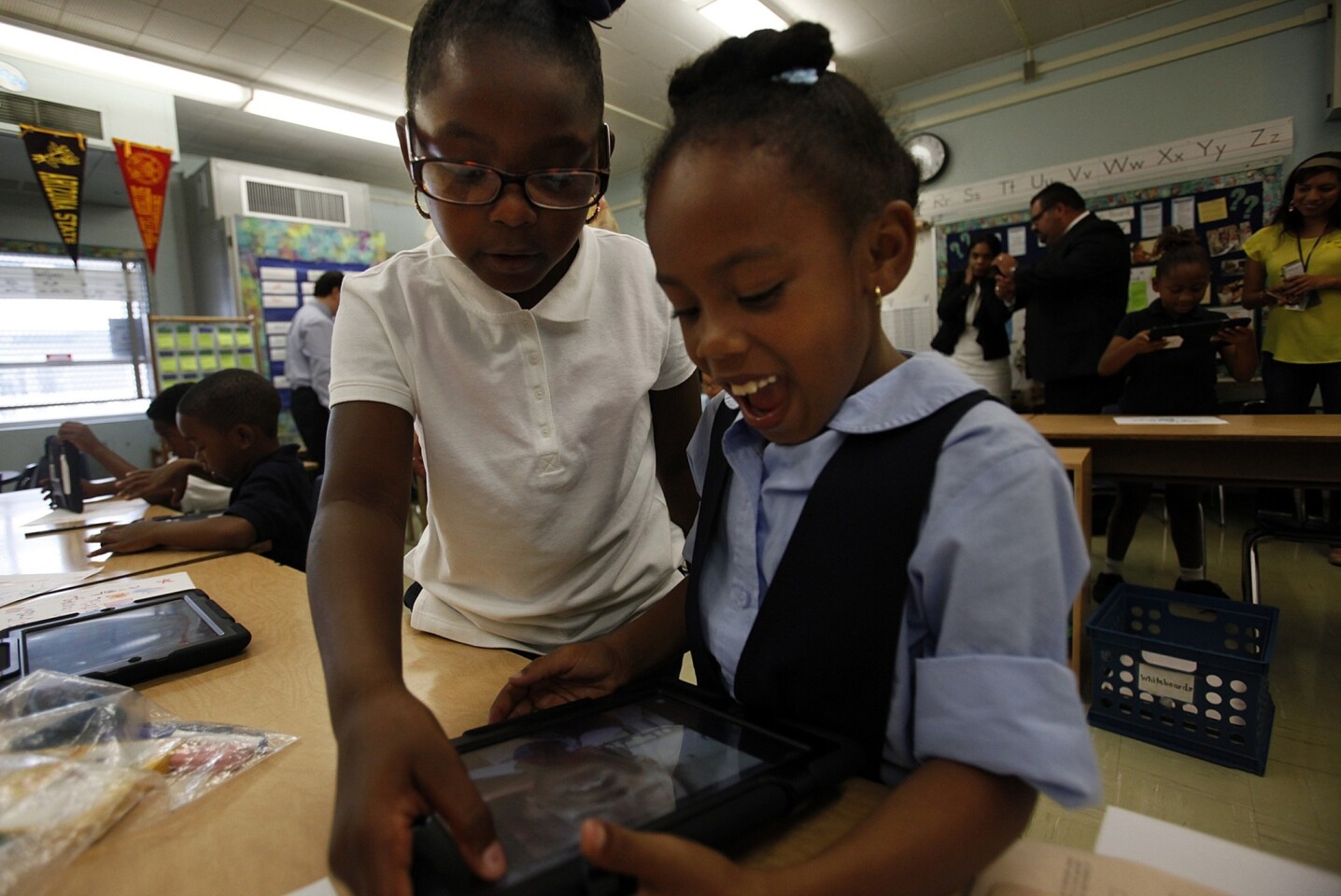 Jadah Manning, left, and Zaryah Robinson explore a new iPad in Karen Finkel's class at Broadacres Avenue Elementary School.
(Bob Chamberlin / Los Angeles Times)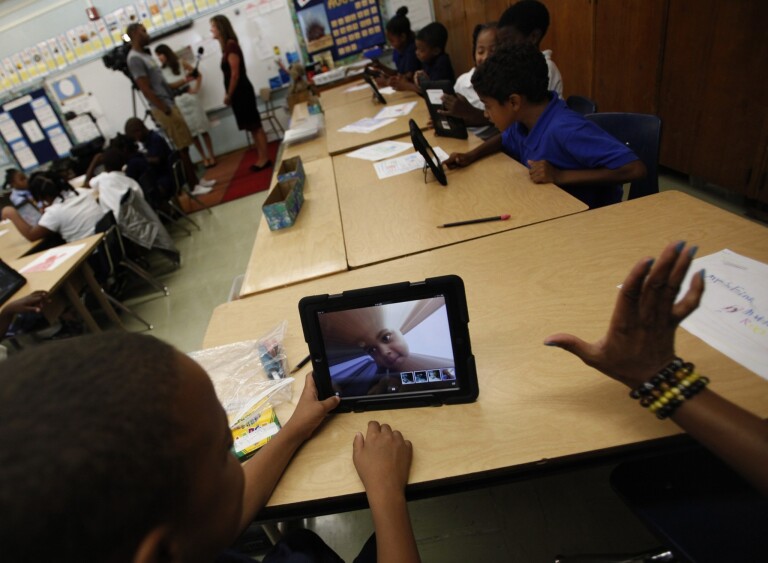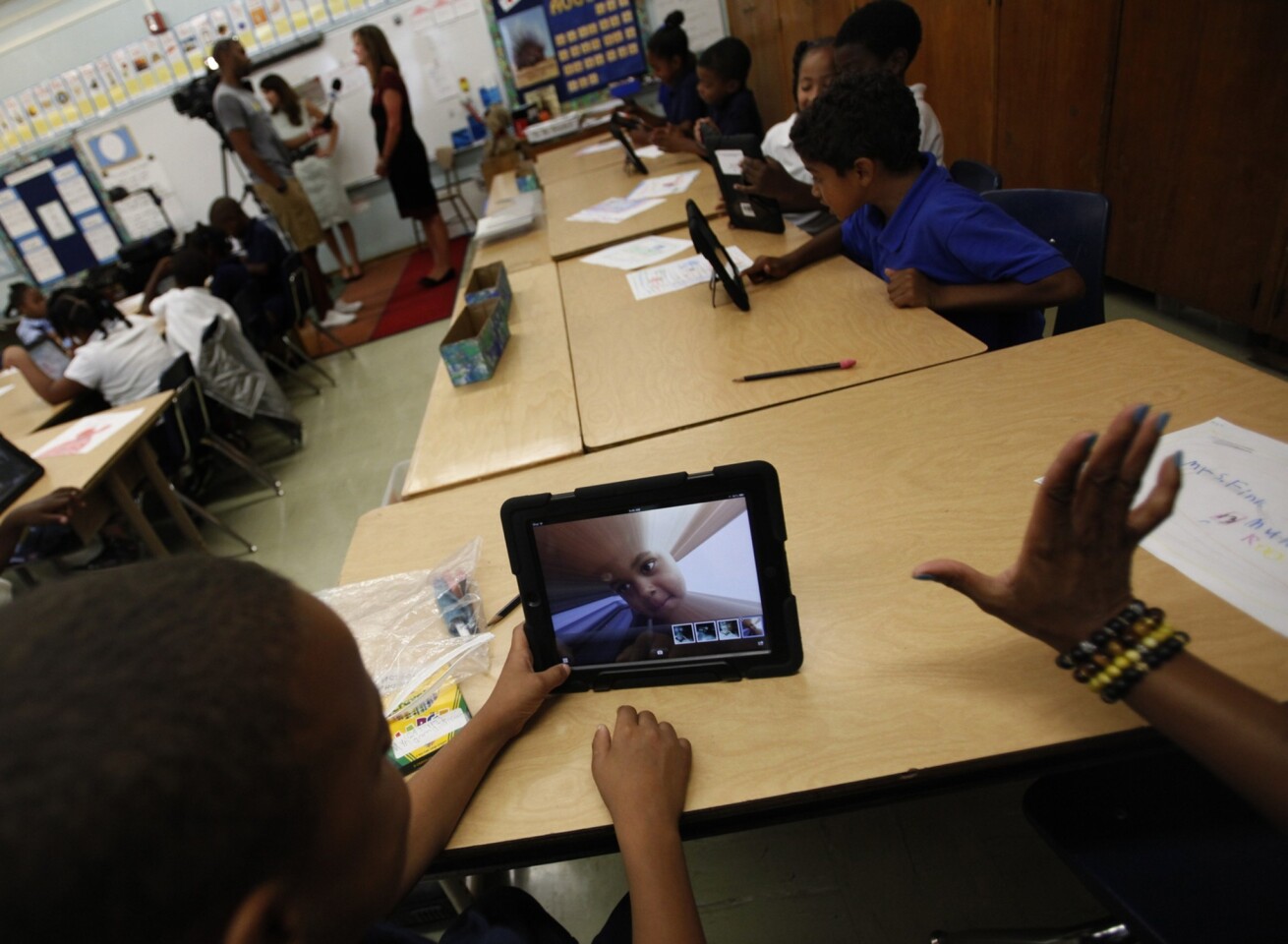 Muhammad Nassar Jr. takes a picture of himself as Karen Finkel's class explores the possibilities of their new LAUSD-provided iPads at Broadacres Elementary.
(Bob Chamberlin / Los Angeles Times)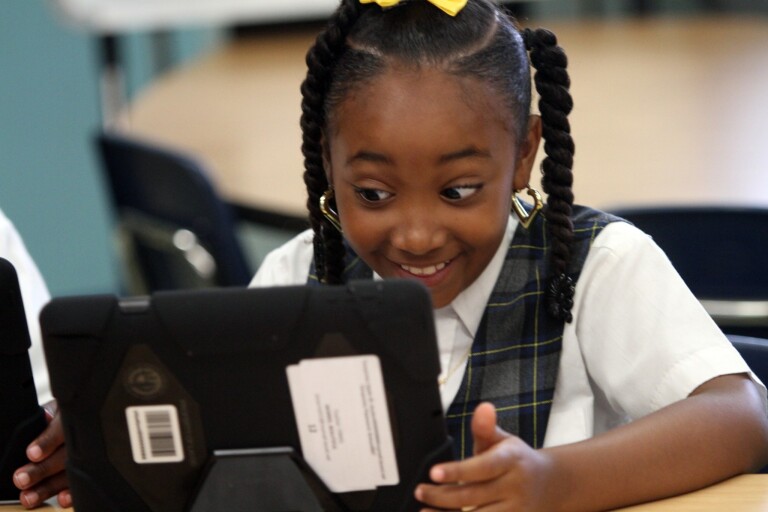 Beautiful Morris smiles as she works on her new iPad, provided by the Los Angeles Unified School District.
(Bob Chamberlin / Los Angeles Times)
Continuing its efforts to provide every student with a computer, the Los Angeles Board of Education on Tuesday agreed to distribute iPads to 38 more campuses, begin the process of purchasing laptops for seven high schools and buy as many tablets as needed for new state tests in the spring.
In doing so, the board adopted the proposal of schools Supt. John Deasy rather than following the advice of an oversight panel that had recommended purchasing thousands fewer of the devices.
The goal of the $1-billion effort is to provide a computer to every student, teacher and administrator in the nation's second-largest school system.
Board members approved a $115-million proposal that removed entirely a cap on how many iPads the district could buy for standardized testing scheduled for the spring. But they insist the number will be well below the 67,500 tablets the district staff had recommended.
The iPads used for testing will be shared by different classes during the six weeks of testing.
The oversight committee, relying on a district analysis, had recommended purchasing about 38,500 tablets for testing.
Senior L.A. Unified officials, however, decided that schools should have more tablets in the event of unexpected problems.
A majority of the oversight panel decided there was no justification for the 30,000 additional tablets. Even the lower figure, 38,500, was likely to be much larger than needed, according to a review by a consultant for the oversight committee.
In addition, the district estimate didn't take into account computer equipment that schools already possess. L.A. Unified only recently began to tabulate such assets and doesn't yet have the results.
The board should move fast because delivering the new iPads could take as long as seven weeks, Deasy said.
Critics have accused officials of trying to buy as many iPads as quickly as possible to make it difficult to stop the effort.
L.A. Unified is paying $768 per iPad, one of the highest prices among school districts because it selected a relatively expensive device and included curriculum in the cost. The plan, which includes network upgrades at schools, is expected to consume all the technology funds available through voter-approved school-construction bonds.
Board member Monica Garcia said moving quickly was an educational imperative.
"The whole point of this program is to revolutionize instruction," Garcia said. Low-income students don't get access "to what is a part of all our worlds today.... I don't understand how cutting back what's good is good for kids."
The proposal, approved unanimously, expands the iPad effort, which began in the fall at 47 schools. The laptop trial at high schools was launched out of concerns by board members that iPads might be the wrong device for older students.
Start-up problems delayed the iPad rollout and officials eventually slowed it down further.
In other developments, Deasy announced that Apple Inc., the maker of the iPad, had agreed to provide the latest tablets at no additional charge. Until now, the district has been locked into paying top dollar for a discontinued model.
Officials had defended that situation by saying it was better for all students to have the same device.
L.A. Unified also is negotiating to pay $200 to $300 per device less for the iPads used only for testing, said Mark Hovatter, the district's head of facilities.
The discount would lower the price per iPad to a total more in line with what some school districts are paying. The tablets, however, would not include curriculum developed by Pearson. Also not included in the testing package would be three days of training from Apple and Pearson and an Apple TV box that is provided to every classroom under the full contract, Hovatter said.
The curriculum is being excluded because the license to use it lasts only three years, said Scott Folsom, a member of the oversight committee, which reviews school bond spending.
In other action, the board agreed to allow member Steve Zimmer to develop a plan for an appointed caretaker in District 1. That seat was held by former member Marguerite Poindexter LaMotte, who died in December. A special election to replace her is scheduled for June.
howard.blume@latimes.com
---
For reporting and exclusive analysis from bureau chief John Myers, get our California Politics newsletter.
You may occasionally receive promotional content from the Los Angeles Times.