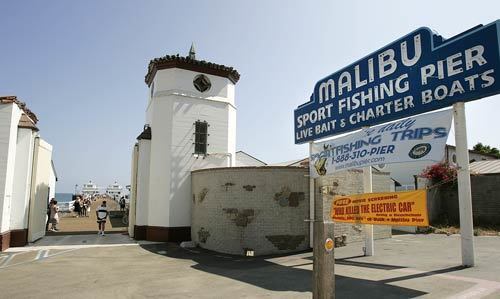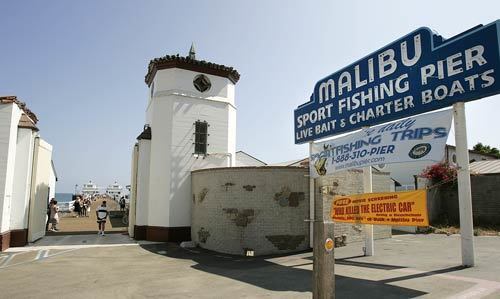 Despite its million-dollar view and location on busy Pacific Coast Highway, the Malibu Pier has suffered hard times in recent years. That could change with a recently announced deal for two new restaurants at the site, a state historic point of interest that opened to the public in 1934.
(Brian Vander Brug / LAT)
Jefferson Wagner will handle rentals of kayaks and boogie boards as part of new concession plans at the Malibu Pier. But Wagner, owner of nearby Zuma Jay Surfboards, attributes delays in developing the pier to his partner in the concession.
(Brian Vander Brug / LAT)
Anglers try their luck at the Malibu Pier, where the concessionaire and the state Department of Parks and Recreation hope that new amenities will resurrect the once-vibrant venue.
(Brian Vander Brug / LAT)
The pier was commissioned in the early 1900s by a businessman and his wife as a shipping wharf for hides and grains from their vast Malibu rancho. Since then it has served as a movie location, a World War II lookout post and the site for sport fishing and other recreation.
(Brian Vander Brug / LAT)
A lifeguard tower near the pier, which stands at the southern end of Malibu Lagoon State Beach.
(Brian Vander Brug / LAT)
A couple take in the sun and sand near the 780-foot-long pier.
(Brian Vander Brug / LAT)