Medi-Cal braces for New Year's jolt as Obamacare kicks in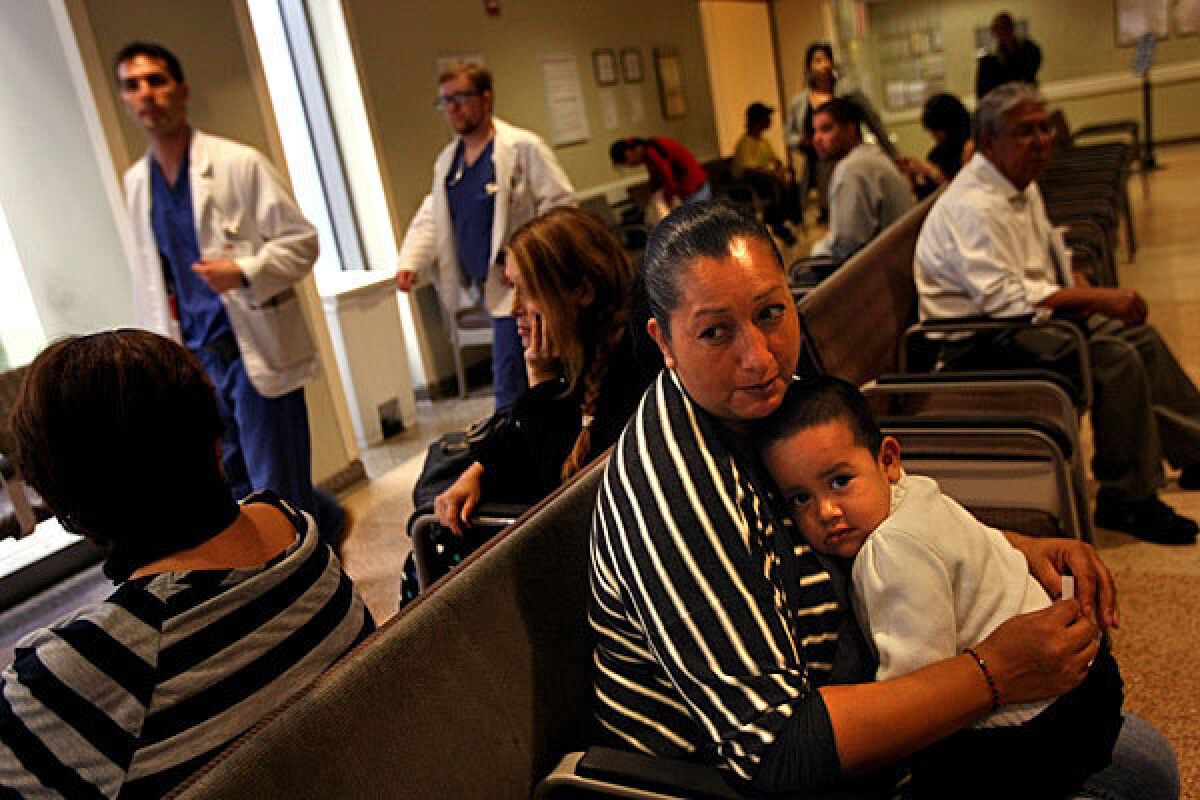 It's one of the next big hurdles for the Obamacare rollout: What will happen when hundreds of thousands of low-income Californians shift from county health plans to the state's huge Medi-Cal system on Jan. 1?
Judging from a similar surge in 2011, patients and physicians could see plenty of problems.
Starting on New Year's Day — Wednesday — as many as a million formerly uninsured or underinsured people will begin moving onto Medi-Cal rolls and reporting to clinics and hospitals that have agreed to provide treatment at set rates.
Also for the first time, childless and healthy low-income adults will be eligible, and benefits will include mental health and substance abuse treatment.
Healthcare advocates are overjoyed about the expansion of services, which is subsidized by the federal government under the Affordable Care Act. At the same time, they recognize that this is the kind of influx that can leave patients and doctors in a lurch — confused about such things as whether a long-planned surgery is still authorized or where patients should go for prescription refills.
When 380,000 senior and disabled Medi-Cal members were gradually switched into managed care in 2011, advocates reported numerous cases in which patients suffered as doctors and health plans didn't coordinate properly to deliver necessary ongoing medications and treatments for ailments as serious as cancer, schizophrenia and diabetes. Healthcare providers struggled as well; many were assigned new patients with no way to review their medical histories.
This time, officials and healthcare providers say they hope to avoid such disruptions.
"We're using the same system we would use in an earthquake," said Louise McCarthy, chief executive of the Community Clinic Assn. of Los Angeles County, comparing the planning effort to a disaster drill. "This is going to be seismic. We have to approach it as such."
The first step in getting ahead of potential problems: making sure computer systems align.
According to the state Department of Health Services, about 400,000 Californians are likely to wind up in Medi-Cal — a $70-billion program — after applying for the first time through Covered California, the state healthcare insurance marketplace; 195,000 others have tried to sign up through county human services agencies. Those new members won't join a Medi-Cal managed care plan right away.
But more than 600,000 new Medi-Cal participants will roll over immediately from special county-based health programs formed to ease the transition to Obamacare. Using money from the Affordable Care Act, some California counties opted to start providing medical services for Medi-Cal expansion eligible patients early in 2010 so those patients could be cued up to move automatically into Medi-Cal this week. Los Angeles County's Healthy Way LA program represents more than half of this population, with 315,000 people signed up as of Nov. 30.
Planners are attempting to make sure that the state and county records for these patients match up with the enrollment rosters at the health plans contracted by Medi-Cal — giving providers at least some idea about which patients are headed their way and what their needs may be.
While some advocates fretted that the proper data weren't coming in fast enough, Amy Luftig Viste, who directs community partner programs for the Los Angeles County Department of Health Services, said on Dec. 19 that she "was feeling like we're in a good place" with the process.
When Los Angeles County compared its preliminary enrollment lists to those kept by the health providers who will run Medi-Cal's managed care plan in the county, it found that the records matched for 99% of members, Viste said. Most Healthy Way LA patients are sticking with clinics and providers they visited in the past, she said.
But even if every bit of data aligns perfectly and people go to doctors who expect them, problems getting patients the care they've been promised will probably arise, she said.
California has determined that the vast majority of patients making the transition can continue seeing their current doctors — regardless of whether the providers are in their managed care networks — for 12 months. It will be up to the the health plans and providers, including L.A. County, to work out how to make that happen.
Hoping to give clinic and hospital employees tools to help, L.A. County ran training sessions to let them know what to expect starting Wednesday. The health plans Health Net and LA Care, which will run the Medi-Cal operation in the county, have staffed up for the change, creating special triage teams to handle problems.
Preparations at community clinics have been "frantic," said Cynthia Carmona, director of government and external affairs for the Community Clinic Assn. She described near-daily transition planning meetings late this month as "a sprint to get things thought through."
The clinic staff wanted a crisis plan by Christmas, she said, so her association began circulating an eight-page collection of frequently asked questions on Dec. 20.
The document attempts to answer such questions as, "What should a patient do if they were scheduled for a Department of Health Services specialty care appointment but were turned away?" "What is the pharmacy network for LA Care and Health Net?" and "How do I know my former Healthy Way LA patient successfully transitioned to Medi-Cal?"
The document also discusses failed enrollments, missing paperwork and ID cards, misidentified "medical home" assignments, physician networks, specialty and follow-up care. It comes with a list of key phone numbers for when problems arise.
Carmona has asked member clinics to report incidents starting Wednesday. The association will begin summarizing problems that arise in emails to healthcare centers starting Friday.
The bottom line, planners said, is that Medi-Cal patients should get treated no matter what.
"We're hammering home the message that continuity of care trumps everything," Viste said.
McCarthy, of the Community Clinics Assn., was on board — if still concerned.
"If we can't figure out your coverage, you'll still get cared for," she said. "Whether we can figure out if we'll get paid for it, that's a big question there."
Twitter: @LATerynbrown
---
Life is stressful. Our weekly mental wellness newsletter can help.
You may occasionally receive promotional content from the Los Angeles Times.